What's the story: Onyx Ashanti is an inventor, musician, programmer, 3D print-designer, writer and performer. After three years, he presents a 3D printed alternative to shoes, which might change the way we think about "footware" forever.
Onyx Ashanti gained quite some popularity since his TED talk "This is Beatjazz" in 2011. Beatjazz is… well, it's a "multidimensional expression concept" evolving around "beat" and "jazz". This involves a set of unique CAD designed controls and software embedded in an artistic performance including of course sound, projected visualization, light color sequencing and robotic parameter feedback. Sounds complicated? It is, even for Ashanti, who sees it as an exploration of the possibilities at hand with open source software, electronics and 3d printing technology. This video clarifies what Beatjazz is and does.
Questioning what a shoe is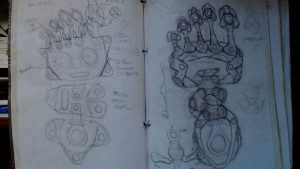 From the mind of Onyx Ashanti comes a 3D printed shoes that challenge almost anything we knew about them. Shoes protect your feet, provide your ankles with additional stabilization and for some, they're a fashion statement and status symbol, depending on the choice of their respective owner. Shoes are usually made of fabric, leather or mesh. Even orthopedic shoes are constructed in the same way.
What Ashanti drove though, is that shoes as we know them aren't good for our feet and our posture, forcing our body to unnatural posture and movement. Just like we aren't made to sit in an office chair 40 hours a week, it seems we should seriously consider if we want to continue wearing traditional shoes. Our body is made to walk taking the steps on the balls of its forefoot. Shoes make the feet land heel first and then roll towards the front of the foot. Looking at the foot's anatomy, this is not how it's meant to be, and it does harm.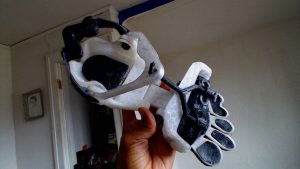 Ashanti felt it was needful to rethink from scratch what to wear on his feet. After a design process of about four years, he thinks he has a good base to work with. His Exo-Foot has a sandal-like forefoot area. It consists of a hinged heel that rotates freely, hinged to the mid-foot by a hinge underneath the ankle, connected to a mid-foot hinge, connected to a mechanical forefoot that moved fluidly with the forefoot. With that many hinges, it is "biomechanically compliant" as Ashanti puts it, so it doesn't interfere with the natural walking movement.
A perpetual makeshift solution?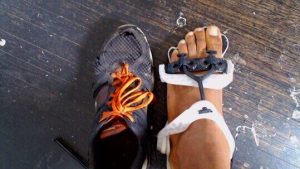 Ashanti's next steps with the exo foot? Using them! Walking around and seeing which parts break or chafe, and then doing the next upgraded version. Currently, the whole design is snap-together, so if one of the joints in the Exo-Foot fails, Ashanti may have to reconsider, redesign or simply reprint.
The material Ashanti uses is near industrial grade nylon, printed at extra-hot temperatures to make the layers glue together perfectly. It is very resistant to abrasion so far and also a very sturdy material, but can be flexible if you print it thin enough. For the more flexible, cushioning parts, Ashanti uses Eco-Flex PLA, which is more rubbery than the usual PLA filament.
The whole process is well-documented on Ashanti's website. I expect the 3D files to be released somewhere in the future, because their creator is a strong ambassador for the open source movement and a self-claimed "child of the internet". Let's just wait until he feels comfortable enough to let his creation loose on other people's feet.
When the Exo-Foot is ready to replace shoes, Ashanti wants to investigate what is possible with this platform. He dreams of clipless pedal clips and programmable lights for biking, but in the long term wants to implement his feet into the Beatjazz system, enhancing it from hands and breath-controllable – maybe one day it´ll be a full body Exo-Skeleton. But Onyx Ashanti isn't doing anything hotfoot.
"The exo-foot is a a Footware platform. These words will create their own meaning over time and will evolve exponentially as the tools to iterate them evolve."
Personally, I'm waiting for the moment Nike tries to hire Ashanti for their R&D department.
License: The text of "3D Printed Shoes Might Change the Way We Walk" by All3DP is licensed under a Creative Commons Attribution 4.0 International License.
Subscribe to updates from All3DP
You are subscribed to updates from All3DP
Subscribe
You can't subscribe to updates from All3DP. Learn more…