Astronauts heading into deep space on a mission to Mars won't have to forfeit all their favorite snacks; behold the 3D printed pizza commissioned by NASA. 
Is the world ready for 3D printed pizza? How about 3D printed pizza in space, devoured by hungry astronauts? One small company from Austin, Texas is determined to find out.
In 2013, engineer Anjan Contractor was commissioned by NASA to develop palatable foods for their astronauts on a hypothetical mission to Mars. He settled upon pizza as the ideal solution, the production process cleverly adapted from fused deposition modeling.
The machine he created can churn out customized pizzas in less than half the time it takes a regular human chef, as well as being both clean and efficient. Moreover, it's so sophisticated it can accommodate special dietary requirements with gluten-free dough.
Unfortunately, the manned mission to Mars won't be taking flight until the 2030s (at the very earliest). But mere Earthlings could begin enjoying this 3D printed pizza as soon as 2017. Contractor has started a new company, BeeHex, to market and sell his invention.
https://www.youtube.com/watch?v=XE5p0okVx7U
How to Make 3D Printed Pizza
As well as being intrepid explorers, astronauts are also fussy eaters. The psychological benefits of providing a taste of home when they're an extremely long way away from Earth are incalculable.
Because of this, BeeHex have developed a pizza printer to suit everyone's tastes. The way it works is that you choose your toppings from the BeeHex app. You can instruct the printer to use a certain type of dough, sauce, and different combinations of cheese.
To create the pizza, a shape of either 10 or 12 inches is selected, and then either plain, tomato, or gluten-free dough can be chosen.
Next, a sauce is picked from either tomato-basil, pesto, or (curiously) vodka sauce. The last step is for the addition of mozzarella or burrata cheese.
As a playful addition, you can even customize the pizza's shape, whether it's a heart or a map of the United States or a custom JPG you've uploaded yourself.
With selections made, the pizza is printed layer by layer, with separate nozzles extruding the ingredients in order of dough, sauce, and cheese.
Next, it's removed from the print bed, sprinkled with extra toppings if needed, and baked in a heated oven. This last step isn't handled by the pizza printer… not yet, anyway. But by 2030, who knows how far the technique will have evolved?
BeeHex attempted to crowdfund on Kickstarter their pizza printer earlier this year, but the campaign was cancelled before completion. The company promises a relaunch in the not-too-distant future; stay tuned for further updates.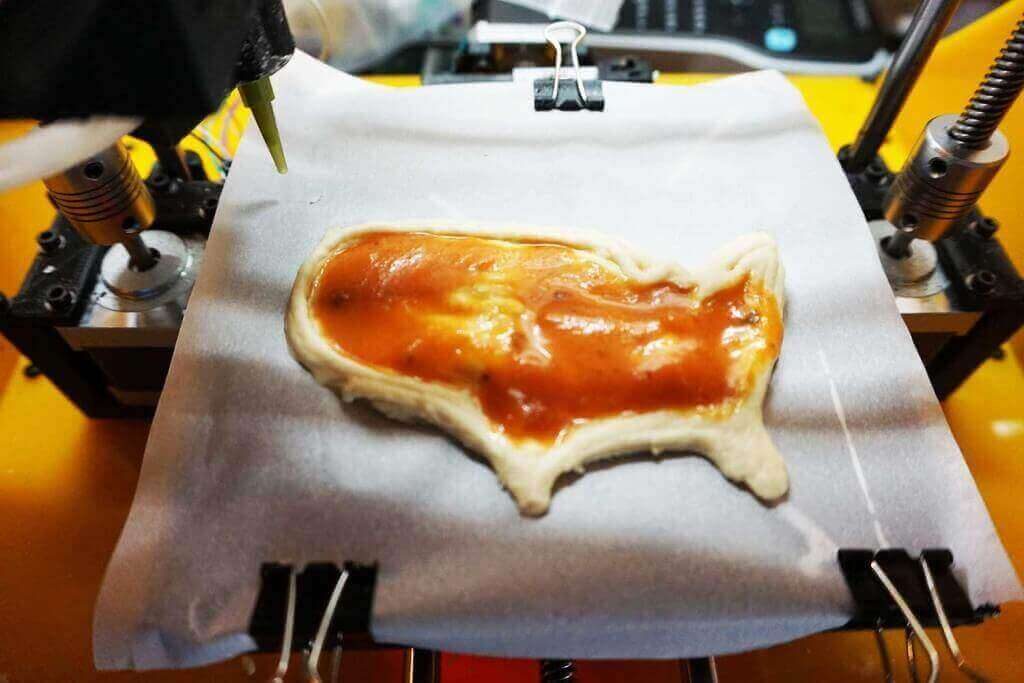 License: The text of "BeeHex offers 3D Printed Pizza for Astronauts (and YOU)" by All3DP is licensed under a Creative Commons Attribution 4.0 International License.
Subscribe to updates from All3DP
You are subscribed to updates from All3DP
Subscribe
You can't subscribe to updates from All3DP. Learn more…