A legion of 3D printed Minions await your commands, complete with with customisable expressions. Note: bananas not included.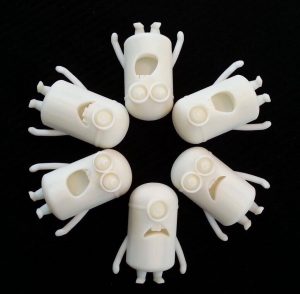 When you think of the word 'cute', what springs to mind?  Kittens playing with yarn? A box full of yapping puppies? Gurgling babies in flower pots? How about 3D printed Minions?
Seriously, gaze at these things long enough and your heart will melt. How can you not love something that looks like a pill and has goggle eyes and buck teeth?
For fans of the films, embeddedjunkie (a.k.a. Juan Gutierrez) has created plans for a variety of 3D printed Minons with customisable expressions. Print your Minion with a smile, a frown, or a gasp. You can also choose whether they have one eye or two.
These 3D printed Minions are constructed from two parts (a front and a back); super-glue or other adhesive is necessary for the finished assembly.
3D printed Minions in a Tutu & Tiara?
And because the Minion prints as one colour (depending on the filament used), you have the option for a custom paint job in any design you choose. For a successful finish, Gutierrez recommends first applying a good primer and then using Liquitex paints.
If you feel like getting really creative, why not remix Gutierrez's design to incorporate a pink tutu and a tiara, or a Groucho Marx disguise?  Or why not play with the filament used for the build? A glow-in-the-dark 3D printed Minion would *really* give your household pets the heebie-jeebies.
You can download the plans, see what other people have done with this design, and get some good ideas for your next creation by visiting Thingiverse right now. If you don't have access to a 3D printer but really want to amass a Minion army, check out our 3D Printing Price Comparison and order them from an online 3D printing service.
License: The text of "3D Printed Minions with Customisable Expressions" by All3DP is licensed under a Creative Commons Attribution 4.0 International License.
Subscribe to updates from All3DP
You are subscribed to updates from All3DP
Subscribe
You can't subscribe to updates from All3DP. Learn more…