The first ever 3D printed laptop case for standard PC components has become a reality after many months of trials.
Why a 3D printed laptop case? Because you can now print out a case and fill it with the parts you like. There have been several cases for Raspberry Pi, but to our knowledge none so far for standard PC components.
All the files have been released under an open source license. Thanks to the persistent work of community member eoma of the rhombus-tech.net it is finally a tangible reality. Everyone can benefit from the results as the design was released under the GPLv3 license, so it is essentially open source hardware.
Find the code and files in this repository.
3D Printed Laptop Case: The Specs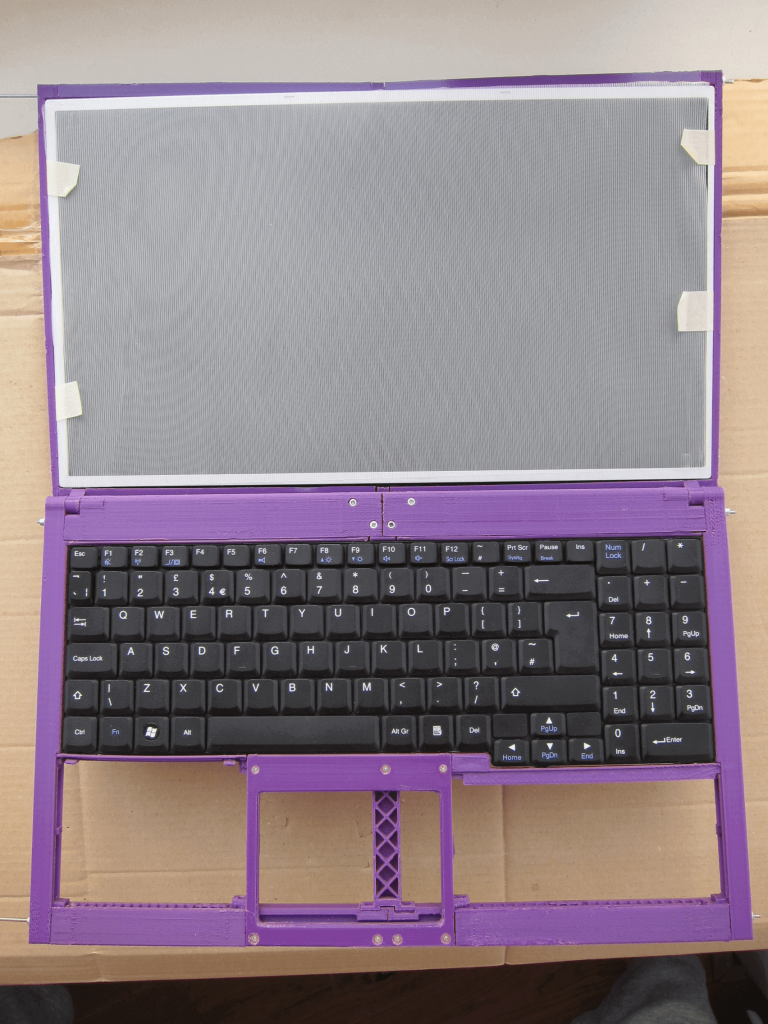 The laptop case can accommodate a 15.6 inch LCD screen, a full-sized keyboard with a Numpad, a 4.3-inch touch panel, a 5000mAh battery, USB ports and an internal 802.11n WiFi module. Of course, this case is just a prototype approach. It's designed for nothing other than testing permits further modifications for different specs.
To create the nineteen individual parts needed for the assembly of the laptop case, a total of twenty-two meters of 3.0 millimeter PLA material was used. The development of the final version was only possible after "wasting" over two hundred meters of filament and many printing hours, though.
Some Parts were not an Easy Print
The most difficult part of the process was the printing of the touch panel tray, which refused to stick on the build plate. Other than that, the assembly went smoothly with bolts securing all parts in place, boasting good rigidness even in points of increased wear and tear like the lid hinge. The keyboard was also an exact fit, leaving no gaps and generating no pressure on the casing sides.
This is another case where 3D printing comes handy to those who dare to go beyond what is seemingly possible. All that is needed is a large enough community of enthusiasts, time and filaments.
License: The text of "This is the First 3D Printed Laptop Case" by All3DP is licensed under a Creative Commons Attribution 4.0 International License.
Subscribe to updates from All3DP
You are subscribed to updates from All3DP
Subscribe
You can't subscribe to updates from All3DP. Learn more…