Why you should read this: 3D printing has been changing the way people think, wear and create jewelry: here are some of the most stunning examples of 3D printed jewels.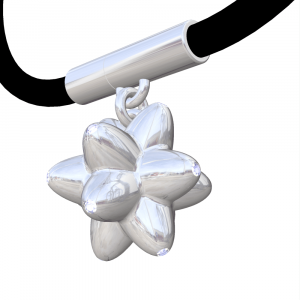 On these new 3D printed jewelry online shops you can already find a very large range of products. Those created by UK based 3D Luxury, can cost more than $ 3.900. Their Christmas 2014 pendants are made of white or yellow 18k gold, with cut diamonds and highly refined finishes, to go with particularly complex geometrical 12 point-star shapes which could not easily be replicated by traditional manufacturing. On the opposite side of the spectrum, you might turn to .bijouets, an Italian company that produces many different and extremely complex designs and has them 3D printed in nylon, using advanced 3D printing technologies, with the result that a very unique ring or bracelet, which you can personalize in terms of color and size, can cost you as little as $ 36.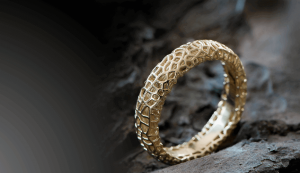 A world of creative jewelers
In between these two extremes there is a whole world of amazing creativity. The biggest shift is that now, through affordable 3D printing technologies, any artist with ideas and creative talent can start his or her own business venture, controlling the entire creative process all the way to distribution. Israeli artist Dana Bloom, for example, launched both a line of complex generative metal jewelry designs and the Colors line of thermoplastic accessories, 3D printed by basic FDM technology. Bathsheba is one of the first artists to implement 3D printing to create his line of geometrically complex jewels. In both cases the complexity of the forms is due to their generative style, which means they use algorithms to digitally create the shapes of their products in the same way nature creates and replicates itself, which means their works are, at the same time, both more complex and also more "natural" looking.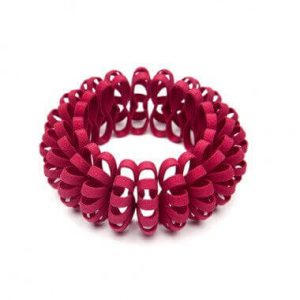 Some new 3D printed jewelry designers have also used their experience in 3D modeling to open up shops on Shapeways, one of the most popular online marketplaces of 3D printed products. These include 3D modeling artists such as Paul Liaw, who began designing jewelry when he needed an original ring to propose to his current wife, and Melissa NG, who developed the Lumecluster line of 3D printed "mask jewels" to stimulate the entrepreneurial mindset. Any of the major 3D printing online marketplaces, including iMaterialise and Cubify and Japan-based Rinkak include a rich jewelry section, where you can choose literally among tens of products, both 3D printed in plastic (and occasionally even "3D printable" at home) or in metal. Other 3D printed jewelery-focused online stores include Germany-based Stillnest, one of the first and best known online shops of this new kind, possibly the one offering the largest choice of products and number of designers. Florence-based MakeTank also offers a window to many different designers, focusing both on jewelry and other 3D printed and digitally manufactured "smart" craftwork, leveraging on Tuscany's long artisan tradition.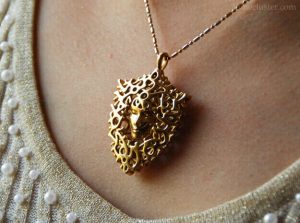 Hand-digitally-machine made
Like most applications, 3D printed jewelry includes a number of different processes that are constantly changing. They always begin with an idea, which is then reproduced digitally through CAD software, that is those programs that are used to model three-dimensional objects. At this point the artist has a few options. One is to reproduce the jewel or bijoux using a thermoplastic. This enables the creation of very original and complex shapes at a very low cost. Even so there are two option: one is to use a low-cost desktop system that fuses the plastic filament to make a 3D object that needs a lot of finishing and post-processing. The other is to use advanced laser sintering technology, which enables the use of nylon powder to make even more complex shapes that only require coloring as a finish.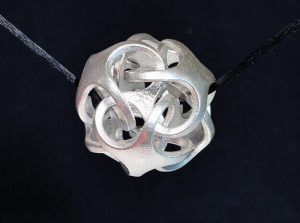 To make precious metal jewelry, most professionals and large companies use stereolithography (SLA) or other photoactive resin and wax based technologies such as digital light projection (DLP) and polyjet. This enables them to create very high-resolution shapes which are to be casted in sandstone casts and then molded into metal shapes, by a process called lost-wax casting. 3D printing for this process, which has been mastered by companies such as 3D Systems, Stratasys, Digital Wax Systems and EnvisionTEC (which produce both the 3D printers and the materials to be used in lost wax casting), allows artists to design and shape metals in ways that were impossible in the past. However, newer technologies are pushing this limits even further, by enabling the direct 3D printing of precious metals.
Direct 3D printing with gold or other precious metals is difficult because the qualities of the laser melting process alters the aesthetic properties of the material but companies such as Concept Laser and EOS have been working at improving it. Through a partnership with huge gold and precious metals distributor Cooksongold, EOS has developed a new machine specifically for this: the Precious M80. All you will need to do is download a professional 3D model from a network such as Jewelrythis and send it to the printer to make the most amazing jewels. And one day it might even just be sitting on your 3D printed bedroom dresser, for you to make a new amazing jewel for every occasion.
License: The text of "3D printed jewelry? You might be wearing already" by All3DP is licensed under a Creative Commons Attribution 4.0 International License.
Subscribe to updates from All3DP
You are subscribed to updates from All3DP
Subscribe
You can't subscribe to updates from All3DP. Learn more…