Welsh experts have created new software that allows surgeons to design 3D printed implants for facial reconstruction.
Thanks to technology, anyone who suffers a head injury or disease in the UK will be able to get reconstructive implants much faster. Why? Because patients can now get their own customized 3D printed titanium implants — made in Wales.
This new software — called 'ADEPT' — designs and 3D prints maxillofacial implants using just one platform. It was created by the teams at Morriston Hospital along with the PDR – International Centre for Design & Research at Cardiff Metropolitan University and LPW Technology Ltd and Renishaw.
ADEPT saves on product costs because surgeons can design and print the pieces they need right in Wales. Plus, the reconstruction parts are highly individualized to each patient's face.
Before, oral and maxillofacial surgeons had to order parts from abroad which were much more expensive. Now, OMS teams can use 3D printers based in Miskin in Rhonda Cynon Taff.
Stephen Power from Cardiff (pictured below) was in a motorcycle accident that left him disfigured. At that time, he needed 3D printed implants to reconstruct his face, but the parts could only be printed and shipped from Belgium.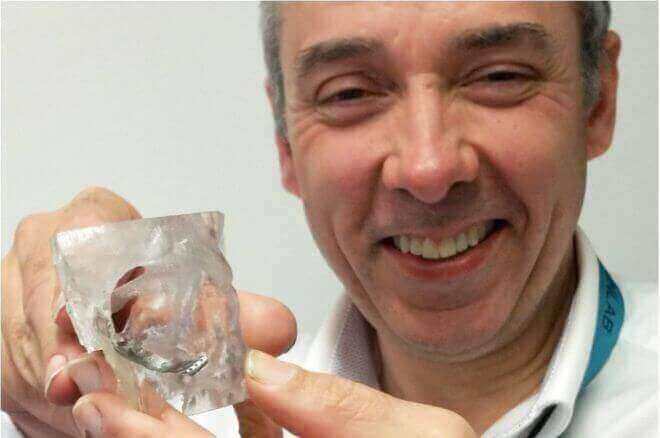 Benefits of Making 3D Printed Implants in Wales
In the past, surgeons in the UK had to send away for expensive 3D printed implants from abroad. This was because two stages were needed for the process: one to design the part and the other for the 3D printing.
If this route was too expensive, then the surgeons could try to shape an off-the-shelf implant by themselves. Safe to say, neither option was ideal.
Now, thanks to ADEPT, surgeons will be able to use just one software to create a patient's required implant. Best of all, it will cost a lot less.
"Surgeons anywhere in the UK, and indeed the world, will have the facility to design a custom implant that is far more likely to give better results because it fits the patient's original anatomy," said Peter Llewelyn Evans, maxillofacial laboratory service manager at Morriston Hospital.
He continued: "In the case of an eye fracture it will bring back the original volume of the orbit. Likewise, cranioplasty patients can have a contour of the skull that is better than what was available before."
This 3D printing design technology is still in its trial phase. However, it will be used across the UK in selected units before general release.
Source: BBC
License: The text of "Made in Wales: 3D Printed Implants For Facial Injuries" by All3DP is licensed under a Creative Commons Attribution 4.0 International License.
Subscribe to updates from All3DP
You are subscribed to updates from All3DP
Subscribe
You can't subscribe to updates from All3DP. Learn more…