Researchers are using 3D printing to create lightweight hyperspectral imagers which can be carried by drones for a cheaper cost than usual which will make the technology more accessible.
Wondering what hyperspectral imagers are? Essentially, this is a fancy term for a high-tech camera that goes beyond the visible spectrum. Instead of only detecting the visible spectrum – as normal cameras do – the hyperspectral imagers pick up on hundreds of wavelengths.
Now, researchers in Norway are making visible-wavelength hyperspectral imagers for half the price they usually cost. Better yet, these cheaper imagers are light enough to be carried onboard drones. This is all made possible thanks to 3D printing.
Hyperspectral imagers provide data which covers the entire visible spectrum. As a result, they are regularly used for environmental imaging, biotechnology, security, and defense and even for identifying defects in food.
"The instruments we made can be used very effectively on a drone or unmanned vehicle to acquire spectral images… This means that hyperspectral imaging could be used to map large areas of terrain, for example, without the need to hire a plane or helicopter to carry an expensive and large instrument," said research team leader Fred Sigernes of University Centre in Svalbard (UNIS), Norway.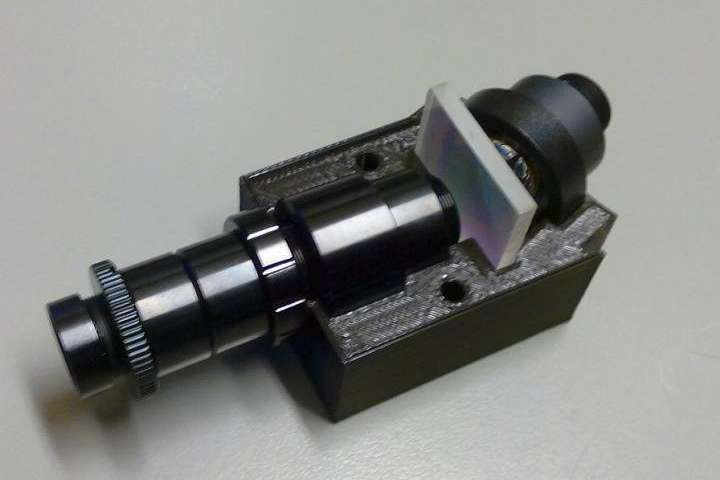 Carrying a Hyperspectral Imager Onboard a Drone
The researchers used a 3D printer and extruded plastic to create a custom optics holder. Sigernes adds that these holders are usually made from metal which is both time-consuming and expensive. But, plastic is a cheaper and lighter alternative.
3D printing also enables the researchers to create complex parts and to experiment with different iterations. Rather than costing tens of thousands of dollars, the researchers new method for producing them costs as little as $700.
The researcher's imagers use a "push-broom technique" which requires stabilization so that precise line-scanning images aren't distorted. Sigernes explains:
"Push-broom hyperspectral imagers typically require expensive orientation stabilization. However, you can now buy very inexpensive gyroscope-based, electronically stabilizing systems. The advent of these new systems made is possible for us to make inexpensive hyperspectral imagers."
When it came to testing the design, the researchers were pleased with the results from their initial prototypes. The imagers performed well on both an octocopter drone and also during a handheld test.
However, the researchers are now working on their hyperspectral imagers' sensitivity which isn't quite up to scratch yet. But, for now, it's an impressive start. "There are many ways to use data acquired by hyperspectral imagers. By lowering the cost of these instruments, we hope that more people will be able to use this analytical technique and develop it further," adds Sigernes.
Find out more by reading the study in the journal Optics Express.
Source: Phys
License: The text of "3D Printed Hyperspectral Imagers Brings Better Imaging to Drones" by All3DP is licensed under a Creative Commons Attribution 4.0 International License.
Subscribe to updates from All3DP
You are subscribed to updates from All3DP
Subscribe
You can't subscribe to updates from All3DP. Learn more…