No one's quite like you, but researchers at MSU have proven that 3D printed hands could someday be used to steal your identity.
You may remember how 3D printers were recently used in an attempt to unlock a murder victim's phone.
Executive summary: Fingerprints of the victim were digitally enhanced and 2D replicas were printed. Special conductive ink created an electrical circuit, opening the phone. But the 3D printed version was unsuccessful in opening the phone.
Fast forward to September, and the same team of researchers at Michigan State University (MSU) were more successful with 3D printed hands… and they cracked the security on more than just a phone.
Professor and biometrics expert Anil Jain and his team 3D printed a full hand complete with fingertips. The initial goal was to test and calibrate fingerprint scanners, and replace 2D representations which are unreliable and not… well… human enough.
But in the process of creating the hand — which can be worn as a glove — the researchers realized the technology would also made it easy for criminals to fake someone's identity.
The MSU researchers are now working on helping manufacturers and agencies create equipment which can't be so easily fooled.
Check out the video from MSU below, and learn more about how the 3D printed hand came about:
3D Printed Hands Fit Like a Glove
The team has described in detail how they created the hand in a study. Their paper is entitled 3D Whole Hand Targets: Evaluating Slap and Contactless Fingerprint Readers.
Jain and his team fabricated the hand with rubbery materials using a Stratasys Objet350 Connex3 printer, so the texture could better resemble human skin. Fingerprints were then extracted from impressions taken by a slap scanner.
The results can be used on slap scanners or contactless scanners. The research shows that by using a 3D printed hand, an accurate impression can be made. This is great news for calibration, but potentially alarming for security reasons.
Jain has now thrown down the 3D printed gauntlet to scanner manufacturers:
"We have highlighted a security loophole and the limitations of existing fingerprint scanning technology, now it's up to the scanner manufacturers to design a scanner that is spoof-resistant. The burden is on them to tell whether the finger being placed on the scanner is real human skin or a printed material."
The experimenting doesn't end here; the team is now working on more advanced techniques for cracking capacitive scanners, such as those used in mobiles, using gold and silver conductive inks.
Source: Quartz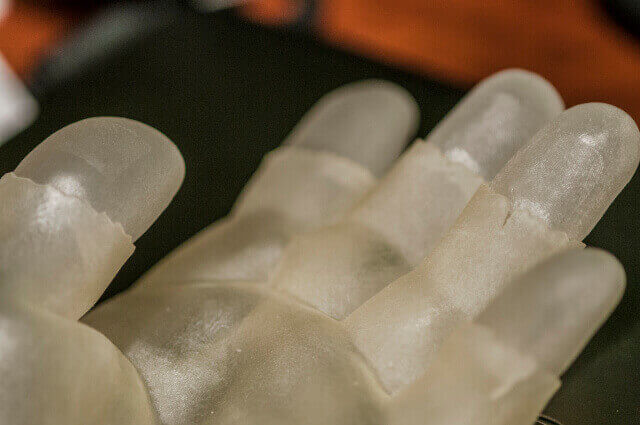 License: The text of "3D Printed Hands Help Identify New Security Threat" by All3DP is licensed under a Creative Commons Attribution 4.0 International License.
Subscribe to updates from All3DP
You are subscribed to updates from All3DP
Subscribe
You can't subscribe to updates from All3DP. Learn more…