Here's what you should know:
It's the first 3D-printed fashion collection printed entirely using home printers

Made by Danit Peleg, 27, as part of her graduate collection for her Fashion Design degree at Shenkar College of Engineering and Design

Took 9 months of research and development,

more than 2000 hours to print, about 400 hours per outfit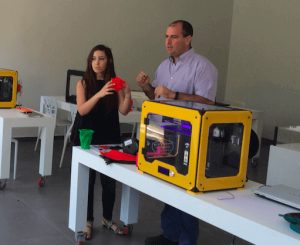 In September 2014, fashion graduate Danit Peleg started working on her collection for a fashion design degree at Shenkar. Instead of regular fabric, she decided to use 3D printing. She wanted to see if it'd be possible to create an entire garment using technology accessible to anyone. In the beginning, she barely knew anything about it; embarking a journey without really knowing what the result would be.
"My inspiration was Eugène Delacroix's Liberty Leading the People. I modified it so it would look like a 3D picture", she tells on her website. "I was inspired to work with the many triangles present in the painting's composition."
3D Printing Fashion: It's All About the Right Material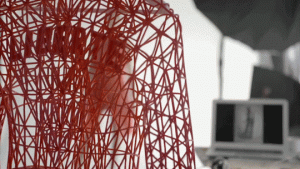 The first piece she focused on was the "Liberte" jacket. She modeled the jacket using the Blender software (here's our tutorial). When the 3D files were ready, she started experimenting with different materials and printers.
That's where help came in. Peleg teamed up with TechFactoryPlus and XLN in Israel. They experimented with different printers: Makerbot, Prusa, and finally Witbox.
Also, Peleg tested different materials you can print with a regular home printer (PLA, soft PLA). She spent a month experimenting with PLA. Being a hard and breakable material, she was not getting very far. The material was too inflexible – and that's the key property of any "real" textile.
The breakthrough came when she was introduced to FilaFlex. This new kind of filament is strong, yet very flexible. Using FilaFlex and the Witbox printer, she finally was able to print her red jacket.
This Cellular Material Looks Like Cloth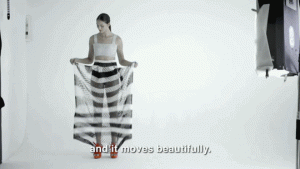 Peleg felt encouraged to work on more elaborate textiles for the rest of the collection. She started experimenting with different types of patterns. "I found Andreas Bastian's Mesostructured Cellular Materials", Peleg writes on her blog, "and by combining his incredible structures (and new ones I created with the same approach) and the flexible materials, I could create lace-like textiles that I could work with – just like cloth."
For her black dress, she modified the patterns so that they would have a 3D feel – they now have some "topography" and aren't just flat textiles.
Once she figured out how to print textiles, Peleg was on her way to create a full collection. It took more than 2000 hours to print (every A4-sized sheet of textile took at least 20 hours to print). So she installed a full-fledged "3D printing farm" at home.
3D Printed Fashion Show: A Big Success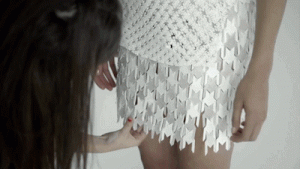 For her 3D printed fashion show, which turned out to be a big success, Danit Peleg also printed the shoes for her models. "I wanted the models to wear 100 percent 3D printed materials, including the shoes." The designs were inspired by Michele Badia.
The young fashion designer states: "When I got started, I wasn't sure that I would be able to make this happen, but with the help of incredible people I was able to fulfill my dream – to printed my own fashion collection."
She continues: "I enjoyed the fact that I could create without intermediaries; I could design my textiles and manufacture my clothes, all from my own home. I didn't have to go buy cloth that someone else chose to sell. I could make my own."
What does she think of 3D printed fashion now? "I think this is just the beginning. As technologies evolve, we will soon be all printing our clothes at home. I would like to stay in the industry and work with other fashion designers who want to experiment and research new ways of creating fashion using 3D printing."
License: The text of "3D Printed Fashion: Designer Printed Her Entire Collection At Home" by All3DP is licensed under a Creative Commons Attribution 4.0 International License.
Subscribe to updates from All3DP
You are subscribed to updates from All3DP
Subscribe
You can't subscribe to updates from All3DP. Learn more…