For the Dutch presidency of the EU, the Europe Building has an eyecatching facade of 3D printed bioplastic panels (fully recyclable, of course).
On 1 January 2016, The Netherlands officially took over the Presidency of the EU for six months. To mark the occasion, the Dutch government commissioned a 3D printed facade for the entrance of the modular Europe Building in Amsterdam.
The Europe Building is equipped for ministry meetings and press conferences, and is only open for the duration of the presidency. Around 17,500 participants are expected to pass through its doors in the next six months, for a minimum of 135 meetings. After the presidency is over in July 2016, the building will be dismantled.
The historic National Maritime Museum and a nearby naval yard were chosen for the location of the headquarters of the presidency. Heijmans and DUS Architects teamed up to design and build a suitable entrance, which includes 3D printed panels in the shape of sails, harkening back to the historical sailing ships that used to be built in this area.
The sail motif also also opens up spaces for alcoves, which house EU-blue colored 3D printed benches. The printed patterns build up from large to small and round to square and depict the variety and community of the EU countries. At night the sails are lit gradually with a pulsing light.
"It is wonderful to see how passers-by sit in the façade. It really becomes a public place to stay," said Martijn van Wijk, architect at DUS Architects.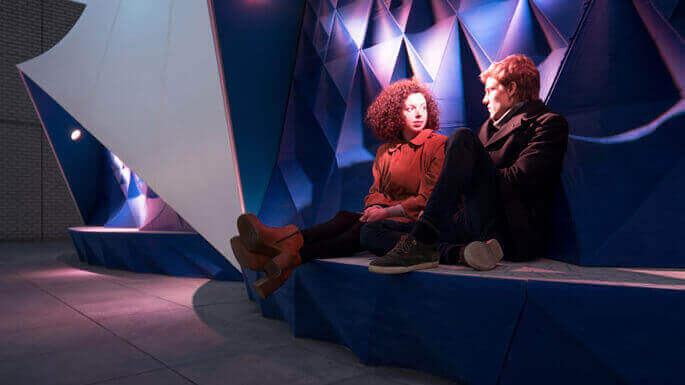 The Europe Building is Environmentally Friendly, too
Last but not least, the building is environmentally friendly. Not only can these bioplastic 3D printed panels can be fully recycled once the building is dismantled, but there are also solar panels installed on the roof, and water taps inside the building to discourage the use of water bottles.
The construction of the Europe Building has been a huge collaborative project, requiring the services of Neptunus and DUS, as well as Actual, TenTech, Philips, and Heijmans. DUS used a Fused Deposition Modeling (FDM) XXL 3D printer for the project, nicknamed "KamerMaker" (or room maker), which can print an impressive 2 x 2 x 3.5m build area. Altogether, the entire structure measures 20 x 35 meters.
Intriguingly, the Europe Building is the first commercial spin-off resulting from the collaborations on the 3D Print Canal House, an initiative of DUS architects and partners. If you're lucky enough to be Amsterdam before the end of July, be sure to stop by and pay them a visit.
Source: Inhabitat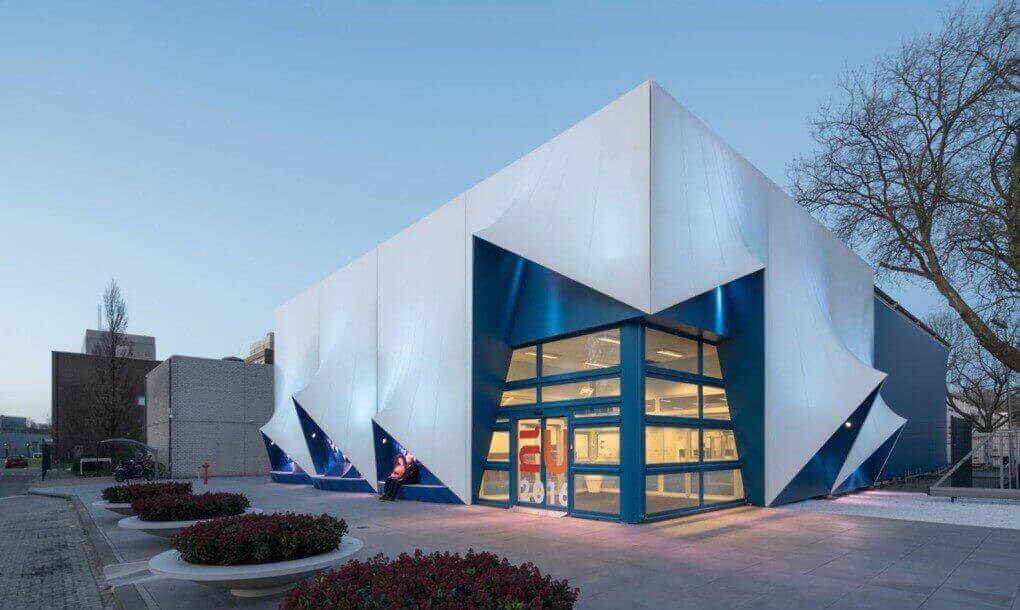 License: The text of "3D Printed Europe Building in The Netherlands" by All3DP is licensed under a Creative Commons Attribution 4.0 International License.
Subscribe to updates from All3DP
You are subscribed to updates from All3DP
Subscribe
You can't subscribe to updates from All3DP. Learn more…