Elementary school student Julian Caraballo wanted to play violin and become part of his school's band, and he didn't let a birth defect on his right hand stop him. Instead, three students from Drexel University helped him achieve his dream with a 3D printed prosthetic device.
Julian Caraballo, a student at Birches Elementary School in New Jersey, was born with a birth defect that has limited the full use of his right hand. Nonetheless, the determined kid had his heart set on becoming a violinist in his school band, and so he set off to learn despite his physical disability. When learning the classical string instrument, he was able to pluck the strings, but his defect led to struggles when it came to using the bow, playing faster and crossing all the strings.
Lisa Sebastiani, Caraballo's teacher and violinist, noticed this and started searching for a way to make holding the bow easier for him.
"At first, he didn't want any help. He's the kind of kid who always wants to do it himself… But I told him there will be challenges you don't see as a beginner, which will materialize as he gets more advanced. I thought of using a Velcro wrap and wrapping his hand, but he really couldn't maneuver it," she explains.
It wasn't long before Sebastiani came across the e-NABLE — the non-profit organization that creates 3D printed prosthetics — and connected with three first-year Master of Biomedical Studies students from Drexel University; Alex Hahn, Kimanthi Gicovi and Tyler Bogaczyk.
The trio had already been in touch with e-NABLE to seek out community service opportunities. They also have a heavy interest interest in 3D printing, working to get their 3D printing club, called Drexel Dragon Claws, recognized across their college campus. So it's no surprise that they turned out to be the perfect team to provide Caraballo with a more convenient way to learn the violin.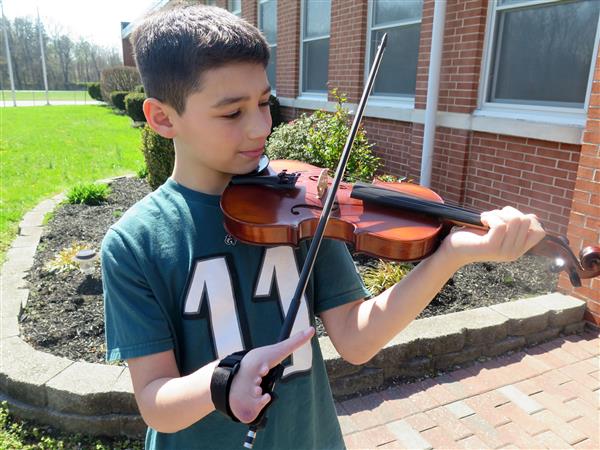 Creating the Perfect Violin Bow for Julian Caraballo
The Drexel students spent time in between classes to develop a prototypical device for the young elementary school student. Although e-NABLE offers a wide variety of templates for prosthetics, Caraballo needed a customized model for his condition.
He spent time talking to the students about his needs, answering their questions and giving feedback on different devices throughout the process. The team continually reworked their design to ensure that it would properly fit Caraballo and help him play the violin. In total, it took the students between 50 and 60 hours to create the device.
"Julian pushed us more than anything. He's somebody, for a young man, who really knew what he wanted, what his goal was, how he wanted the device to feel, what color he wanted it to be. He allowed us to not just settle into just making a device, but making one that he liked and did the things he wanted it to do," explains Gicovi.
However, they eventually found that the second customized prototype was an ideal fit for Caraballo's needs. This was a pleasant surprise for the Drexel students, who were expecting to have to create multiple prototypes before getting the design right.
The final design works by attaching a 3D printed plastic pad to Caraballo's violin bow, which he grips before attaching a Velcro strap to hold it in place. Caraballo explains: "You can move the pad around wherever you need it… It was good at first, but still a little bit hard (to maneuver). After a while, it got easier to use. I like it."
Due to the quick turnaround time, Caraballo was playing his violin comfortably with his 3D printed prosthetic in time for his school's Spring concert, and the Drexel students were right there to cheer him on.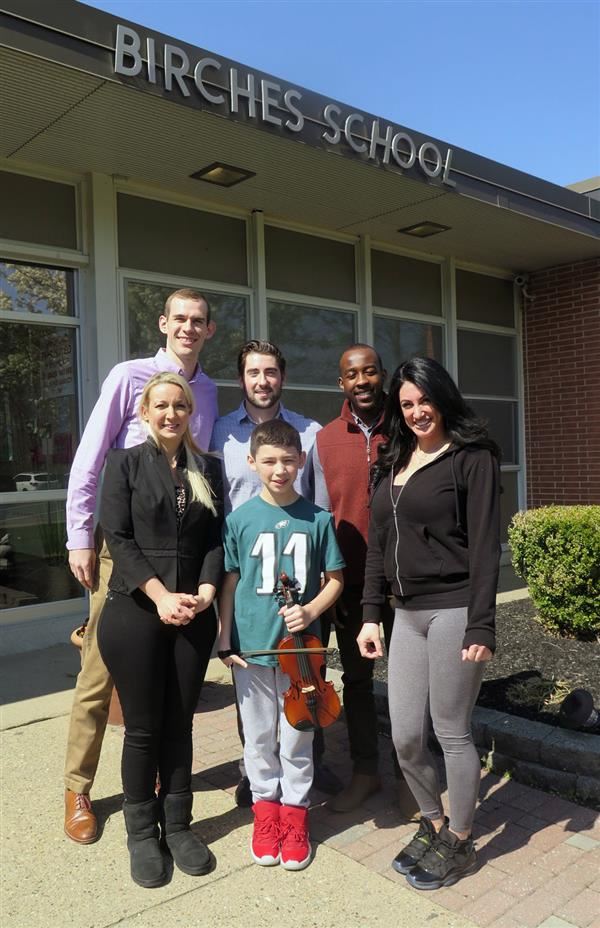 Source: NJ.com
Image Source: WTPS
License: The text of "3D Printed Device Helps Student with Defect Learn to Play the Violin" by All3DP is licensed under a Creative Commons Attribution 4.0 International License.
Subscribe to updates from All3DP
You are subscribed to updates from All3DP
Subscribe
You can't subscribe to updates from All3DP. Learn more…