For makers, 3D printed circuit boards are no longer a mere dream. 3D printers. which can do DIY PCB printing, will become commercially available soon.
The making of DIY circuit boards is a complex task. First, you'll have to plan the PCB, make a 2D print of the layout, cut a copper plate, transfer the PCB layout to the copper plate, iron the circuit, go through the process of etching, cleaning, disposing… and after some hours of manual labor, you should be ready.
There must be a way to do this more efficiently, right? Wouldn't a 3D printer be perfect for that job? Fortunately, the first PCB 3D printers will become available soon. Currently, these machines are able to 3d print electronics.
1. 3D Printed Electronics in One Go: Nano Dimension Dragonfly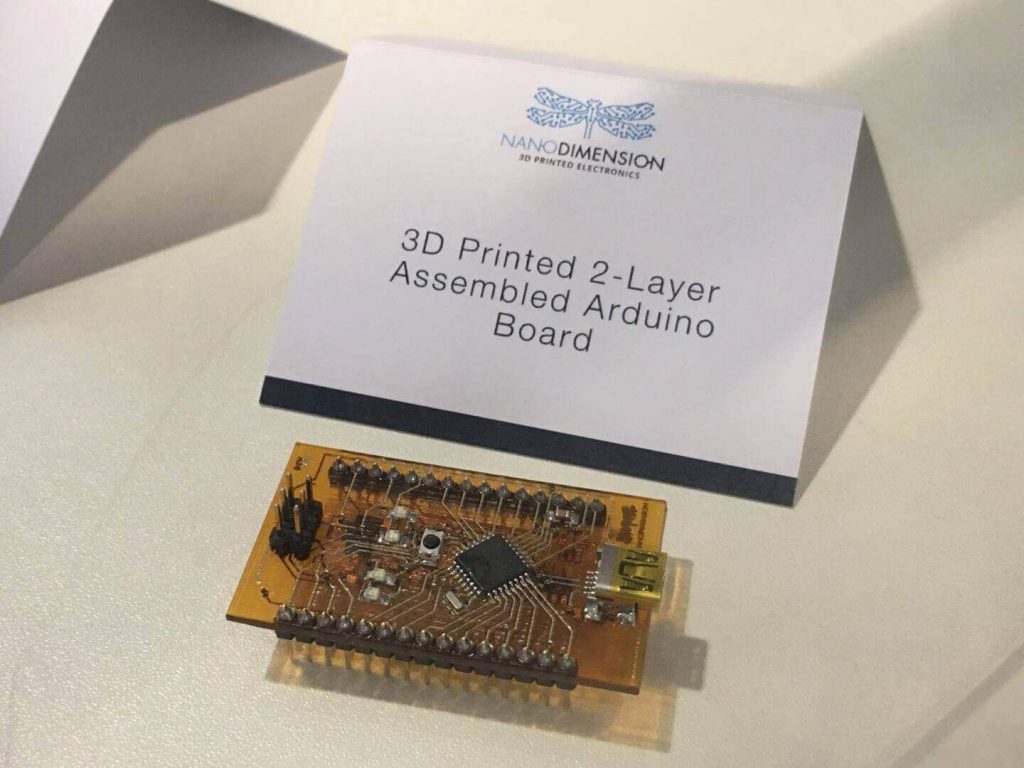 Nano Dimension Ltd. was founded in 2012. The company is based in Israel. They focus on the development of advanced 3D printed electronics systems. To archive this, they combine three technologies: 3D inkjet, 3D software, and nanomaterials.
At Formnext 2016, the company was showing some examples of their 3D printed PCBs. One was a 3D printed, 2-layer assembled Arduino board (see above).
What's really interesting are their nanoparticle inks. They use conductive or dielectric inks for in-house rapid prototyping of complex, high-performance multilayer printed circuit boards.
So far, the company has released their DragonFly 2020 3D Printer. It prints high-resolution multilayer PCB prototypes in a matter of hours – it's aimed at the semi-professional or professional sector.
Nano Dimensions have just delivered their first DragonFly 3D printer to Fathom, a U.S.-based advanced manufacturer with expertise in 3D printing; Phytec, a leading company in the microprocessor-based solutions industry based in Germany; and a U.S-based, Fortune 100, multinational corporation in the technology industry.
Still, the technology won't be available for everyone – a DragonFly PCB 3D printer is still way too expensive for hobbyists.
https://fast.wistia.com/embed/iframe/i1oxikxkei
2. Multimaterial & Electronics 3D Printer: NexD1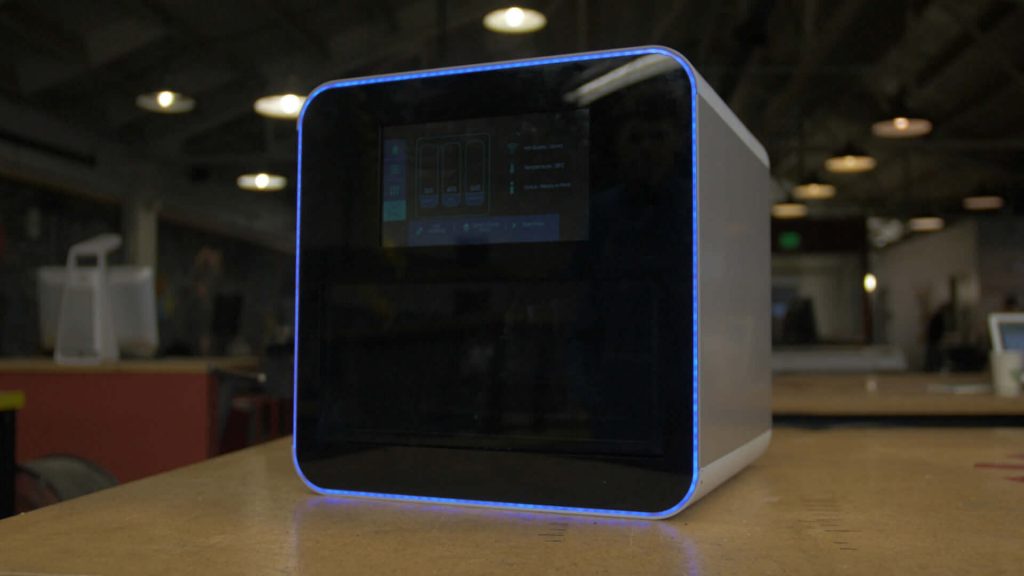 The "NexD1" is a multimaterial 3D printer from a German company called Next Dynamics. Their Kickstarter campaign wants to deliver more than a 3D printed circuit board. Thanks to the "DigiJet" technology, the NexD1 is able of print a wide range of materials, including resins with nano-particles or pigments. Therefore you can 3D print not only circuit boards, but also full-color prints and flexible materials.
The NexD1 prints fully functional PCBs and places them in any 3D configuration. According to the team, this is made possible by galvanizing a nano-particle infused resin – a new and interesting way of electronics manufacturing that opens up a new realm of potential in 3D prototyping.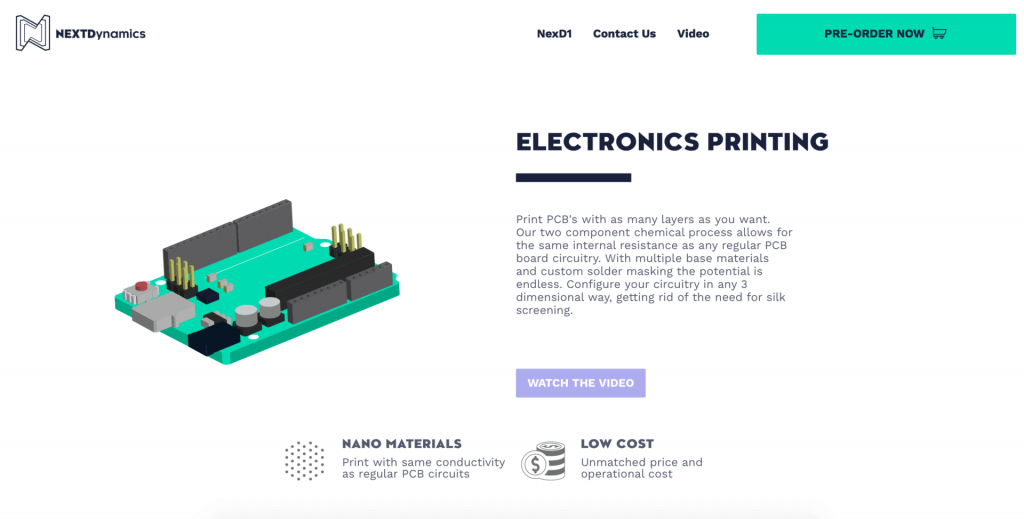 The Kickstarter campaign has been funded, so the NexD1 will be publically available. The campaign, which is still running in December 2016, offers rebates to early backers. After the campaign, the PCB 3D printer will cost $5499. That's a steal if you compare it to Polyjet, SLA or FDM printers.
Please be aware the printer has not yet been delivered and can therefore not be reviewed. If you order one through the Kickstarter campaign, you will have to trust the manufacturers. According to their plan, shipping will start October 2017.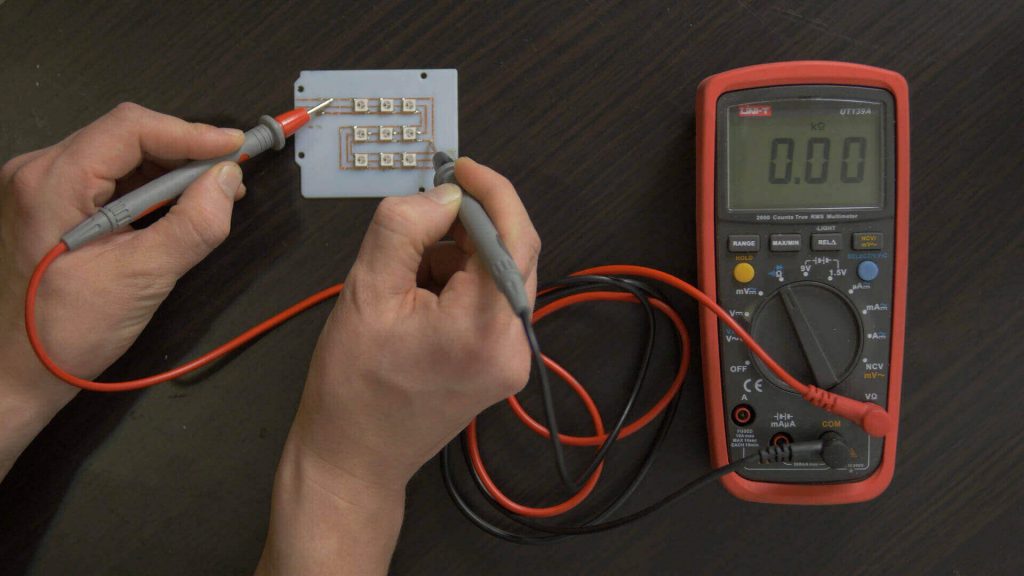 License: The text of "3D Printed Circuit Boards: First PCB 3D Printers Available Soon" by All3DP is licensed under a Creative Commons Attribution 4.0 International License.
Subscribe to updates from All3DP
You are subscribed to updates from All3DP
Subscribe
You can't subscribe to updates from All3DP. Learn more…