Admit it, we were all newbie chess players at one time or another. Chances are, you too had a bit of difficulty remembering the names of the various pieces and may have even committed the cardinal sin (in chess terms) of calling the rook a castle and the knight a horse (or – God forbid – a horsey!).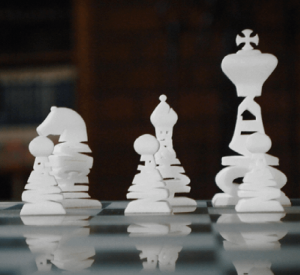 With one_save_solutions' 3d printed chess set (as found on Sculpteo.com), you'll never have to worry about committing this chess sin again. As you can see in the picture, the body of each piece has been transformed into the name of that piece so you'll always know which piece you're moving (just don't take it off the board to read it until you're actually ready to move it as this is a chess sin worthy of death).
Materials available are plastic and resin and each side can be printed in a wide range of colors ranging from the traditional white and black to the decidedly non-traditional neon yellow and neon pink (which one goes first?). Each set can also be printed in various sizes with the resin maxing out at 290mm x 190mm x 147mm and the plastic maxing out at 677mm x 368mm x 565mm.
So whether you're a newbie trying to get the hang of the game or a grand-master trying to teach those newbs the moves, these typographical pieces are a great starter-set for players of all ages.
You can find the 3d printed typographical chess set at Sculpteo.
License: The text of "3D Printed Chess Set" by All3DP is licensed under a Creative Commons Attribution 4.0 International License.
Subscribe to updates from All3DP
You are subscribed to updates from All3DP
Subscribe
You can't subscribe to updates from All3DP. Learn more…