Have you ever been on set only to realize you could use some more gear? If you have, then you're ready for 3D printed camera gear. 
For indie filmmakers on a tight budget, but also professional filmmakers, 3D printing could come to the rescue. With 3D printing on the rise, the possibilities are endless. Here is a list of useful film gear that can – or should? – be 3D printed.
But what if you don't own a 3D printer? Then you can have your camera gear 3D printed by a professional 3D printing service. The cost of a professional 3D print is usually less than expected, also, you can have it printed in a variety of materials and even metals. For more information and the best available price, visit All3DP price comparison service.
3D Printed Camera Gear #1: Lens Caps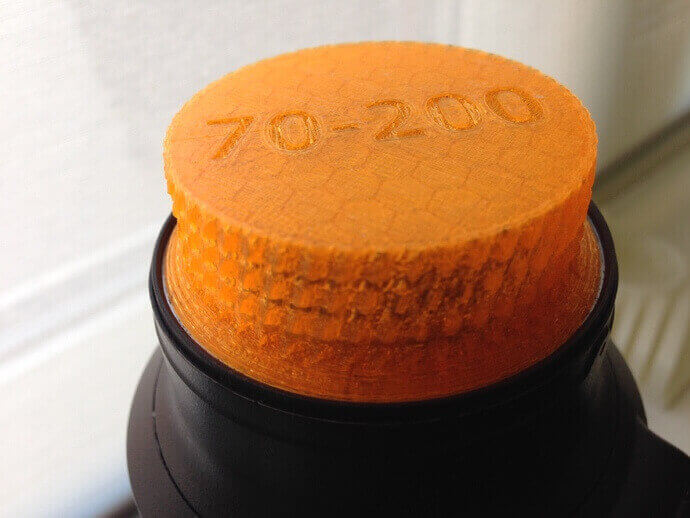 Losing lens caps… It happens all the time and costs tons of money to replace over an extended period. So why not 3D print your replacements instead? You'll be able to print them in any color you desire, and you won't have to worry about losing them since they're available to print on demand. Designs should be available for almost any lens out there. Or design your own.
Also, check out our comprehensive article on 3D printed lens caps right here.
3D Printed Camera Gear #2: Slider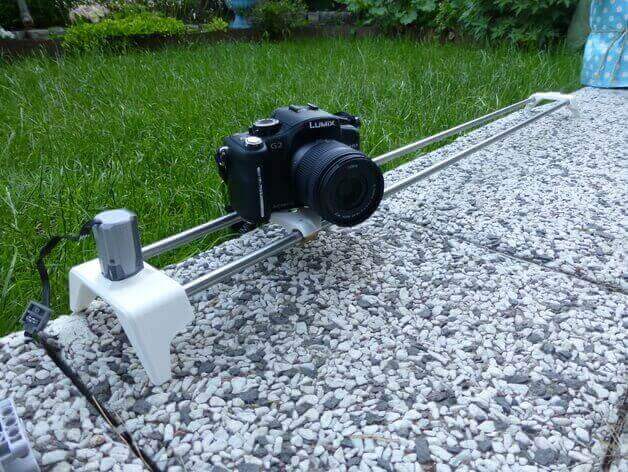 3D print a camera slider mount and stand. I do not suggest 3D printing the rails, as they may not slide as smoothly as a professional slider. Instead, use two pieces of PVC pipe as your rails and 3D print the rest. The results should produce some pretty smooth cuts.
Browse Thingiverse for 3D printed camera sliders.
3D Printed Camera Gear #3: Camera Drone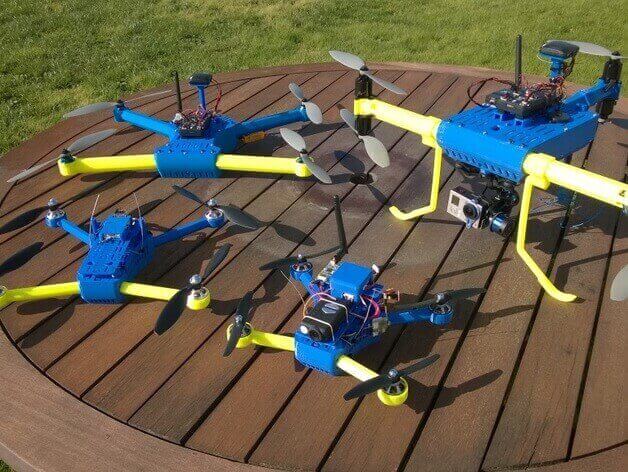 Drone racing and drone flying, in general, have become very popular over the last few years, especially in regards to filming. This is probably the most elaborate piece of 3D printed camera gear in this list. With your eyes in the sky, you'll be able to record scenes from angles never before possible for amateurs. And if you want to stay ahead of the curve, try 3D printing components of your drone.
If you're looking for more information on 3D printed drones, here's an in-depth article.
Or start 3D printing this piece of camera gear now: click here
3D Printed Camera Gear #4: Audio Pistol Grip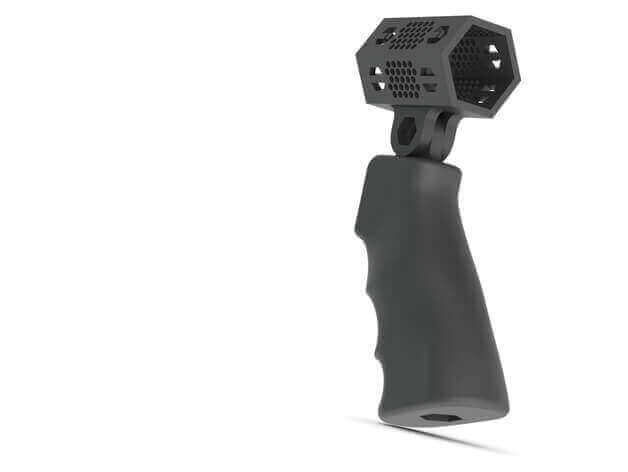 If you're working alone, an audio pistol grip suddenly becomes invaluable. But there's no reason why you shouldn't 3D print one. The Grip can be designed to meet your needs, for example; a tilt action.
3D Printed Camera Gear #5: Follow Focus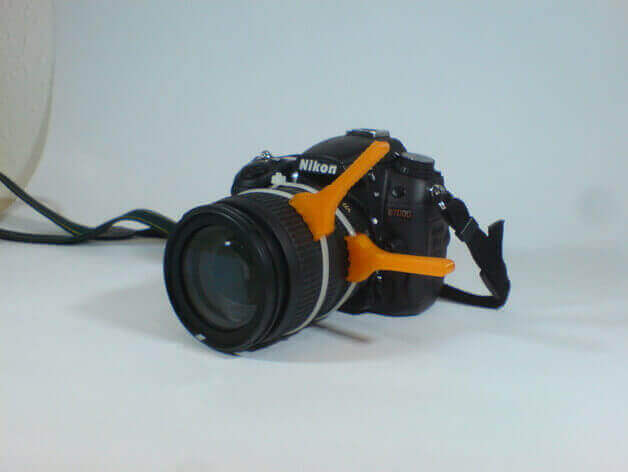 Professional follow focuses can be expensive. One way to DIY your way out of having to buy one is to zip-tie a 3D printed lever on to the focus ring of your lens. Problem solved.
Look for 3D printed follow focus solutions on Thingiverse.
3D Printed Camera Gear #6: Umbrella Holder and Hot Shoe Adapter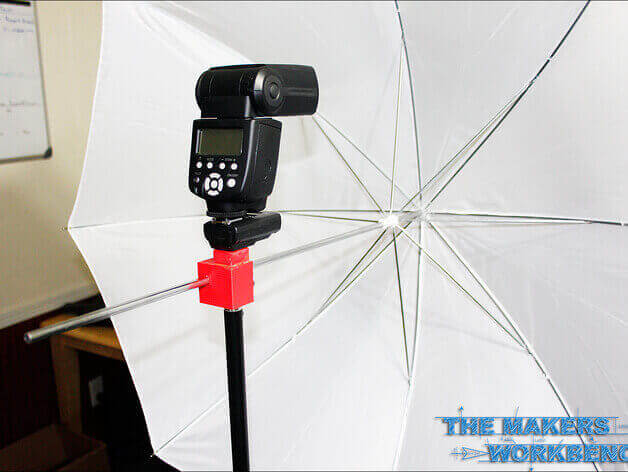 3D print your umbrella holder and hot shoe adapter to go on top of a light stand. This solution is cheap and sufficient enough to keep your studio light setup up and running.
Download this 3D printed camera gear design on Thingiverse.
3D Printed Camera Gear #7: Steadicam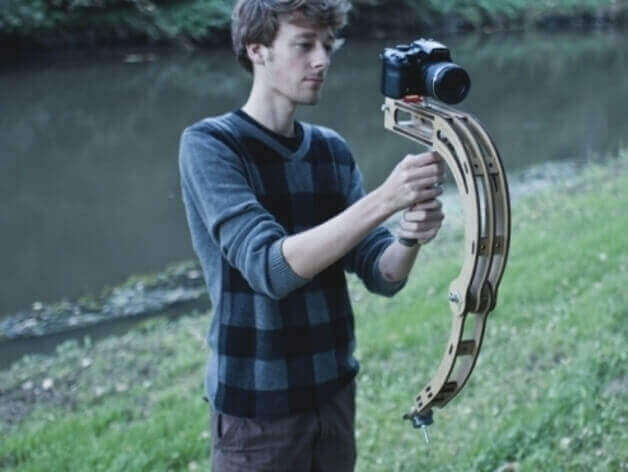 A 3D printed Steadicam is better than no Steadicam. This solution is a lot more affordable than the professional counterparts that can cost thousands of dollars. Although it might not work to the same degree as a professional one, a 3D printed Steadicam should be fine for beginners looking to experiment with one.
You can look for Steadicam designs here.
3D Printed Camera Gear #8: DSLR Rig System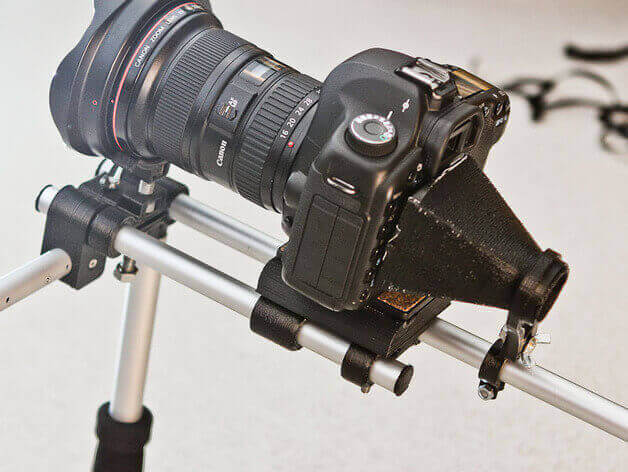 A DSLR rig system can be put together with railing and some 3D printed components. With just a little effort, you could have yourself a pretty effective rig setup.
3D Printed Camera Gear #9: EVF Cover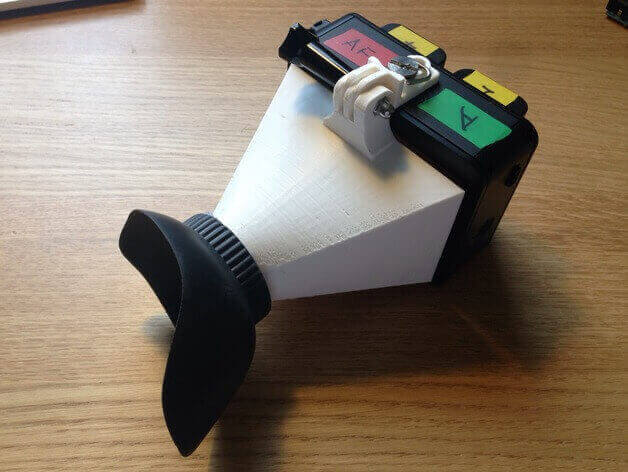 For situations where you find yourself having to deal with sunlight getting in the way of your EVF, a cover with an eyepiece is helpful. The cover can be 3D printed. However, an eyepiece needs to be comfortable, so I would suggest you buy one that doesn't come wrapped around a filament spool.
This design is available on Thingiverse.
3D Printed Camera Gear #10: Custom Film Slate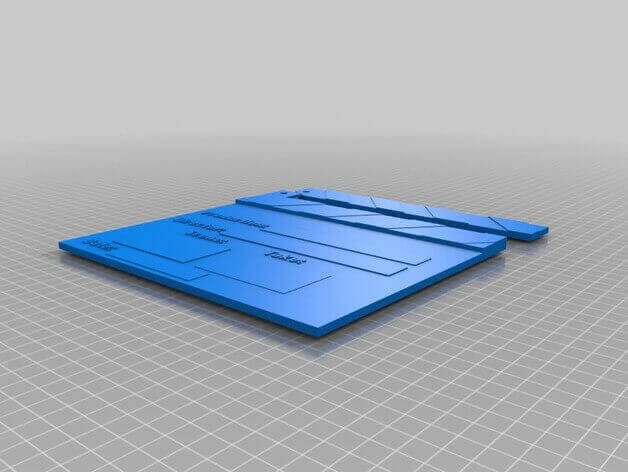 Why not 3D print your customized film slate? Size, color and form are completely up to you. All you'll need to do is apply some adhesive whiteboard and your ready to start filming your next film.
If you like this idea, download the file from Thingiverse.
3D Printed Camera Gear #11: Glidecam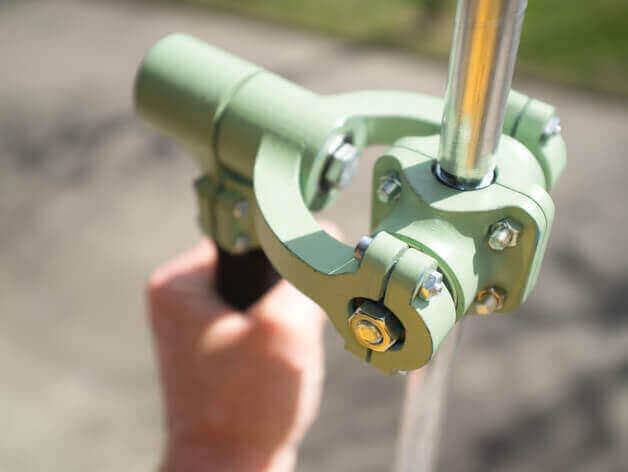 It is important to be able to shoot steady shots. That can be difficult if your camera isn't being stabilized. Glidecams are a good way to ensure your footage is usable. With a pole and a counterweight, all you need to do is 3D print a gimbal.
Browse Thingiverse for 3D printed Glidecams.
3D Printed Camera Gear #12: Portable Audio Recorder Mic Stand Adapter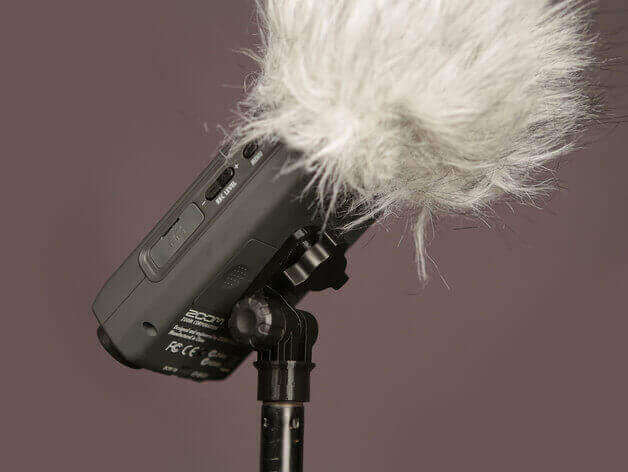 Films are so much better with good sound. Being able to put your audio recorder on a stand will eliminate the need for a helper. You can 3D print an adapter for an audio recorder. This way, you'll be able to attach it to a mic stand.
Browse mic stand adapters on Thingiverse.
3D Printed Camera Gear #13: SD Card Holder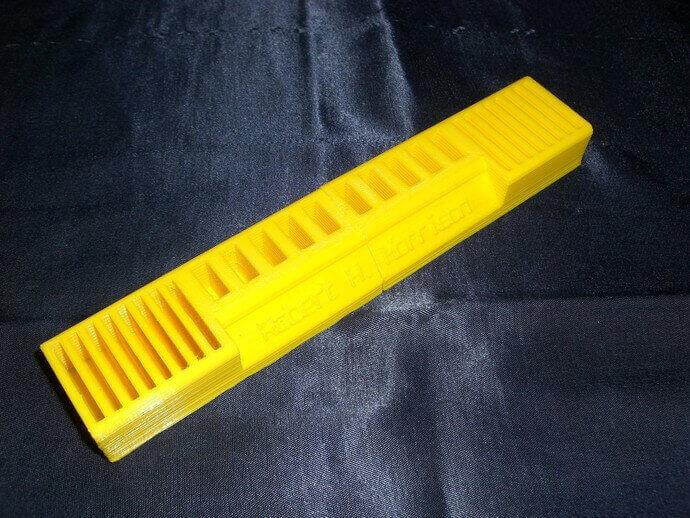 Whether it be for storage or as an organizer for your desk, an SD card holder is a very useful item. The only way to ensure maximum customizability is to 3D print one.
There are lots of SD card holder designs on Thingiverse.
3D Printed Camera Gear #14: 360 VR Rig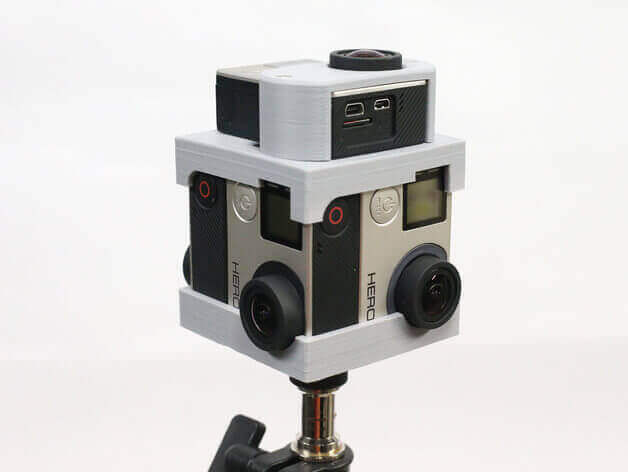 Virtual reality is the next big thing, in gaming and film making. A professional rig will cost you a lot of money, while a 3D printed one can be designed to do the same job. Or find a design online for your GoPros.
Why not start 3D printing a 360 VR Rig? Thingiverse
3D Printed Camera Gear #15: Mini Tripod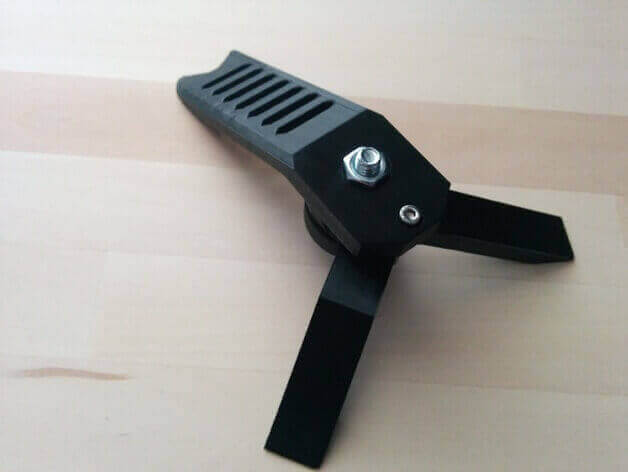 The queen of all camera gear! What's more important in film and photography than a tripod? It's probably the first piece of gear you will buy, or 3D print for that matter, once you've chosen your camera.
More on this idea: click here
3D Printed Camera Gear #16: Gear Rings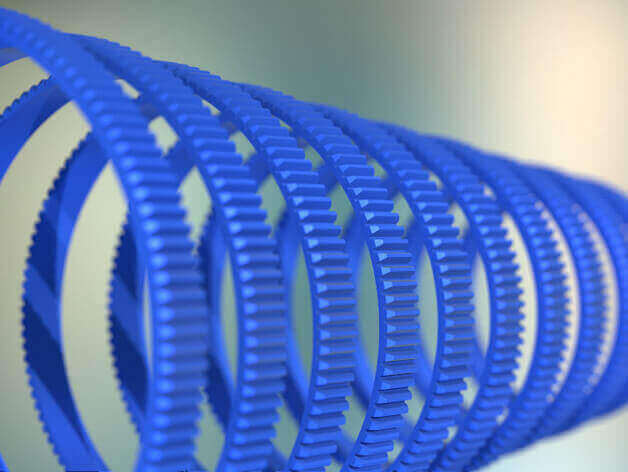 Gear rings are needed for follow focus systems. They are also easy to 3D print. Just search for the appropriate designs online and start printing. It couldn't get much easier than that. Here's a link
3D Printed Camera Gear #17: Screen Hood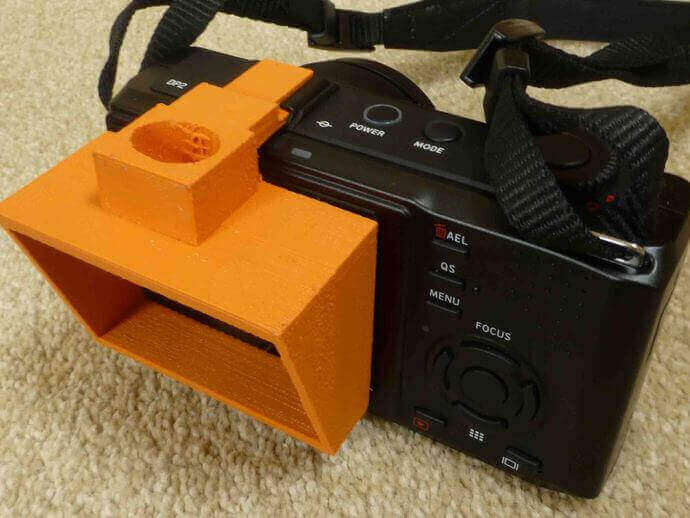 For camera screens that are easily washed out by sunlight or other light sources, screen hoods do a good job blocking out any unwanted light. Designs for 3D printed screen hoods can be found online.
You can start looking on Thingiverse.
3D Printed Camera Gear #18: Tripod Plate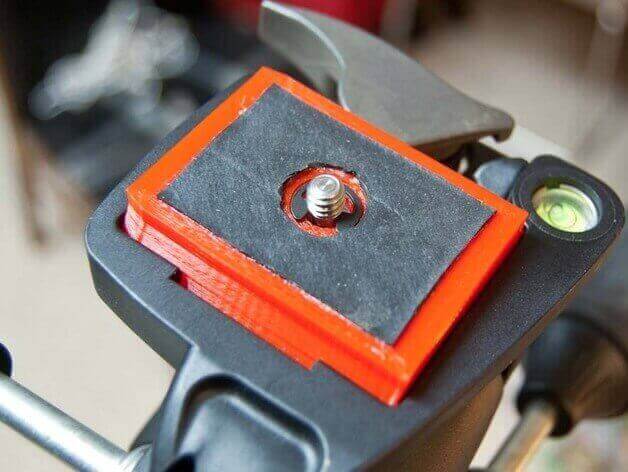 These little things are very easy to lose or forget at home. Make sure you always have enough of them around by 3D printing spares.
3D Printed Camera Gear #19: Boom Mic Shock Absorber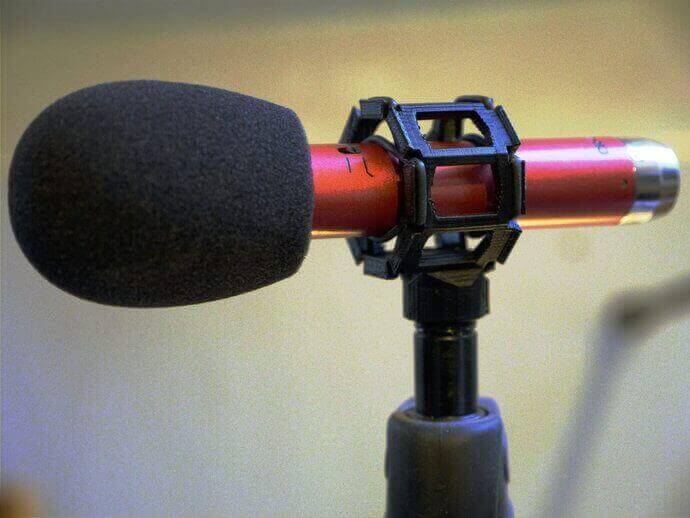 Undesired extra sounds are not welcome on the soundtrack. That's why a shock absorber is necessary. The frame is 3D printable, but rubber bands need to be purchased separately.
Here are a couple designs on Thingiverse.
3D Printed Camera Gear #20: Lens Hood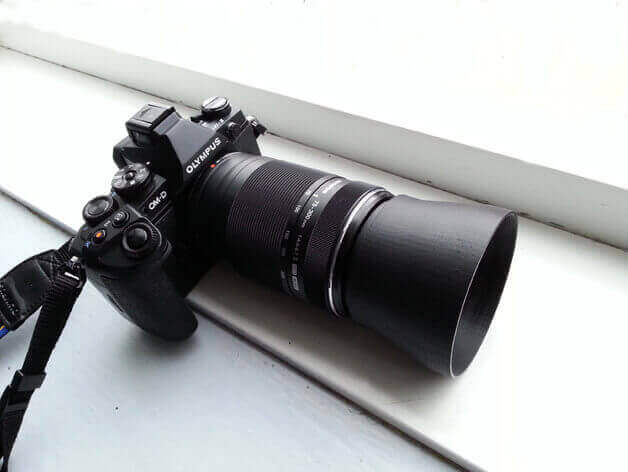 Unless you're going for that J.J. Abrams flare in your films, you should probably be using a lens hood. With 3D printing, you can come up with your design or download existing designs that fit your lens.
License: The text of "3D Printed Camera Gear: Save Some Money!" by All3DP is licensed under a Creative Commons Attribution 4.0 International License.
Subscribe to updates from All3DP
You are subscribed to updates from All3DP
Subscribe
You can't subscribe to updates from All3DP. Learn more…