The European Space Agency has been testing a prototype 3D printed antenna, designed for future mega-constellation small satellite platforms.
Working with the Swiss company SWISSto12, the European Space Agency (ESA) has been developing and testing a 3D printed dual reflector antenna for future use on space-qualified satellites.
Currently, it is being put to work in ESA's Compact Antenna Test Facility in Noordwijk, the Netherlands. The test range is isolated from outside electromagnetic radiation while its inside walls are covered with 'anechoic' foam to absorb radio signals, simulating infinite space.
This range is part of ESA's suite of antenna testing facilities, intended for smaller antennas and subsystems, which can be seen below. Engineer Maarten van der Vorst, member of the ESA Electromagnetics & Space Environment Division, designed the antenna. He said:
"Designed for future mega-constellation small satellite platforms, it would need further qualification to make it suitable for real space missions, but at this stage we're most interested in the consequences on RF performance of the low-cost 3D-printing process."
Putting the 3D Printed Antenna through its paces
Two different antennas were produced by SWISSto12, using a proprietary additive manufacturing technique, and employing a special copper-plating technique to coat the complex shapes.
The antenna incorporates a corrugated feedhorn and two reflectors, and it has been printed all-in-one in a polymer. This copper plating was used to meet its radio-frequency (RF) performance requirements.
"Although the surface finish is rougher than for a traditionally manufactured antenna, we're very happy with the resulting performance," says antenna test engineer Luis Rolo. "We have a very good agreement between the measurements and the simulations. Making a simulation based on a complete 3D model of the antenna leads to a significant increase in its accuracy."
The benefits of 3D printing the exact same model is that it can be done in a single piece, so any source of assembly misalignments and errors are removed, which can enable excellent results. As well as this, 3D printing reduces costs, lead times and component weight, while still increasing in RF design flexibility.
"As a next step, we aim at more complex geometries and target higher frequencies," adds van der Vorst. "And eventually we want to build space-qualified RF components for Earth observation and science instruments."
(via ESA)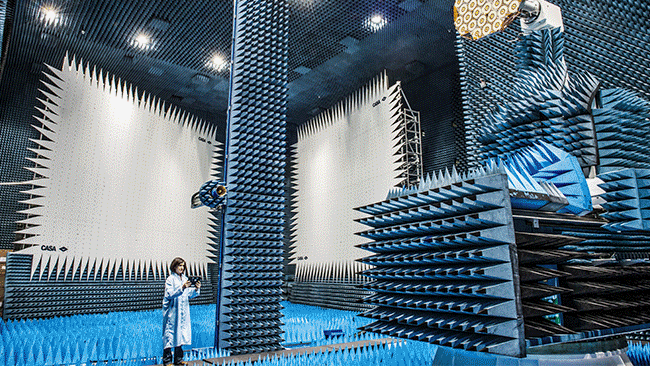 License: The text of "European Space Agency Testing 3D Printed Antenna" by All3DP is licensed under a Creative Commons Attribution 4.0 International License.
Subscribe to updates from All3DP
You are subscribed to updates from All3DP
Subscribe
You can't subscribe to updates from All3DP. Learn more…