Who should read this: Pet owners now can 3D print their beloved ones. All you need are some photos.
Pets are cared and loved by people around the world for the unconditional love they generously give to their owners, as well as the soft furs and enthusiastic behavior that brings a breath of new life to their families. Unfortunately, small animals lifespan is way less than that of their owners, so the later are sooner or later left with only photographic memories of their good little friends. With advancements in 3D printing though, owners can now hold something that encapsulates more of the essence and characteristics of their pets than a mere old photograph.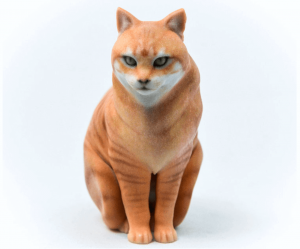 PetPrints3D is a new online service that allows pet owners from around the globe to create a high-quality 3D model of their pets and get it delivered on their doorstep within a few days. Although consumers are showing great interest in similar technologies that can 3D print humans, it is very difficult to utilize the same methods for pets as the required 3D scanning time that reaches up to 10 minutes requires long periods of standing still times which is not possible for pets.
You don't have to go somewhere – just send photos
What PetPrints3D does is to use a set of photographs of a pet, depicting the animal in different positions, angles and sides, so that a full 3D model can derive and get printed. This is admittedly a complex and difficult process, but until the time when 3D scanners that can capture an object in an instant become more affordable, it is the best way to achieve a pet's 3D portrait.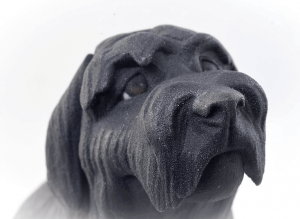 Pets are printed using a special sandstone-gypsum blended material that allows PetPrints3D to impart many customization elements to the models, including specific stances, pet-clothing, complex fur coloring, face expressions etc. This guarantees a highly tailored result that will truly let the animal's original personality shine through. This, in turn, induces greater reminisce and emotional retrace compared to classic photographs, as the recent course of evolution dictates that human brains value 3D objects more than 2D images.
Pet owners may choose the position they want their pet to be printed in (sitting, standing, lying down etc) and ask for specific gear to be included. The size of the model can also be chosen starting from the smallest that is 4 inches (height or length) at the cost of 250$, going up to the medium sized that is 6.5-7.5 inches and costs 500$, and reaching up to larger size that is 8.5-9 inches at a cost of 1250$. Special offers apply to those who will order more than one model of their pet.
Currently PetPrints 3D is the only service using photos, but be prepared for more
As 3D printing technologies hit the consumer market through the 3D photography trend, pets couldn't be left out as they are an indispensable part of our daily lives. Things will only get better from now on, with the use of more customizable and durable materials, and most importantly transportable, faster scanners that will be able to take an accurate 3D scan of multiple objects in a moment's time. Until then PetPrints3D is the place to go for your pup's 3D printed "mini-me".
There also might be an alternative right in your town: Just visit a 3D figurine studio (the list's here). All studios which use the photogrammetry system should be suitable for pets.
License: The text of "3D Print your Pet" by All3DP is licensed under a Creative Commons Attribution 4.0 International License.
Subscribe to updates from All3DP
You are subscribed to updates from All3DP
Subscribe
You can't subscribe to updates from All3DP. Learn more…