If you're a fan of Batman V Superman: Dawn of Justice, you should check out this 3D printable grapple gun inspired by the movie.
Have you been looking for the perfect cosplay costume or are you simply a huge fan of Batman? Either way, you're sure to love this 3D printable grapple gun.
The gun was actually designed before the movie came out, but it is a pretty accurate, life-size design. The best part is that you can download it from MyMiniFactory for free.
Although this is an older print, it is currently very relevant due to the new Lego Batman Movie which comes out on Friday. Check out the dedicated section on MyMiniFactory's page. Is there any better way to prepare yourself for the film's release than with a new 3D replica print?
Maker Stefanos Anagnostopoulos explained on his MyMiniFactory page: "I designed this new grapple gun from reference images I gathered from the internet, some during my trip to ComicCon."
Make Your Own Batman Grapple Gun
Anagnostopoulos continues: "Using 3D Studio Max to help me create my first gun I managed to achieve a high-quality result to make it as true to the original model as possible!"
He then 3D printed the replica gun using pink and white filament. Anagnostopoulos currently has 602 followers on MyMiniFactory and you're likely to find some of his others designs are definitely worth printing too. As for the Batman franchise, he explains:
"I want to give people the ability to engage with the film in a different way by being able to print what I think is the most awesome prop from the movie."
Although you might be missing a few of the prerequisites to actually be Batman, such as a lot of money or dead parents, at least you can tick one thing off your list after printing this grapple gun. All you'll need to do now is work on the rest of your costume – check out this one for some inspiration.
Source: Makers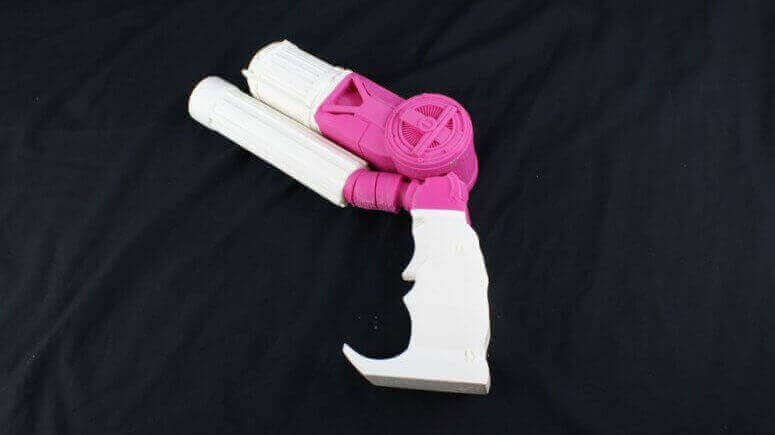 License: The text of "3D Print Batman's Grapple Gun from Batman vs Superman" by All3DP is licensed under a Creative Commons Attribution 4.0 International License.
Subscribe to updates from All3DP
You are subscribed to updates from All3DP
Subscribe
You can't subscribe to updates from All3DP. Learn more…