The UK medical 3D printing company 3D LifePrints completes Series A funding round worth £500,000, and will use the investment to expand the number of embedded medical 3D printing hubs across NHS hospitals and academic institutions.
Over recent years, 3D printing technology has seen a growing relevance across the entire medical sphere. One UK-based medical 3D printing company is aiming to integrate the technology into the everyday practices of the National Health Services, which is the publicly funded national healthcare system for England.
This past week, 3D LifePrints UK Ltd recently closed its Series A funding round led by Fenwall Investments Ltd. The investment round led to £500,000 in capital, following on from a previous seed round in 2016.
3D LifePrints offers medical 3D printing manufacturing and services to various NHS hospitals and academic institutions. With this most recent investment, the company will aim to expand the number of embedded medical 3D printing hubs across the NHS and overseas. These hubs enable healthcare providers to 3D print parts and patient-specific anatomical models right onsite.
In addition, 3D LifePrints also seeks to recruit new biomedical engineers and technology specialists in the field of 3D printing.
"We are extremely pleased to announce the completion of this funding round which will accelerate our unique model of embedded 3D medical printing services to drive down operational costs, provide innovative 3D technology based products and services, and ultimately improve patient care," said Paul Fotheringham, Founder and Chief Technology Officer for 3D LifePrints.

3D printed anatomical models. (Image: 3D LifePrints UK)
3D LifePrints Partners with NHS to Accelerate Adaptation of 3D Printing in UK Healthcare System
Through the 3D printing company's partnership with the NHS and select academic institutions, 3D LifePrints UK helps healthcare providers and researchers to identify and adapt 3D printing technology for medical applications.
For instance, NHS surgeons have used 3D printed models of a patient's spine to plan for a complicated surgical procedure. These patient-specific models ensure greater precision, improved guidance, and better preparation for difficult operations.
The 3D printed products that 3D LifePrints provides also help to reduce client costs and improve overall patient care.
Dr. Andrew Douglas, Managing Director of Fenwall Investments Ltd added:
"We're delighted to be on board with this talented team operating in an emerging and fast-developing market. We feel the timing is perfect to allow 3D LifePrints to capitalise on its potential. I'm looking forward to an exciting and profitable partnership."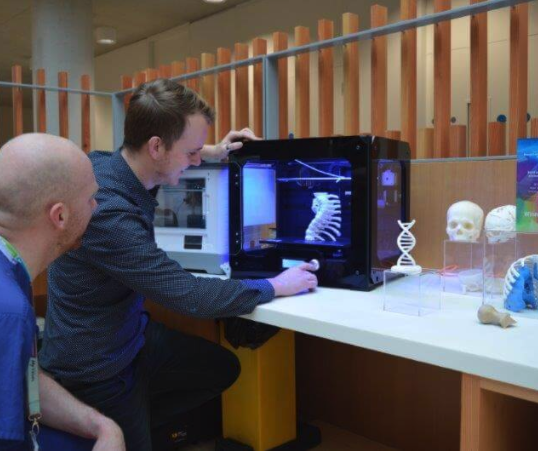 This is not the first time that the NHS has implemented 3D printing technology within the confines of healthcare.
Last year, Open Bionics, a UK startup which develops low-cost bionics, announced a collaboration with the NHS to offer more affordable prosthetics. A clinical trial for these 3D printed bionic hands for children launched in June 2017. Following the clinical trial, Open Bionics received a product development contract from NHS England in December 2017.
Now, with £500,000 of funding waiting in the wings, 3D LifePrints will try to make its own mark on the UK healthcare sector, one medical 3D printing hub at a time.
Source: 3D LifePrints
License: The text of "3D LifePrints Secures £500,000 in Funding to Expand UK Medical 3D Printing Hubs" by All3DP is licensed under a Creative Commons Attribution 4.0 International License.
Subscribe to updates from All3DP
You are subscribed to updates from All3DP
Subscribe
You can't subscribe to updates from All3DP. Learn more…