Take a fascinating journey through geography, history, art and architecture with these 3D printed wonders of the world.
Cultural and historical landmarks are among the most fun objects to 3D print. Many of the world's most famous monuments have already been 3D modeled — or 3D scanned — by enthusiasts and professionals. The resulting files can be printed off and used for educational purposes, or as reminders of places we have visited or would love to visit in the future.
Inspired by Jules Verne's novel, Around the World in Eighty Days, we took a virtual trip around 30 of the most significant and recognizable landmarks in human civilization. Passports and visas not necessary.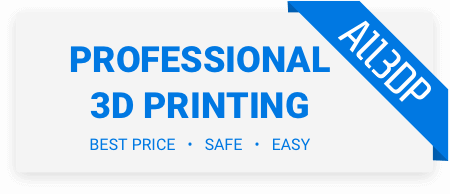 1) Big Ben, London / United Kingdom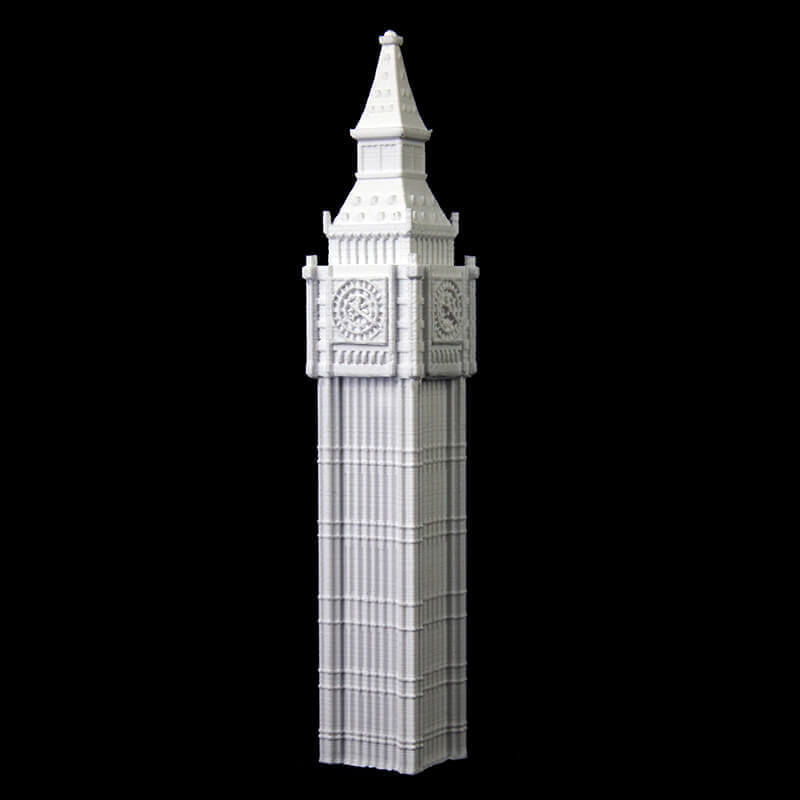 Just like Phileas Fogg, we begin our journey in London. Of all the imposing landmarks in the capital city of Great Britain, the most formidable — yet simplest to 3D print — is the Big Ben clocktower. It's located right in the center of the city, near Westminster, the Houses of Parliament, the London Eye, and the River Thames.
Who made it? Scan The World
Where to get it?  My Mini Factory.
2. Eiffel Tower, Paris / France

Next up is Paris. Here you can choose among literally hundreds of classical monuments; we were torn between the Arc de Triomphe, Notre Dame Cathedral, and the Eiffel Tower. We settled for the metal tower built for the 1889 World Expo, since it is often used to demonstrate high definition resin 3D printing.
Who made it? B9Creations
Where to get it? Thingiverse
3. Brandenburg Gate, Berlin / Germany

In the capital city of Germany, too, there are many landmarks to choose from. Berlin has undergone many different periods, and more than any other city it represents both Europe's turmoil and its unity. The Brandenburg Gate is perhaps the signature monument, representing a doorway connecting Western and Eastern Europe. It's also a challenging and inspiring model to 3D print.
Who made it? MiniWorld
Where to get it? Thingiverse
4. St. Basil Cathedral, Moscow / Russia

Now we take a little detour and go straight on to Moscow. Finding 3D printable models of the Kremlin is difficult (perhaps because it's too large), so we went with the resplendent St. Basil Cathedral, which also stands in the Red Square. The spires and cupolas make for a nice 3D print.
Who made it? Matthew McGinnis
Where to get it? Thingiverse
5. Hungarian Parliament, Budapest / Hungary

We chose one landmark for Eastern Europe and, despite the brilliant architecture in Prague, Bratislava, Warsaw, and Bucharest, we opted for the Hungarian Parliament in Budapest. This is one of the most beautiful buildings in the world to visit — and to 3D print, of course.
Who made it? MiniWorld
Where to get it? Thingiverse
6. San Marco Basilica, Venice / Italy

Looping back to Venice, Italy. Here, in the Serenissima, just about everything is a landmark (except for the huge cruise ships that plague the lagoon) but we had to choose one. So we went with San Marco's Basilica, one of the most impressive churches, located in the famous Piazza San Marco.
Who made it? Michael Litke
Where to get it? Tinkercad
7. Coliseum, Rome / Italy

Continuing down through Italian history, we reach Rome. Here there is one building that stands head and shoulders above the many amazing specimens drawn from 2000 years of Western culture — the Coliseum, which is arguably the inspiration for every modern sports stadium. This is another commonly 3D printed building, and we found a nice 3D scanned model on Threeding (even though it costs $10 to download).
Who made it? STAN1
Where to get it? Threeding
8. The Parthenon, Athens / Greece

Travelling to the very beginnings of Western civilization, we arrive in Athens, where the Parthenon stands in the Acropolis. As a universal symbol of the classical spirit, it is one of the greatest architectural and artistic wonders of the world.
Who made it? tokyovirtualworld
Where to get it? Thingiverse

9. The Blue Mosque, Istanbul / Turkey

Our final stop in Europe is the city that unites three continents, Europe, Asia and Africa: Istanbul. The ancient capital of the Ottoman Empire has undergone many different historical periods, influences, and names. One of its most beautiful buildings was built in relatively recent times: the Blue Mosque of Sultan Ahmed.
Who made it? tokyovirtualworld
Where to get it? Thingiverse
10. Great Pyramid of Giza, Cairo / Egypt

Arriving in North Africa, the first stop just has to be Egypt, home to one of the greatest and longest running civilizations of all time. Over thousands of years, the ancient Egyptians built hundreds of epic monuments that paid tribute to their gods and kings. For 3D printing, we chose the Great Pyramid of Giza in Cairo.
Who made it? MakerBot
Where to get it? Thingiverse
11. Al Khazneh, Petra / Jordan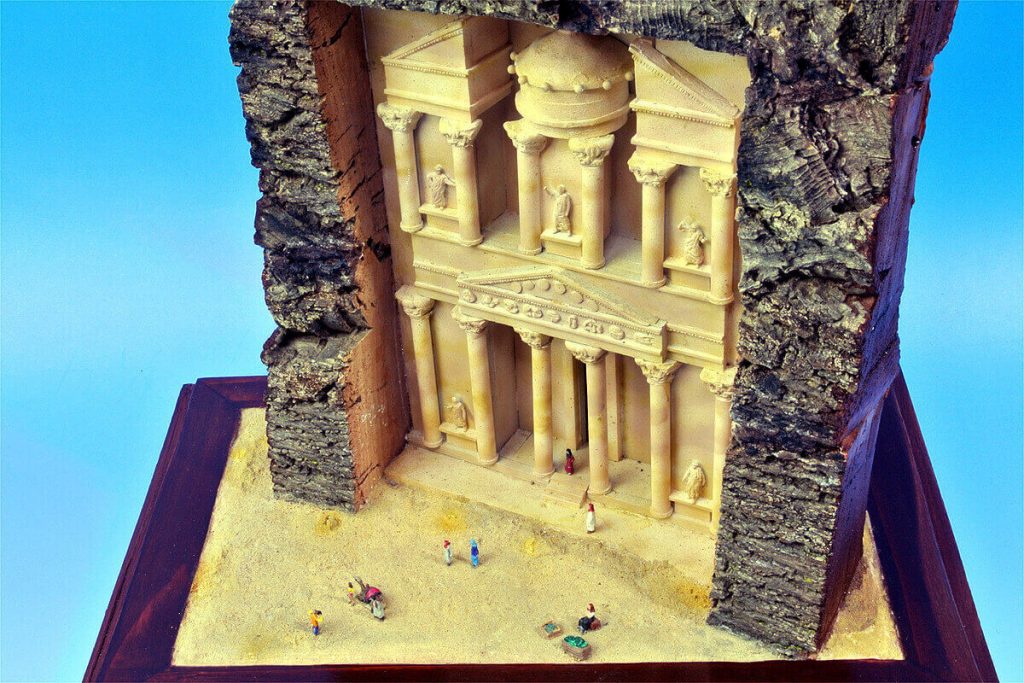 Partially carved out of the surrounding rock, Al Khazneh is one of the most awe-inspiring man-made constructions of all time. Fun fact: it had a starring role in Indiana Jones and the Last Crusade.
Where to get it? TokioVirtualWorld
12. Burj Khalifa, Dubai / United Arab Emirates

From a city as ancient as time, to one of the centers of the modern world; Dubai has many impressive modern buildings, and the recently completed Burj Khalifa is (currently) the tallest man-made structure in the world. It represents the rise of the bustling commerce of the UAE, and it's a great choice for 3D printing.
Who made it? Scan The World
Where to get it? My Mini Factory
13. Taj Mahal, Mumbai / India

Built in the XVII century, the huge Taj Mahal mausoleum in Mumbai is an immensely popular tourist destination, and now available as a 3D printed artifact. Position it behind a bench, and take some pictures of yourself perched in the foreground.
Who made it? Prabhakar Purushothaman
Where to get it? My Mini Factory
14. Angkor Wat, Cambodia

Hidden in the Cambodian jungle, the ancient region of Angkor is considered one of the primary UNESCO World Heritage Sites in the world. It spans over a large region with thousands of incredible temples, each representing examples of Khmer architecture and the largest pre-industrial city in the world.
Who made it? tokyovirtualworld
Where to get it? Thingiverse
15. Financial Center, Shanghai / China

While China also has a cultural history that dates back thousands of years, its financial capital Shanghai has boomed over the past quarter century. One of the most significant examples of this economic might is the tower area, with the World Financial Center and other skyscrapers that have magically appeared in just over two decades.
Who made it? Siddhant Gautam
Where to get it? Thingiverse
16. The Great Wall, China

The only man-made structure that's visible from space, The Great Wall of China is a slam-dunk for 3D printing. We don't suggest you try to replicate all 600 kilometers of it, however. Maybe just partition the living room and mark your territory from your pets.
Who made it? gage miner
Where to get it? Thingiverse
17. Housing Units, Hong Kong / China: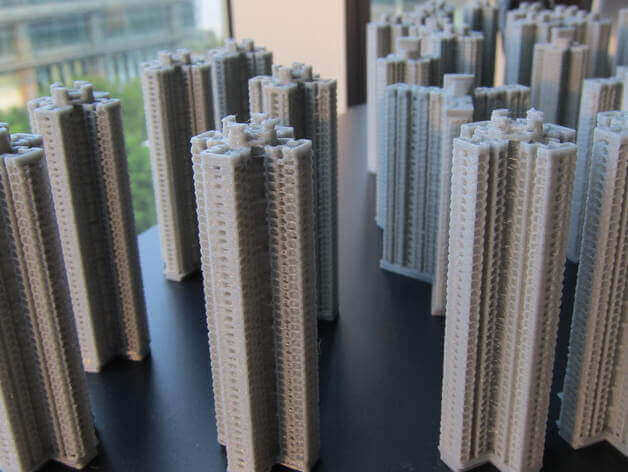 While touring through China, we stopped over in Hong Kong too. When describing this global financial capital, one cannot but think of the huge luxury housing skyscrapers. A 3D model of these super-structures recently won the Thingiverse #SeetheWorld challenge.
Who made it? tim lo
Where to get it? Thingiverse
18. Asakusa District, Tokyo

From Hong Kong on to Tokyo. This is a city very much on the cutting edge, filled with dozens of amazing landmarks. Many of them are just too large to 3D print, unfortunately. But with its huge, ancient pagoda temples, buildings from the picturesque Asakusa district would make an excellent choice.
Who made it? MiniWorld
Where to get it? Thingiverse
19. Opera House, Sydney / Australia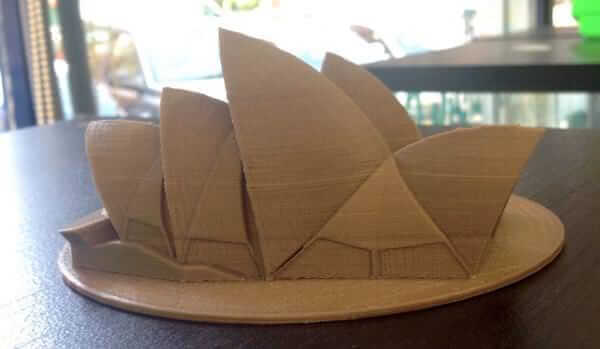 Heading down under, Australia has plenty of epic natural scenery. But when considering man-made structures, the Sydney Opera house is probably one of the most unique examples of architectural design in the present day. Naturally, it makes for a great 3D print.
Who made it? qvarker
Where to get it? Thingiverse
20. Moai Statue, Easter Island

Crossing the Pacific Ocean, from Papua to Chile, let's stop by Easter Island and 3D print a monolithic Moai statue. Just don't expect any scintillating conversation.
Who made it? Patrick Raines
Where to get it? Thingiverse
21. Christ The Redeemer, Rio De Janeiro / Brazil

We land in South America and make our way to perhaps the most famous locale on the continent — Rio de Janeiro in Brazil. Here we find another of the wonders of the world, the huge statue of Christ the Redeemer. He's perched atop the Corcovado mountain, watching over the city's inhabitants.
Who made it? Miguel Pynto
Where to get it? Thingiverse
22. Machu Picchu, Peru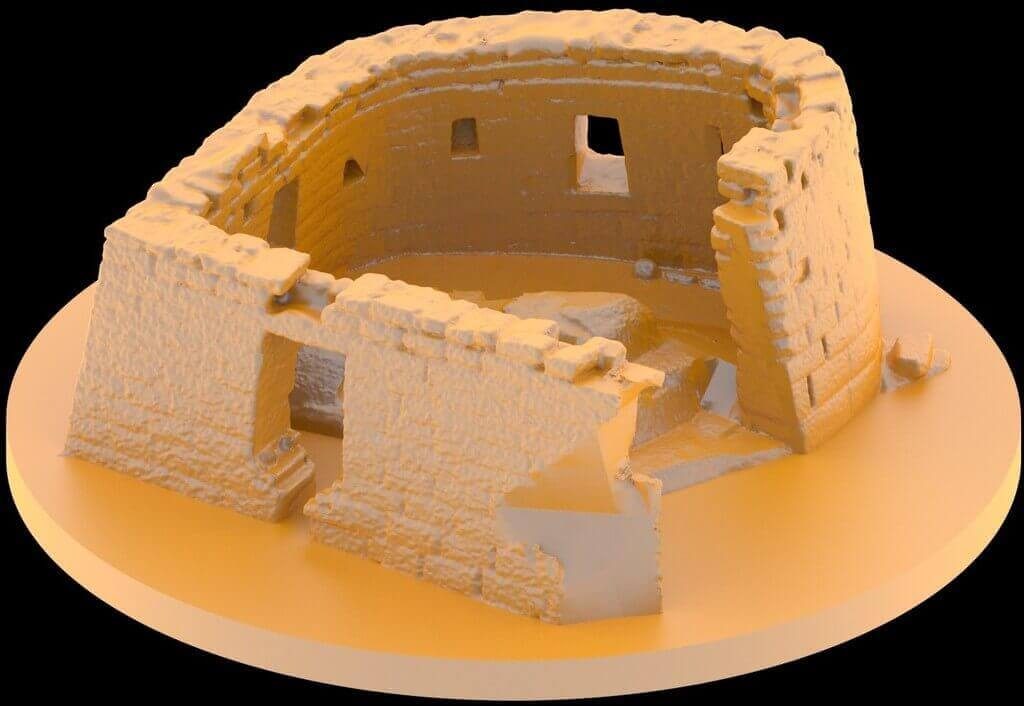 One of the most historically important landmarks in South America, the ruins of Machu Picchu are a familiar icon of Incan civilization. Also, the largest tourist attraction in South America. All of which makes it a mandatory stop on our journey. No one has fully 3D scanned the huge archaeological site — yet — but we can make do with a small Temple of the Sun.
Who made it? Jordan Miller
Where to get it? Thingiverse
23. Chichen Itza, Mexico

The Chichen Itza archeological site in Mexico is visited by some 1.2 million tourists each year. The Mayan temple is a relatively simple structure to 3D print, and there are many 3D models available.
Who made it? Tobyrobot
Where to get it? Thingiverse
24. Golden Gate Bridge, San Francisco / USA

From Mexico we make our way back into the USA, up the California Coast all the way to San Francisco. Here we just have to 3D print the Golden Gate, the three mile long red bridge which is one of the most famous, most photographed, most beautiful – and also most 3D modeled – landmarks in the world.
Who made it? Vishnu Srinivas
Where to get it? Thingiverse
25. Hollywood, Los Angeles / USA

The City of Angels is basically a flat urban sprawl. But it's also a place permanently embedded into global culture through its biggest export — Movies. The iconic sign on the nearby hills is relatively simple, so 3D printing it should be a breeze.
Who made it? Bernardo Pastorino
Where to get it? Thingiverse
26. Mount Rushmore, South Dakota / USA

Threading our way back to the East Coast, there are a few man-made and natural landmarks that deserve a 3D printed replica; the Hoover Dam, Yellowstone Park, and the Grand Canyon. Probably the most representative and easy to print is Mount Rushmore in South Dakota, carved with the faces of Washington, Jefferson, Roosevelt and Lincoln.
Where to get it? CGTrader
27. The White House, Washington DC / USA

From past presidents to current presidents. The residence of the most powerful man in the world is definitely a building worth recreating. Especially when President Obama, the current incumbent, is a great supporter of both 3D printing and the maker community.
Who made it? Emma Drash
Where to get it? TinkerCAD
28. The Empire State Building, New York City / USA

The Empire State Building was for many decades the tallest building in the world, built at a time when the rest of the world was mostly farmland. Despite having been long since eclipsed by bigger super-structures, it's a permanent fixture on the New York skyline, and in the hearts and minds of the city's famously grumpy residents.
Where to get it? Design Share Make
29. Statue of Liberty, New York City / USA

Before leaving the USA, one quick stopover at the Statue of Liberty. Holding her torch of freedom aloft, the Lady Liberty represented – and in many cases still represents – the first glimmer of hope for those who left their home countries in search of a better future.
Who made it? Siddhant Gautam
Where to get it? Thingiverse
30. Sagrada Familiar, Barcelona / Spain

Like Christopher Columbus (but backwards) we return from the New World back to Spain and land in Barcelona. Designed by Gaudì, the Sagrada Familia is a potent symbol of creativity and advanced architecture. The building is not yet completed, however. It reportedly has two large 3D printers in its basement, which are used to model each new part being built. Our 3D printed trip around the world ends here and could not have finished in a better place.
Who made it? juaaaan
Where to get it? TinkerCAD
---
Looking for more wonders of the world to 3D print? It's not too difficult to find them.
Thingiverse recently launched the #SeeTheWorld challenge, focused specifically on 3D printable landmarks, while MyMiniFactory has also been publishing 3D scans of artworks — which includes historical buildings and landmarks — with its Scan the World project.
While browsing through 3D model search engines such as Yeggi and STL Finder, we even ran into TokyoVirtualWorld, a Japanese website that offers free 3D models and sells full color 3D prints of the world's attractions. Some are simply too good to resist.
Disclaimer:
All3DP GmbH makes 3D printing available to everyone.
If you choose to buy an item through one of All3DP's articles, we do not charge any fee or additional price on top of our partners fulfillment price. We are paid on a commission, which means that we receive a small percentage from our partners.
Also, we are not selling the models. By comparing the prices of our 3D printing services, we simply are pointing you to the lowest 3D printing price available. If you would like to know more, please visit our Terms of Service.
Also, the editorial team of All3DP only conveys models that are under Creative Commons 4.0 Licence. All3DP will never convey STL files which are marked with the non-commercial use licence (CC NC). Also, according to CC BY, we give attribution where needed. If you are the designer of a model and want to be removed from All3DP's price comparison service, please send a mail to [email protected].
License: The text of "30 Wonders of the World 3D Printed" by All3DP is licensed under a Creative Commons Attribution 4.0 International License.
Subscribe to updates from All3DP
You are subscribed to updates from All3DP
Subscribe
You can't subscribe to updates from All3DP. Learn more…