Configuring Your Objects
To make your objects easier to animate, your model has to be prepared:
Before creating movements, place your objects in their initial positions for animation.
Click the positioner tool, click "Save current position as.." and name your position "Original Position". This will save your current setting, which will serve as the starting positions of all objects
Having your objects grouped according to its movable parts will also make animating easier. As an example, you can see in YouTuber Fredosix's video how the forklift parts were prepared and grouped as separate components.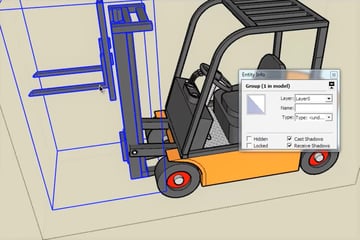 Clip Editor
The clip editor is where most of your animation work will be done. Opening the clip editor brings you to its interface, which is composed of the following:
Sequencer: Located by default on the left side of the screen, this is the timeline that shows your animation at a specific point in time. This works similarly to a movie editor's timeline, where you can drag and lengthen elements. Instead of clips of video and sound, the elements you'll move are the animations, camera, visual effects, and other settings as they change through the timeline.
Insert Sequence: This contains all the elements you may need, such as animation, camera positions, and visual effects.
Speed Adjustment: This is where you can speed up or slow down your animation by a set factor.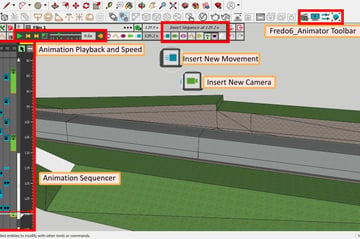 Creating an Animation
Once the clip editor is open, you can begin creating animations for an object:
Click the icon for inserting new movement, then select "New Movement".
Click the objects you want to animate. Once selected, a list of grouped objects will show. Select the group you want to be animated as a single unit.
Name your groups. This is important, as it will make selecting them easier. You can see the objects in a group by hovering over the name, highlighting which objects belong to that group.
A list of possible animations will appear once you have a group selected:
Translation: Linear movement in a single axis
Rotation: Circular movement about a selected pivot point and axis
Spin: Rotation of an object on its center point, along a selected axis
Screw: A combination of translation and spin
Scale: Change the size of an object along an axis
Explosion: Move objects away from a center point or plane
Path: Move an object along a sketched path
Apparition: Make an object appear or disappear
For every animation, there are several settings you can adjust, such as the axis of movement, the distance it will move, and the speed of the movement.
After animating, click the check icon to save the animation, make sure to name it so that you can find it more easily in the Sequencer. The timeline can get messy as you progress through your project, naming things helps you find and change them later if needed.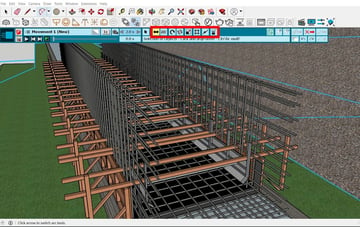 Camera Configuration
Just like the native walkthrough animation in SketchUp, you can also configure various scenes with your camera:
Click the icon for inserting a camera in the timeline, then "New Camera". The timeline will be hidden, showing you a clear view of what you want the camera to capture.
Navigate around your scene to capture what you want to be included in the animation. Once you're set, click "Capture Current View Camera", and then save it by clicking the check icon. You can also rename this for later identification.
You can have various camera angles in your animation. Similar to the native animation tool in SketchUp, the software also finds the easiest way to move from one scene to the next.
Using the Timeline
The sequencer timeline lets you arrange and edit every animation, camera movement, and effect so that you can organize them and even make them play simultaneously:
To move a camera movement or animation, click and drag it to the desired location.
You can also shorten and lengthen the animations by dragging the edges of the animation elements to stretch or compress them.
To make multiple animations play simultaneously, you can drag such that they overlap, creating a parallel section of the timeline.
Right-clicking on the timeline provides you with tools for arranging elements in the sequencer, such as cut, copy, insert spaces, and select elements.
The clip editor includes a player for the animation, and you can drag the red arrow across the timeline to preview the animations.
Exporting Video
After creating and arranging all your elements for animation, you can test playing it in the clip player.
To export your animation into a video, click the "Generate Video" button, which is located both on the clip player and in the clip editor.
Make sure you've installed FFMPEG in order to export your animation as a video. If it's not yet installed, Animator will be only able to export images for each frame, to be assembled in another program as a video.
While generating the video, you can set which file format you want the video to be exported as well as set the frame rate, speed, and resolution. As an additional option, you can also use Vray for SketchUp to export your animation, as explained by SketchUpEssentials.