OpenSCAD uses constructive solid geometry to create CAD objects. As we mentioned above, it does this solely through manipulating the code of its own descriptive language. That's why it's advertised as a programmer-oriented solid-modeling tool; although anyone can use it, its interface will be most familiar to those who work with code.
Through OpenSCAD's script, users indicate what basic geometric shapes (for example a sphere or a cone) to use, the parameters of those shapes, and how those shapes relate to each other. Together, all those factors add up to the same type of 2D or 3D model you can make with any CAD software.
What sets OpenSCAD apart from other tools is that you'll be building through word commands rather than pictures.
As its name implies, OpenSCAD is not only free but also open-sourced. This fact, coupled with its code-forward UI, makes it a great CAD program for those who want to experiment with the inner workings of their modeling software.
Company: OpenSCAD
Cost: Free
Where to get it: OpenSCAD website
Best for: Functional part modeling
Pros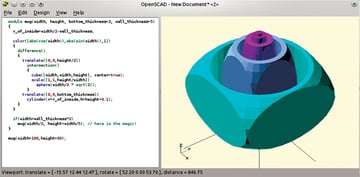 OpenSCAD may seem like a specialized program, but community members swear by its reliability and ease. Its code-based CAD construction gives you access to fine-tuning only possible with the precision of numbers.
Variables are modifiable. Because OpenSCAD reads your design script and compiles your object from that instead of direct interaction with the object design, it's very easy to change the parameters and other variables any time you want. That's because all you have to do is find the line of code that pertains to the feature you want to change; alter the number or relative measurement instead of trying to visually pinpoint where you went wrong on an interactive object several steps ago.
Algorithms enable complicated designs. This level of detail control gives you the precision needed for designs and models that have many more points of reference than those created visually.
User-made designs are easily accessible. OpenSCAD has all its own program code available for use and manipulation, so if you don't see a feature you'd like to have, chances are someone in the OpenSCAD community has built it or something like it. You can also code it yourself and share with your fellow users!
Cons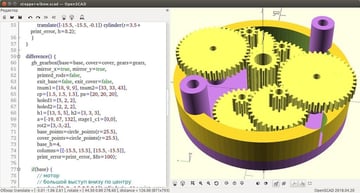 Although it lives up to its promise of accessibility and detail, OpenSCAD does have a few limitations that are worth mentioning to potential users. Beyond the initial novelty of its UI, OpenSCAD isn't equipped with the testing features you may want for industrial designs.
Coding requires additional learning. Users praise OpenSCAD's friendly interface, saying that, even if you don't know how to code, it's easy to get started. However, when you consider how different this approach is to other CAD software out there – many of which feature graphical interfaces – OpenSCAD will require some major getting used to.
Preview tools are basic. OpenSCAD doesn't keep you in the dark about how your design looks as you code. Its preview window shows you the picture of your design as you go along. However, beyond rudimentary animation through stitching several frames together, OpenSCAD doesn't offer simulation features for your design. You can't test any outside forces on your model, nor can you see how it will hold up under the movement of its own pressures. That is crucial to several types of CAD modeling outcomes, such as part manufacturing, so be aware of OpenSCAD's limitations before you commit to it.