Blender
Most modeling suites have their own add-ons or tools for identifying non-manifold geometry, but Blender's is one of the best. The 3D print toolbox add-on for Blender can select non-manifold edges, identifying them by the number of faces.
To use Blender's non-manifold edge tool, install the add-on from the preferences. Once that's done, here's how to identify the problem areas:
Select your object in edit mode and press 'N'.
Enter the 3D printing tool shelf.
Press "Solid" under the Checks header. Blender should now have highlighted any non-manifold edges.
Alternatively, you can use the keyboard shortcut Ctrl + Shift + Alt + M, which will select any non-manifold geometry indiscriminately.
Blender also features the Solidify modifier, which can be found in the modifiers panel. This will give thickness to any non-manifold geometry due to a lack of thickness.
If you have disconnected edges and vertices, you can simply select all the vertices and connect them using "Merge by Distance". This makes two separate vertices that lay on top of or close to each other a single vertex.
Fusion 360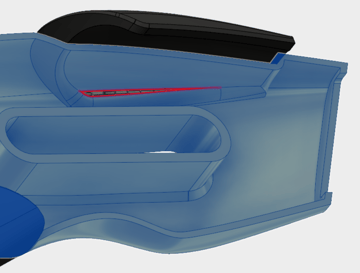 Each body in a Fusion 360 project should be a complete object with no holes or disconnected pieces. To fix disconnected pieces, follow the steps below:
Click "Inspect" and apply "Component Color Cycling Toggle". This will give all bodies a unique color.
From the Select menu, apply a selection filter.
Tick the bodies checkbox only.
Hover the cursor over one of two objects that appear to be the same color. If both shapes are highlighted, they're considered to be one body and therefore non-manifold.
To highlight missing faces or holes in geometry, you can go to the Patch workspace. Select "Modify" and then "Stitch". Drag a window over the entire model in question. This will select any non-manifold geometry on the object.
On the flyout, select free-edges and gaps. This will bring up a list of unstitched edges. Selecting an edge and then "Find" will highlight the non-manifold edge.
Meshmixer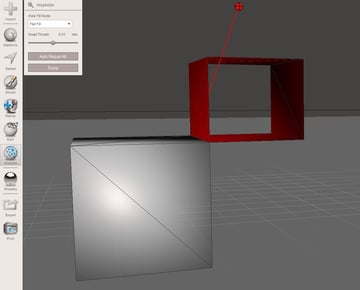 Meshmixer is a simple and powerful tool for 3D printing. First, you need to identify non-manifold edges. Start by clicking on the Analysis icon, then select "Inspector". Meshmixer will then color the non-manifold geometry:
Blue outlines highlight holes in the mesh.
Pink balloons highlight separate objects.
Red balloons identify all other types of non-manifold edges.
From here, you can either select the "Auto Repair All" button, which might severely disfigure your model, or you can individually repair the problems. To fix individual manifold issues, simply click on the balloons and let Meshmixer do its thing. If a balloon goes black, you'll need to export the object to more powerful software to try and fix the issue.