Nesting is a method for arranging parts to minimize cutting time and material waste. Imagine using the outline of your hands to cut out parts. Hold them side by side and look at the space they fill. Now interlace your fingers and watch how the space shrinks. That's nesting, a while the idea seems simple, the algorithms needed to figure it out have been around for around 80 years.
Nesting started with the "rucksack problem": determining how to pack the most odd-sized objects into a fixed space. Think about packing for a long trip when you can only bring one piece of carry-on luggage, or a shipping clerk at Amazon trying to find the smallest box that holds your order.
Nesting algorithms can also solve the "best fit" problem. Imagine trying to figure out how to cut a group of random length pieces out of fixed-length boards, bars, or extrusions to minimize waste. Extend this to high-volume manufacturing, and the need for nesting tools becomes evident.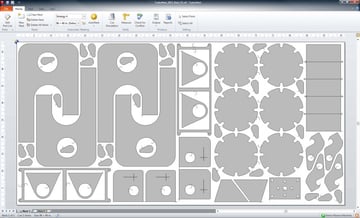 Overall Greater Efficiency
Nesting can do more than just juggle objects on a 2D layout. Different tools allow you to minimize travel movements of a hot end or CNC cutter, share a common cut line across multiple parts to eliminate skeletons, and cram multiple parts into the working volume of a 3D printer. Expensive tools and skilled laborers help make nesting critical to production efficiency and cost savings.
If you work with subtractive CNC (routers, milling machines, laser cutters, waterjet, or plasma cutters), you'll benefit from 2D nesting, especially if your workflow supports SVG files. Additive manufacturing, such as 3D printing can also benefit, but at the cost of a much higher learning curve and more complicated software.