3D scanning is the process of collecting spatial data of an area or object using hundreds of points of measurements from a camera or light source. Oftentimes it's used for analyzing areas that are difficult to explore in the real world or create models of objects for closer inspection than the objects themselves can support.
These are both great assets to archaeology's study methods, letting scientists discover important relationships and details that previously were inaccessible. Below are a few ways 3D scanning helps archaeologists at various points of their processes.

In the Field
Archaeologists aren't just looking for artifacts. They're hunting for the overarching contexts of their discoveries as well. That's where 3D scanning comes in:
Digging deeper: Archaeologists can use handheld 3D scanners to take hundreds of pictures of their worksites and put that information together to form a 3D whole. That 3D scan of a worksite is great for digging deeper without literally having to do that, especially if the physical site is on unstable or protected ground.
Looking into the past: Scientists can manipulate the 3D images from scans into what the site may have looked like in its time, using much more accurate measurements and predictive growth than with their physical tools allow.
Seeing the big picture: All the data points gathered through 3D scans of sites create a way for archaeologists to spot and analyze patterns while they work through their findings. This leads to a deeper understanding of sites as a whole and leads to further discoveries that would otherwise be left in the dust.
Documenting: CyArk, a non-profit organization dedicated to sharing these types of files with the public, has been using 3D scanning technology to chart heritage sites around the globe since 2003. Google's backing has helped it open digital archaeology access to the masses, and it's using this new publicity to spread awareness of sites that are decaying and in need of preservation.

Check out CyArk's website for photos of places like the Mayan metropolis of Chichen Itza in Mexico and the protected Waitangi Treaty Grounds in New Zealand.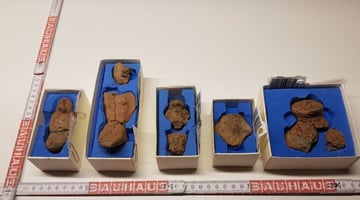 In the Museum
Museums are also using 3D scanning technology to overcome the inherent inaccessibility of archaeological finds and present full views of the past without endangering the safety of artifacts.
Greater reach: As a bonus, electronic 3D scans of objects, dioramas, and entire museums use the internet and electronic file sharing to extend their reach to infinitely more people than can physically visit. For example, the Smithsonian Museum of Natural History in Washington, D.C. offers virtual tours of its permanent exhibits, select past exhibits, and specialized departments.

Even if you've visited in person, you can catch up on what you didn't get to see, or go behind the scenes to see how the Smithsonian works.

Accessibility: The University of Iowa's Office of the State Archaeologist has a collection of 3D scanned objects online for people all around the world to closely examine and learn about its treasury of local ancient artifacts.
Enhanced interactions: In addition to viewing what's been scanned, museums use 3D scanning to create a new level of interaction with their exhibits. Visitors can touch, rotate, zoom, and otherwise examine 3D scans to get information that isn't directly noticeable in the discovery itself. 3D scanning helps museums tell better stories about the past.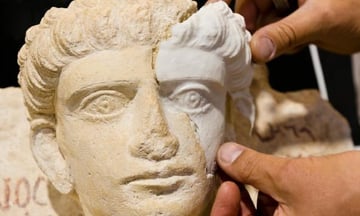 At Home
In addition to visiting historical sites and world-famous museum collections from your own home, 3D scanning lets you try your own hand at archaeology.
Smartphone cameras and apps let you 3D scan without needing extra equipment, and many amateur 3D enthusiasts have used their surroundings and findings to recreate historical objects and scenes within their own reach.
Sketchfab has a vast selection of user uploads in its Cultural Heritage & History section, ranging from 3D models of Van Gogh's painting of his room to recreations of Chinese Buddha statues from early dynasties. Scroll through for major inspiration.