Relativity Space, a company founded in 2015, is on a quest to build the world's first entirely 3D printed rocket, dubbed Terran 1.
The main goal of the company is, using 3D printers, to reduce part count on a rocket as much as possible and make the production of a rocket a flexible process.
On average, a rocket has around 50,000 to 100,000 parts, making it about as complex as a car. Relativity has managed to reduce the number of parts on their rocket down to around 1,000, which enables a lot of cost reduction.
The Stargate 3D Printer
As 3D printing seemed like the perfect manufacturing method for their project, Relativity has gone ahead and developed their own 3D printer, the Stargate. It's one of the world's largest metal 3D printers, and it's responsible for most of Terran 1's production.
The full system consists of three robotic arms, one for printing, and the other two for post-processing. The technology used is direct energy deposition, a method where metal wire is fed into a melting zone and then extruded into the desired shape. In layman's terms, it's essentially 3D welding.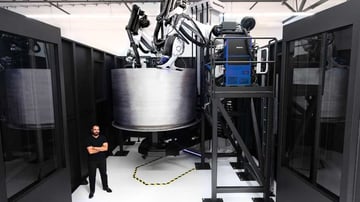 Nuts & Bolts
Innovation at Relativity doesn't stop there, as they've also invested in AI to monitor the production process, helping to make it better and more efficient in every possible way.
The Terran 1 rocket features a maximum payload of 1,250 kilograms and is powered by nine Aeon 1 engines, which are 3D printed and use liquid methane and liquid oxygen as propellants.
The fuel tank is also 3D printed on the Stargate printer. From the outside, the tank looks like a simple structure, but it actually consists of two inner tanks, as each of the propellants needs to be stored separately. Thanks to the Stargate printer's large build volume, the tank can be printed in a single piece without seams, making it quite safe from potential leaks.
As claimed by the company's website, their Stargate factory is capable of printing the Terran 1 in 60 days, bringing it all the way from raw material into a flight-ready vehicle. For comparison, regular rocket-building lead times are usually more than a year!
While the Stargate is responsible for producing the rocket structure and the propellant tank, the smaller components and the engine are printed on a direct metal laser sintering (DMLS) 3D printer.
The orbital test is set to happen in 2021, while the official launch for commercial flights should happen soon afterwards.