Good news for everyone owning a 3D printer: The "1730 Full Metal Hotend" is capable of 3D printing both 1,75 mm and 3.0 mm filament. It's available now on Kickstarter.
In the 3D printing community, 3D printer company RepRap doesn't need an introduction. Neither does Kai Parthy, maker of Laywood, Laybrick and other exotic filaments. They banged their heads together for a unique cooperation: The 1730 Full Metal Hotend.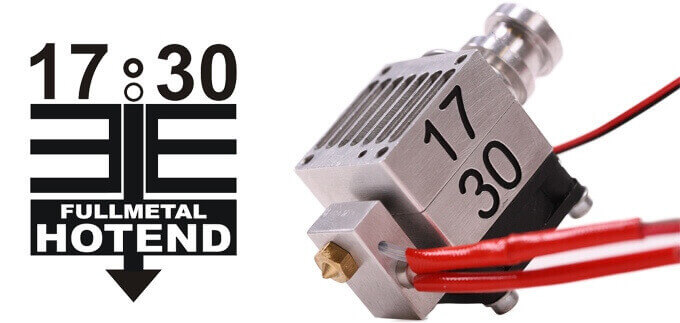 That makes this hotend special? If you buy a 3D printer, you usually make a fundamental choice: Which filament diameter do I want to print? There are two common 3D printing filament diameters: 1.75 mm or 3 mm. And now there's a chance you don't need to worry about that anymore.
In their Kickstarter campaign they are introducing the "1730 Full Metal Hotend", which is capable of printing both filament diameters. A change from 1.75 mm to 3 mm is generally achieved in less than 5 minutes and requires only switching the Nozzle.
1730 Full Metal Hotend: The Benefits
According to the 1730 Full Metal Hotend Kickstarter page, there are three main benefits:
The 1730 Full Metal Hotend enables switching Nozzles between 1.75 and 3 mm filament in less than 5 minutes.
1730's modular setup makes it a direct driven and bowden Hotend all in one.
The 1730 Full Metal Hotend is optimized for 3D printing PLA; ABS, PU, PC and several exotic filaments.
Here are some more benefits according to their Kickstarter page.
Optimized Cooling: Optimized thermal barrier. Water cooling is not necessary
Short Heating Zone: Very short heating zone inside the extra-long nozzle
Leakage Proof: The 1730 Full Metal Hotend is physically leakage proof and not using any PEEK or PTFE tubing
Multiple Nozzle Diameters: Multiple Nozzle diameters available for 1.75 mm and 3 mm filament
Fully Assembled: The 1730 Full Metal Hotend comes fully assembled. Just mount it and start printing
Improved Feeding: Reduced feeding friction which is optimal for soft and brittle materials (e.g. PU)
Energy Efficient: Effective use of energy. Short heating-up time
500 °C Ready: 500 °C tested expert module will be available in future as add-on
Print faster: With the 1730 Full Metal Hotend we have achieved shorter retract values. This greatly improves overall printing speed.
All3DP's Impression
1. Team: Kai Parthy and RepRap are a bit like an independent supergroup of 3D printing. These two companies share more than 10 years of experience in the 3D Printing Industry (3D Printers & Filament), product design & development, sales and 30+ years of experience in electronics between them.
2. As we see it, the Timeline (delivery starting March 2016) is realistic. They have been testing their product for several months now and really know how to manufacture products.
3. Price is okay: The Kickstarter price is €129, which will go up to €139. There are several bundles to choose from. You can even buy a RepRap Easy Delta 3D printer with your 1730 Full Metal Hotend for €999.
Sure, There are cheaper hotends available. But if it's important for you to experiment with different materials, this hotend could be the solution you've been waiting for.
License: The text of "1730 Full Metal Hotend: 3D Print Different Filament Sizes" by All3DP is licensed under a Creative Commons Attribution 4.0 International License.
Subscribe to updates from All3DP
You are subscribed to updates from All3DP
Subscribe
You can't subscribe to updates from All3DP. Learn more…