The STL files for the 3D printed Fume Extractor are available to download via Thingiverse. There are five different parts to 3D print, none of which should require any support structures thanks to the two-part design of the enclosure and cartridge.
In their example, the creator of the project uses simple PLA filament, but feel free to try it out with the material type and color of your choice.
Bare in mind that this project requires quite the list of non-3D printed components, all of which can be sourced from the likes of Amazon, Banggood, or even your local hardware store. You'll also need a handful of tools, including a soldering iron, M3 hand drill, solder wire, and other things that are commonly found in the workshop. You can see the complete list on Instructables.
In the meantime, here's a complete checklist of components required to build this 3D printed Fume Extractor: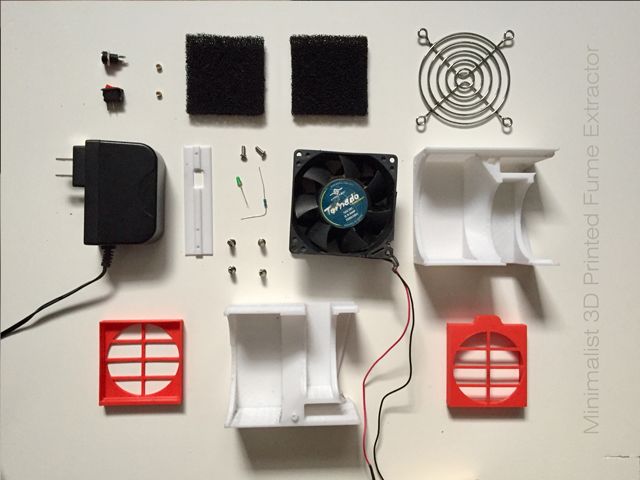 Once you have all of your parts 3D printed or sourced, it's time to move onto the assembly process, which is actually surprisingly easy.
First, you'll want to sand and file the rough edges of the 3D printed parts. Insert the fan into one half on the enclosure and attach the other side to ensure a snug fit.
Next, cut a notch in the fan so that the wires can slide through easily, and also remove the yellow signal wire. Taking the carbon filter, divvy it up into 130 x 130 mm pieces, and insert two of them into the cartridge. By using multiple filters, the overall inhallation can be improved.
Once the cartridge is snapped together, mount the fan grill to the back using M5 x 10mm PC case mount screws. After the basic assembly is complete, the next step is to start wiring and soldering. The shematic and information on this part can be found on Instructables, but all together seems pretty simple for anyone with basic soldering experience.
And that's all you really need to make your very own 3D printed fume extractor! Be sure to check out the Instructables for more information or to connect with rdmmkr.