Since this wind-up car is a fully 3D printed project, all you need is your 3D printer and some filament. The maker does mention that a small hammer and knife could come in handy for the assembly process, but it isn't a necessity.
The STL files for the 3D printed wind-up card are available to download from Thingiverse. Brocken suggests printing both cards with 100 percent infill, primarily to improve the performance of the spring.
The first card, which has the most parts packaged inside of it, takes about four hours to print, while the second takes just about two hours. Keep in mind that you'll have to use support structures for the first card.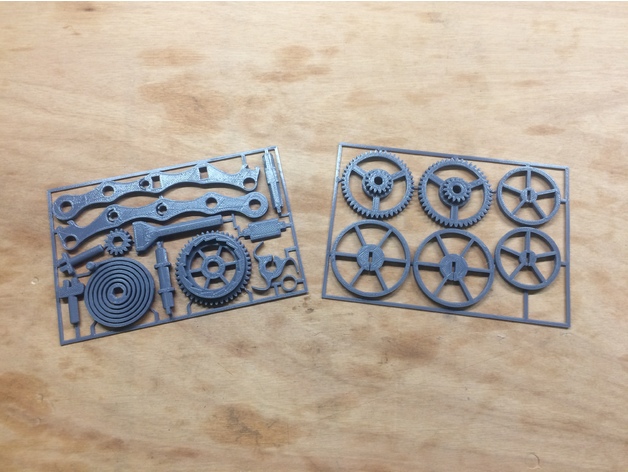 Once you have the two cards 3D printed, it's time to move onto the assembly process. The maker has simplified the build into four steps that fit onto a single page. You can find the instruction manual on Thingiverse or the project's page of Hackaday.io.
If you have a small knife, you can carefully snip out each 3D printed part from the card. It's important that each component is removed as cleanly as possible, as this will impact the car's mechanism once everything is put together.
After the 3D printed parts are detached from the gift card, it's time to start connecting them. Taking a look at the visual instructions, this entire assembly process shouldn't take more than a matter of minutes. You don't need any glue or adhesive solution, it should all just snap right into place.
Now that you have built your tiny car, the final step is to use the wind-up tool and watch as your 3D printed vehicle zooms across your countertop. If you want to see the 3D printed wind-up car in action, check out the video below. Oh, and of course, don't forget to wear your seatbelt!