In order to create your own DIY Levitating Plant, you'll need access to a 3D printer and laser cutter. If you happen to have an all-in-one 3D printer, you should be all set to start cultivating your floating green thumb. The STL files for the planter are freely available via Thingiverse.
Aside from those essential digital manufacturing tools, here's what else you'll need to take this project on:
Once you have all of your supplies ready, it's time to put this floating planter together. On the Instructables post detailing the project, Ananords begins by sharing some insight into how they created the 3D design by importing photos of the FLYTE into Fusion 360. But all you really need from this first section is the link to the STL files.
For printing, the designer recommends using a 0.15mm layer height and 10% infill for the actual planter, and a 0.2mm layer height and 20% infill for the base parts. Once you've printed out the three different models, take the magnet and drop it into the base of the planter. To ensure that the magnet is secured into the base, use a few drops of super glue.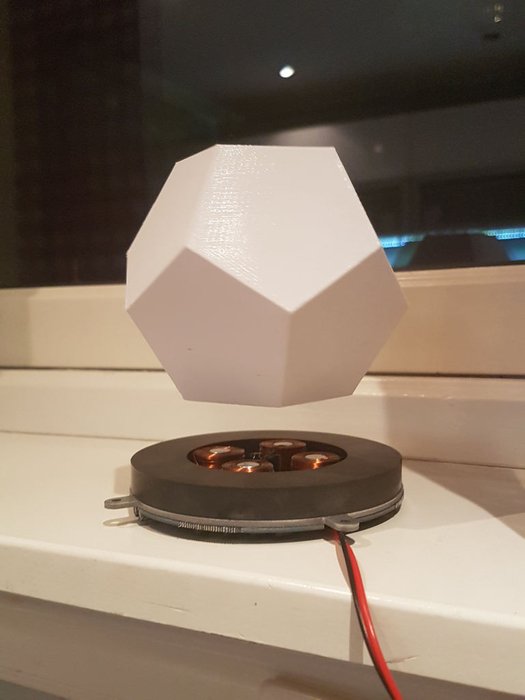 The next step is to assemble the magnetic base that the planter will levitate above. This will require a bit of soldering, but nothing that the average maker can't handle. Solder the red positive wire to the middle pin of the barrel jack and the black wire to the negative pin. Now it's time to test out this magical little planter!
Ananords suggests putting cardboard or another soft material in between the base and planter during the testing process to avoid breaking the magnet. Taking the planter, slowly lower it toward the center of the magnetic base, subtly adjusting its position until you find that sweet spot where it stays still. Keep lowering the 3D printer planter until it manages to support itself.
After you've got the whole levitation mechanism down pat, it's time to create a fancy little box for the planter to hover above. This is when having a laser cutter will come in handy. However, if you don't have one at your disposal, you can always visit your local makerspace and utilize their own digital fabrication tools.
If you want to use the same box featured in the Instructables version, you can also find the .SVG file for the box on Thingiverse.
Once you have your base ready, the last few steps involve mounting the magnet inside of the box using the M3 nuts and bolts. After that, unsolder the barrel jack, stick it into the hole in the box, and then, resolder it. You should also undo the screws at the bottom of the base until the top of the magnetic base touches the top of the box.
Finally, put in your plant of choice and watch with awe as it levitates!