The STL files for the Geode City are available to download from Thingiverse. There are three separate parts that make up this structure, but the designer has also uploaded it as a single piece. However, to get the most out of this project, you should use different filaments to distinguish the base from the inner cavity.
In order to showcase the LED light within the confines of the landscape, the inner cavity should be printed in clear or transparent filament, while using black or dark filament for the outer base provides a nice contrast. In his example, Surovsky uses 10 to 15 percent infill and a layer resolution of 0.2mm.
The 3D printed Geode City is designed to be 3D printable without any support structures, but there are some things to keep in mind when preparing the model. The designer suggests orientating the pieces the way they will be positioned during final assembly and also checking to make sure your slicer has the unit set to inches.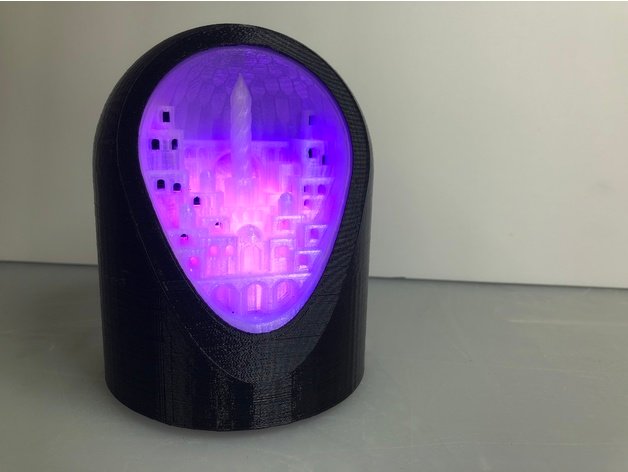 Aside from the 3D printed components, all you need is a color-changing LED puck and a hot glue gun. There's also a small slot in the model that enables you to turn the Geode City into a lamp. As you can tell by the brief parts checklist, the post-printing assembly is quite easy!
Once you have the 3D printed parts gathered, use the hot glue to attach the Inner Geode to the Outer Shell. With the LED puck inserted into the base, mount the two newly attached pieces on top of it.
And that's it! Pretty simple, huh? If you want to learn more about this project or drop a question for the creator, head over to the Thingiverse page.