The Sculpto+ filament is where we ran into a few problems. Like we said above, the basic models and the benchy turned out great. However, models with any sort of functionality (buckle, release mechanisms, etc.) or were thin failed and broke easily.
Secondly, we had problems with the filament breaking off in the guide tube itself. Turns out, the filament gear that pushes the filament to the hot end gets dirty quite easily. When this happens, the teeth stop grabbing the filament, and instead start to grind into a stagnant piece. This inevitably causes "bites" to be taken out of the filament, as pictured above. If this continues for too long without notice and then does get pushed through somehow, the remaining filament will be so thin at that point that it'll break off within the tube.
This posed a problem, as it was quite difficult to get it out. As it broke in two pieces, there was no end to pull it out with.
It's important to keep an eye on your Sculpto+ to avoid this from happening. It seems this only occurs when the print is starting and will sometimes make a ticking noise. It is also noticeable by the fact filament is no longer being extruded onto the print bed. If this happens, you can give the filament a slight nudge to get the filament gear to catch. If this doesn't work, you'll need to clean the filament gear on the Sculpto+.
In the end, it seems it's best to clean the filament gear between every print to avoid this from happening, especially between the longer prints.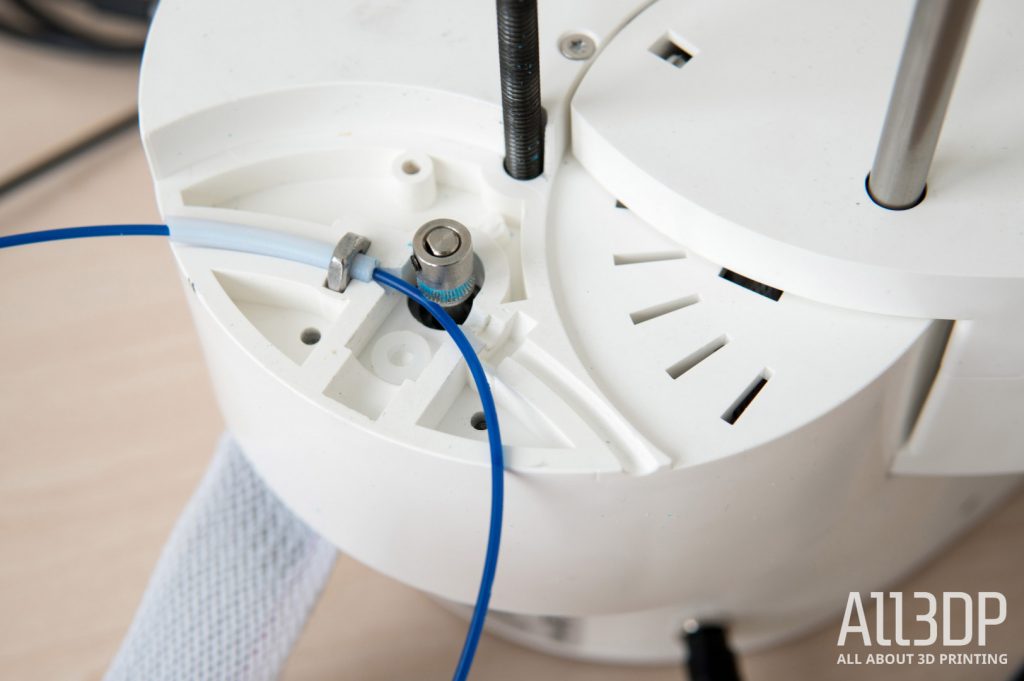 Additionally, we had a problem with the extruder/hot end getting clogged – with their recommended cleaning procedure causing more problems than it fixed. Our advice here is when feeding the filament (whether to change it, clean the gear, or fix it when it's stuck) do not force the filament, but rather just give it encouragement. Your pushing could out-pace the extrusion, causing a build-up in the hot end.
To test whether this was a problem of filament or the print, we printed a few items in an alternative 1.75mm PLA filament. What we found is the inability to produce functional prints seems to the be the fault of the printer. "Bites" were still taken out of the non-proprietary filament and the thin/functional prints still snapped easily.
Note: This does mean the printer can be used with alternative filament, but Sculpto+ warns that your warranty is considered void if a problem occurs while using non-proprietary filament. Use at your own risk.