It's safe to say there have been great expectations for this diminutive 3D printer. Will the Mini print as well as its big brother? Will it offer the same ease of use and reliability? And will the new features Prusa's introduced to it – things like a color LCD screen, an upcoming option for WiFi connectivity, and a Bowden tube extrusion system – inspire similar delight?
We've spent some quality time printing with our Original Prusa Mini kit and can say to the above questions: Mostly yes. If you're wondering why this isn't a resounding yes, read on…
THOUGHTFUL DESIGN
Take a moment to ignore the small build volume and look at the design of this machine. It's compact, with a clean, clutter-free design and a more premium look in comparison to other hobbyist printers. It sports some of the Prusa features we love, like the removable magnetic PEI-coated spring steel bed. Plus it has new, exciting features, like the textured powder-coated steel sheet and color LED screen that displays the model you're printing.
Now – yes – back to the build plate, which is unmistakably small. There's no getting around it. If you do a price to print volume comparison, you'd be disappointed (and also mislead because the Prusa Mini is an inarguably premium budget offering). The Mini has a build volume of 180 x 180 x 180 mm, which is dinkier than the likes of Creality's (much cheaper) Ender 3's 220 x 220 x 250 mm. Some may find this volume prohibitive, but we found it good enough for day-to-day printing. If something is too big, you can always cut the model up into manageable sizes.
However, size qualms aside, there's a lot to like about the Mini.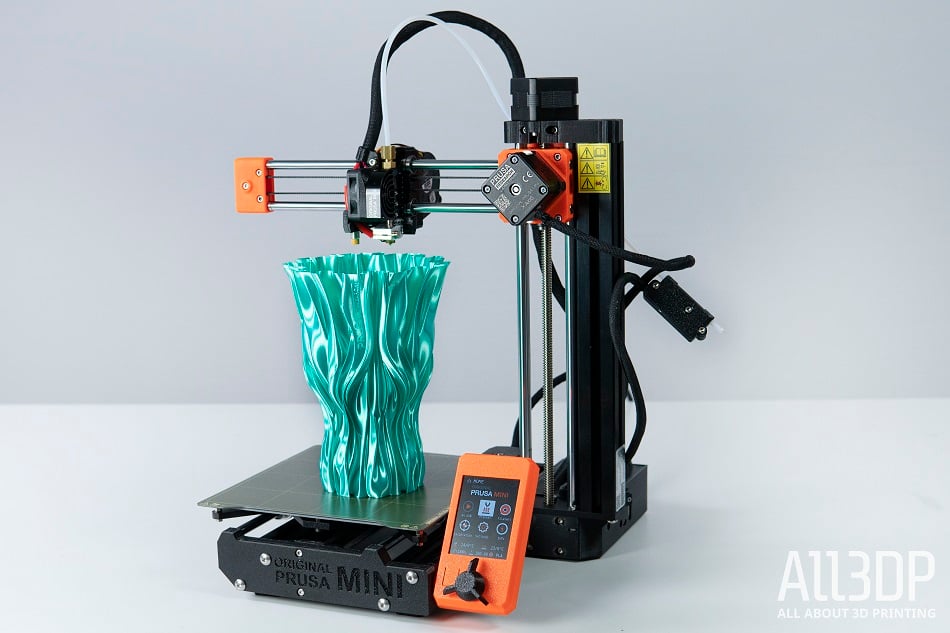 As mentioned, there's a certain quality one has come to expect from an Original Prusa printer, but the question is whether the cheaper Mini can live up to this. The machine began shipping in late 2019, but reports of issues quickly began cropping up. Prusa addresses them in a blog post, vowing to fix issues such as the rotary encoders on the LCD panel getting stuck and machines getting damaged during shipping.
We received our machine – a kit – in February and did not run into any of the teething issues others have encountered. What we did find, however, was the Mini's Bowden style extruder setup causing print problems and blockages (which we'll address a little further down this review).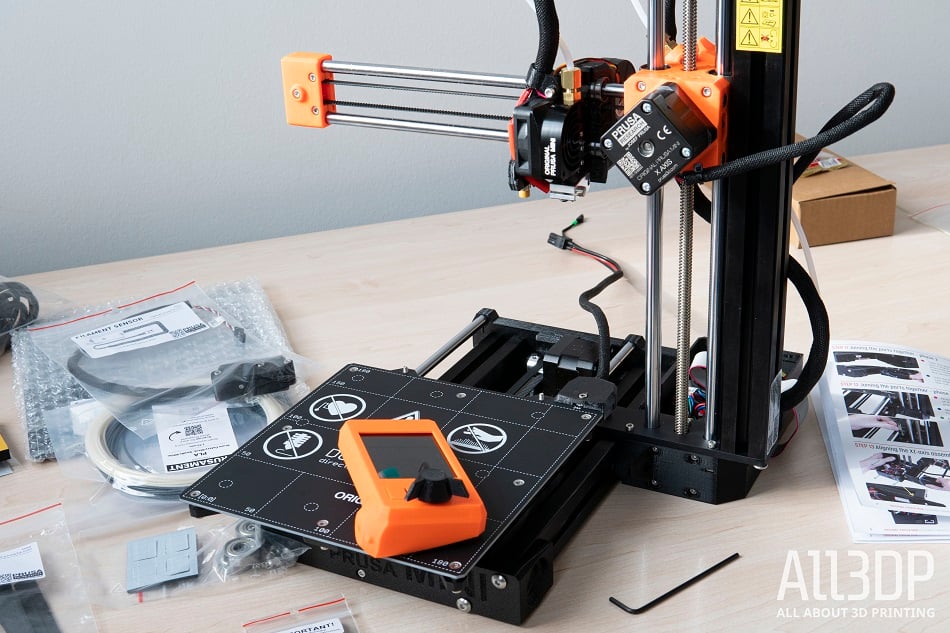 Putting the Mini together was – according to the editor tasked with the build – "pure fun." Everything is clearly labeled and marked and the machine handily comes with a bag of spares should you need them (we did.) In total, the build took an hour and a half, with few steps requiring some minutes of fiddling to meet the instructions' demanding results.
Our biggest gripe with the Original Prusa Mini's build is that the Prusa-standard Haribo packet included in the box is Mini too. Yes, yes, very funny, Mr. Prusa, we see what you did there.
MINI MARVEL
When it comes to using the Mini the machine makes it easy. An update to PrusaSlicer accommodates the Mini with printer profiles and tailored filament profiles. PrusaSlicer is easy to use and similar in a lot of ways to the prolific Cura software. It gives you the option to pick between simple, advanced and expert modes depending on your experience and your needs for the print.
A word to the wise: If you're using PrusaSlicer to print objects for different Prusa machines, say an MK3S and a Mini, for example, take care to select the correct profiles for the printer you're using. It's easy to forget to switch one and screw up a print.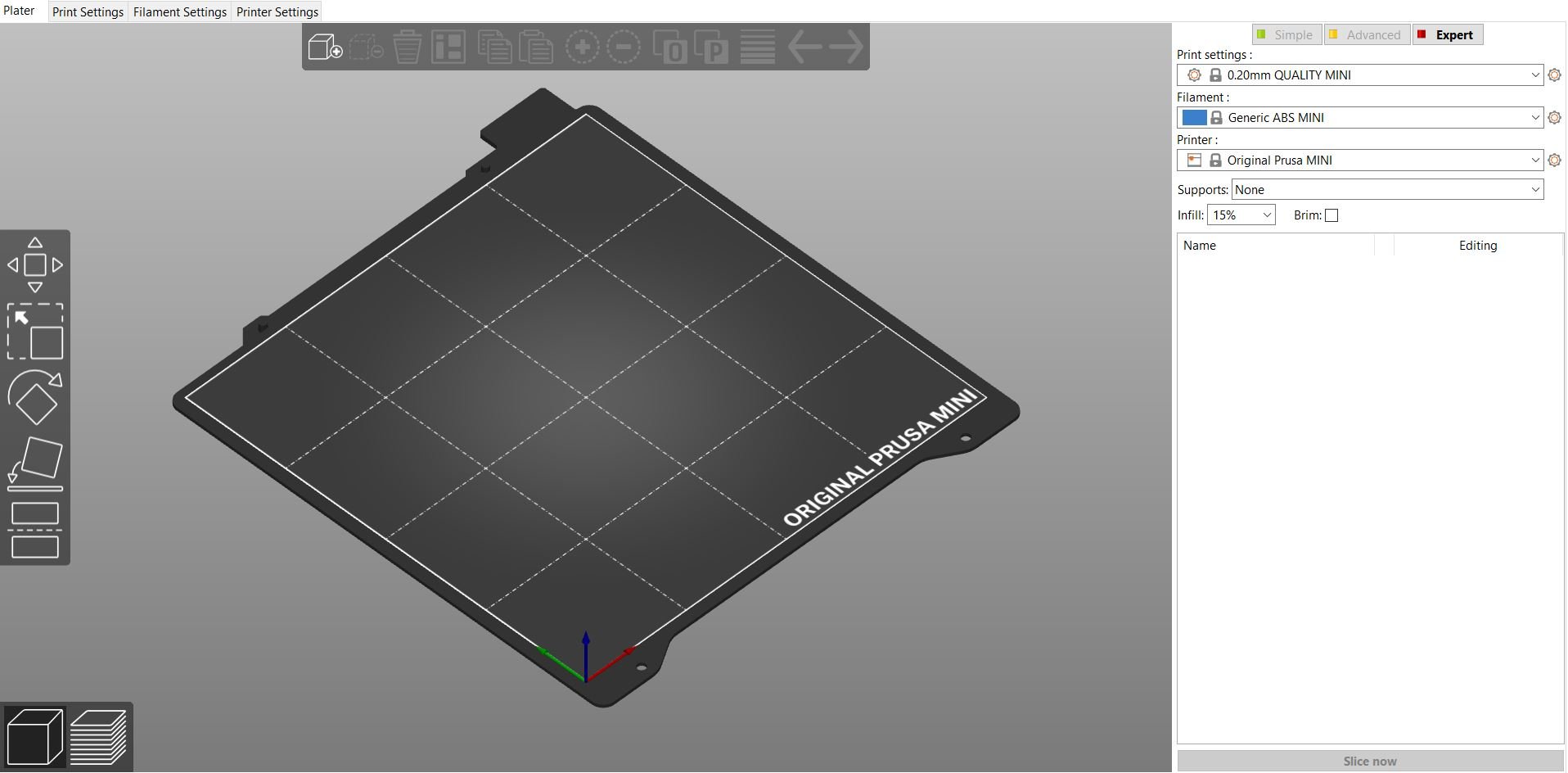 Complimenting the new hardware and software is PrusaPrinters, a community hub that has a blog, forum and, most excitingly, a repository of models, many of which are optimized for Prusa 3D printers. It's a great resource if you're tired of Thingiverse's infamous lag, are averse to paying for prints on Cults or just want to contribute to Prusa's ever-growing community of users.
When it comes to printing, the Mini's color LED screen is a lot more user-friendly than the old one on the MK3S. It lets you know right away how long a print will take, the elapsed time, how much material it will use, and what the model looks like. This speaks to the fact that the Mini, though a budget offering, actually offers some improvements over the MK3S.
It has a custom-made 32-bit "Buddy" motherboard with Trinamic 2209 drivers, unlike the MK3S, which has an Einsy RAMBo 8-bit board with the older Trinamic 2130 drivers. Prusa says this can offer almost everything OctoPrint can. It also has a built-in Ethernet connection and a USB port and has done away with the old SD card slot in the MK3S.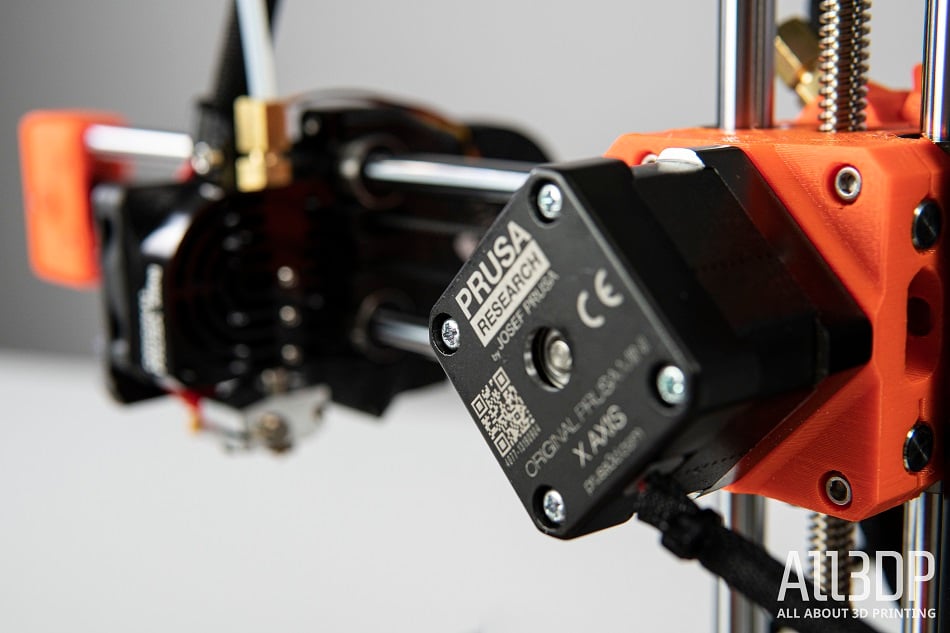 That being said, there are a few ways Prusa has managed to cut down the price of the Mini. The filament sensor is an optional add-on feature, and it doesn't have the ability to restart prints from where it left off during a power outage yet (this should show up in a future update, though). The machine itself is obviously much smaller and it has a different build design from the MK3S.
In terms of the materials the printer can handle, at the moment it's Prusa-approved to print with PLA, PETG, ASA, ABS, and flex. However, though it can get hot enough to print nylon, there isn't a profile for it on PrusaSlicer. We found it handled PLA and PETG spectacularly – when it worked – and prints ABS as expected (you need some kind of an enclosure to avoid warping and cracks).
Which brings us to the disappointing part of the review: We ran into a persistent issue with the Bowden system.
While we have nothing against Bowden systems per se, we do specifically have something against the one on our Original Prusa Mini. In fact, if it wasn't for this extrusion set up and the PTFE tube inside the hotend blocking up, we would have had a completely problem-free, smooth-as-silk printing experience.
Alas, that would have been too good to be true. However, our hardship did give us a chance to test out Prusa's support.
When we first ran into the Bowden system getting jammed and not extruding any longer, despite the print head moving around with blissful ignorance, we emailed Prusa support to see what was up. This, it turned out, is not the best way to get in touch with the company. We had much better luck with the LiveChat. After a roughly 25-minute wait, Filip helped us out, suggesting we replace the PTFE hotend tube. We did so (fortunately, the printer comes with a spare), and though we couldn't see anything wrong with the old tube, we found the printer worked afterward.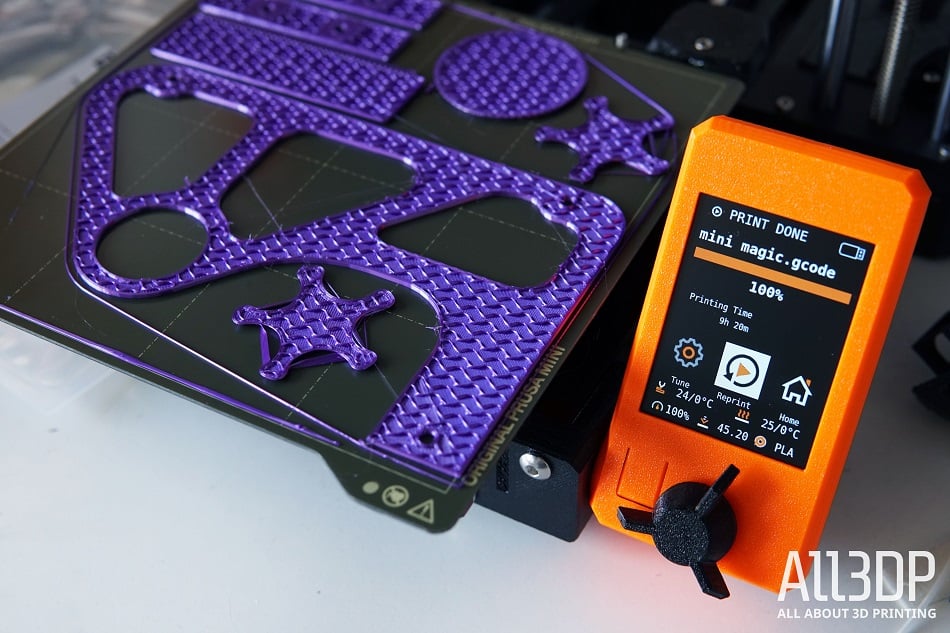 Until it didn't again, clogging once more. The machine kept extruding nothing, and the filament was completely jammed in the extruder. This time, we loosened the gear a bit and so far – fingers crossed – everything seems to be fine.
Interestingly, the issues we've been running into were not listed in Prusa's blog post about "teething issues," however, we did find several complaints about similar problems in the Prusa forum, along with some fixes.
That said, this is a machine we want to love. And, in all honestly, if Prusa has a bit more time to iron out the issues we had with the Bowden system, we're confident it will be just as easy to love as the MK3S. While the build volume is relatively shrimpy, when the printer works as it's supposed to, it does an excellent job of it. Plus, the Mini offers many features that make it a joy to use. This printer would be a solid first entry to the world of Prusa if you're not quite ready to pony up the cash for an MK3S. If you have the budget though, we'd still recommend the MK3S over the Mini.