From what we can infer, the main difference between the Glowforge Plus and Glowforge Pro is the pass-through slot that allows for an unlimited engraving length. The Pro version can also be continuously operated for a longer period of time. With a $2,000 gap between the two, it seems plausible to assume that some customers would gladly sacrifice these features for the reduced price.
Aside from that, we found many similarities between the two higher-end machines. Like the Glowforge Pro, the Plus is equipped with the same highly efficient 45W CO2 laser tube, which provides high cutting power and precision of up to 1/1000 of an inch. Designed in-house by Glowforge, the laser tube utilizes a distinct Mode 0′ design, which gives it a greater overall power density.
The Glowforge Plus is a desktop laser engraver and cutter that is intended for home and office use. It's compatible with a wide range of materials, including leather, wood, acrylic, glass, fabric, cardboard, and can even engrave metal materials like anodized aluminum and titanium.
Retailing at $3,995, the Glowforge Plus is nearly double the price of the Basic model, but the manufacturer has integrated a plethora of features that make it better-suited for professional use. Compared to the Chinese-manufactured budget options that are in the $1,000 – $2,000 range, this machine boasts features that make it well worth the slight increase in cost – especially for those that want a plug-and-play experience.
This laser cutting machine is an ideal choice for prosumers and small business looking for a versatile and reliable laser cutter. Using a powerful 45W laser tube, the Glowforge Plus model is able to cut through 1/2 inch of hardwood. It has a build area of 11.5 x 20 inches.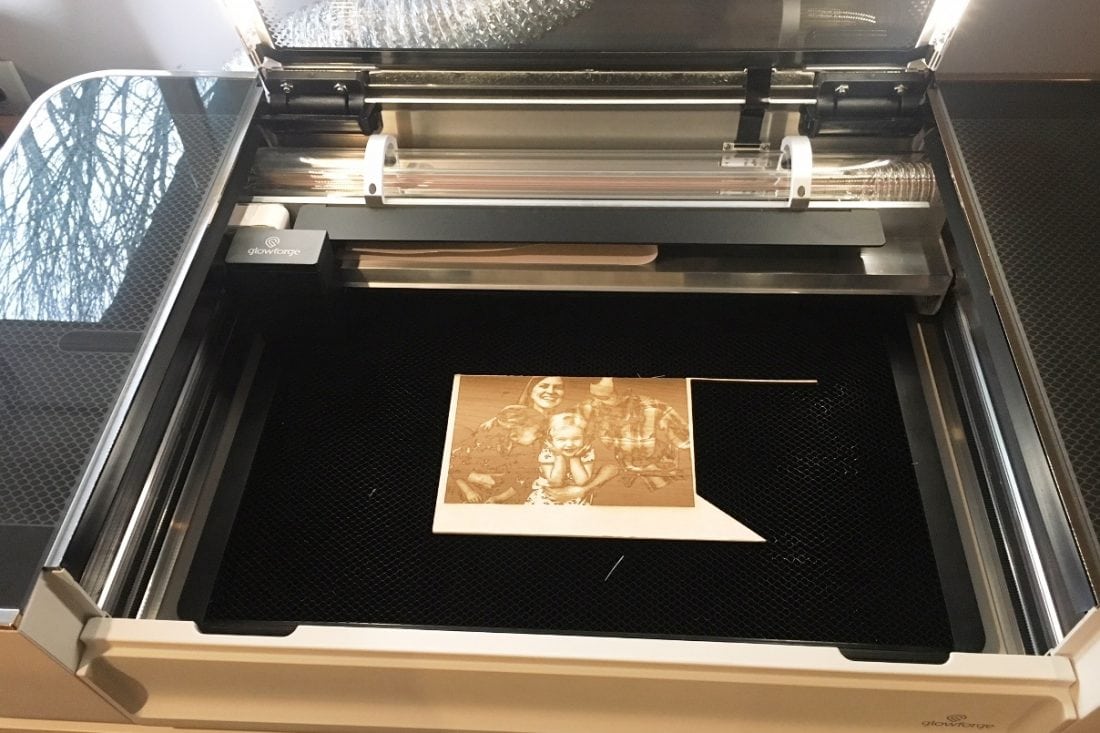 Glowforge has also focused on giving the Plus model enhanced safety features and a longer operational lifespan. For instance, it's equipped with a built-in closed-loop water cooling system, effectively removing the need for an additional water pump or cooler. The Glowforge Plus also uses an air compressor that blows away the fumes that are generated by the laser beam, preventing ignition and damage to the lens. And, in order to protect the user from the harmful laser beam, fumes, and smoke, the manufacturer has also added a full enclosure to the system.
Other features that make the Glowforge Plus stand out amongst the pack include auto-adjusted optical equipment, which eliminates the need for manual lens adjustment, and a honeycombed baseplate that allows for optimal heat transfer between the air and material.
Both the design and intuitive software of the Glowforge Plus seems to take a page straight out of the Apple playbook. The hardware has a minimalistic and sleek look, giving it a cleaner appearance than most other desktop-sized laser engravers on the market. The body of this laser cutter is comprised of high-quality metal, glass, and plastic, all of which is manufactured via CNC machining.
As for the software, it's entirely cloud-based and easy-to-use. It includes an intuitive and user-friendly interface packed with various features. One downside to using a cloud-based software is the full dependency on having internet connectivity, but this also comes with benefits like automotive software updates. Moreover, the software is compatible with iOS, Android, Windows and Linux machines.
While the Glowforge Plus is compatible with a number of materials, the manufacturer recommends using its own Proofgrade materials. With these proprietary materials, the machine is able to automatically determine the optimal settings for perfect cutting and engraving.
After parsing through various Amazon reviews on the Glowforge Plus, we found the reception was, for the most part, overwhelmingly positive. For starters, a number of users have gushed over how easy it is to use this machine. We repeatedly found comments claiming that you don't need to be an engineer or rocket scientist to operate the Glowforge Plus, giving credence to the idea that it's a great choice for beginners. Others have also praised the company for issuing regular software updates.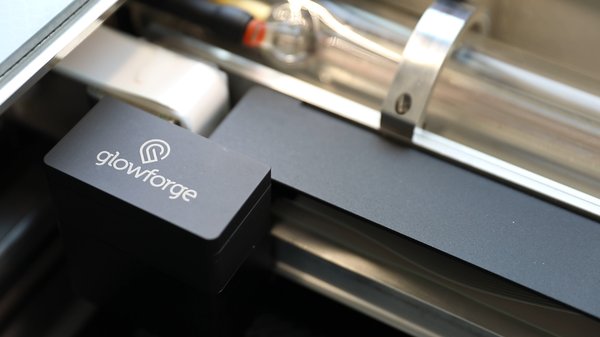 Some of the knocks on the laser engraver include alleged lack of third-party material compatibility and lackluster customer service support. However, other reviewers claimed that the Glowforge community forum is comprised of fully engaged users that offer assistance with custom settings for non-Proofgrade materials.
Users can also purchase an optional air filter for $995, an integral component for increased safety and elimination of harmful fumes. However, Glowforge states on its websites that customers can also add a 4-inch dryer hose or simply place the machine near a window. It's a hefty price for an additional part, but as we always say, it's better to be safe than sorry.
It's important to note that the Glowforge Plus is able to engrave certain metal materials, but it's not powerful enough to cut through them. As we previously stated, it also requires an internet connection in order to work, which might be a turn-off to some prospective buyers. Nonetheless, the Glowforge Pro is a great option for professionals who want a laser cutter that is both reliable and incredibly easy to use.