Let's see what the Dremel 3D20 brings to the table.
1. Ready for Printing Right Out of the Box
In theory, you just take the Dremel 3D20 out of the box and get ready for printing in under half an hour. The machine comes pre-assembled, all you have to do is to feed the filament and level the printing bed. Unfortunately, the Dremel 3D20 isn't auto-calibrating, so you have to undergo the well-known procedure of bed leveling, which is also explained in depth in the detailed step-by-step instruction. Even complete novices should be able to master this in the first attempt.
2. Fully Enclosed Desktop Printer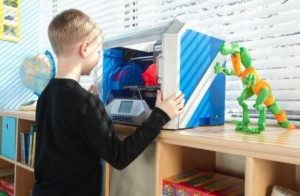 Another feature which goes hand in hand with making this printer suitable for school environments – apart from its actual size – is the fully enclosed design of the Dremel3D20. It retains an even temperature and adds an extra safety precaution. Plus it helps to muffle the operating sound a bit. However, the Dremel 3D20 is not equipped with any kind of filtration system. Although PLA is mostly fine, you should keep that in mind when exposing yourself or others to the fumes.
3. A Curriculum for Teachers
There's one thing that makes the Dremel 3D20 stand out from the many printers in the price category around $500 is its curriculum. If you are an educator wanting to share the many facets of 3D printing, this will definitely help. You can take a look at the lesson plans right here.
And if you want to know more about the best 3D printers for schools, please continue here.
4. PLA Only
First and foremost, the Dremel 3D20 only allows for PLA filament to be used – it does not have a heated bed, as would be necessary for other filament types such as ABS.
There's nothing wrong with a "just PLA" machine, but be aware that you might be missing out on some materials that can be interesting when you get deeper into 3D printing.
Furthermore, this printer has been designed for spools that are only a quarter the size of a regular spool. On top, the Dremel 3D20 does not – at least officially – allow for any third-party filament to be used. It is supposed to only operate with Dremel PLA, which is slightly more expensive than off-brand material. Although some tinkerers have found ways to use bigger, and more importantly, third-party spools.
Advanced users will feel boxed in with this printer, as it does not allow for any modifications.