As the buzzword "Industry 4.0" continues to gain steam throughout the manufacturing world, the DOBOT Magician presents itself as a full-fledged system that is capable of replicating the many processes that encompass this newfound industrial movement.
The purpose of the DOBOT Magician is quite simple: it's a multifunctional and desktop-sized four-axis robotic arm designed for practical training education. It comes with a variety of toolheads, enabling 3D printing, laser engraving, writing and drawing, gripping, and vacuum pumping. You can watch a demonstration on the 3D printing capabilities of the robotic arm here.
This robotic system can be used to write, draw, engrave, 3D print, or simply grab things. Whether it be soldering PCB boards or working with a 3D printing pen, the DOBOT Magician is highly capable of accomplishing a wide variety of tasks. In fact, it offers high positioning repeatability of up to 0.2mm, making it competitive with industrial robots.
The open robotic system is compatible with 13 extensible interfaces and 20 programming languages, so users have numerous ways to control and direct the robotic arm. It includes a visualized programming interface that utilizes drag and drop command functions to make the coding process easier for students.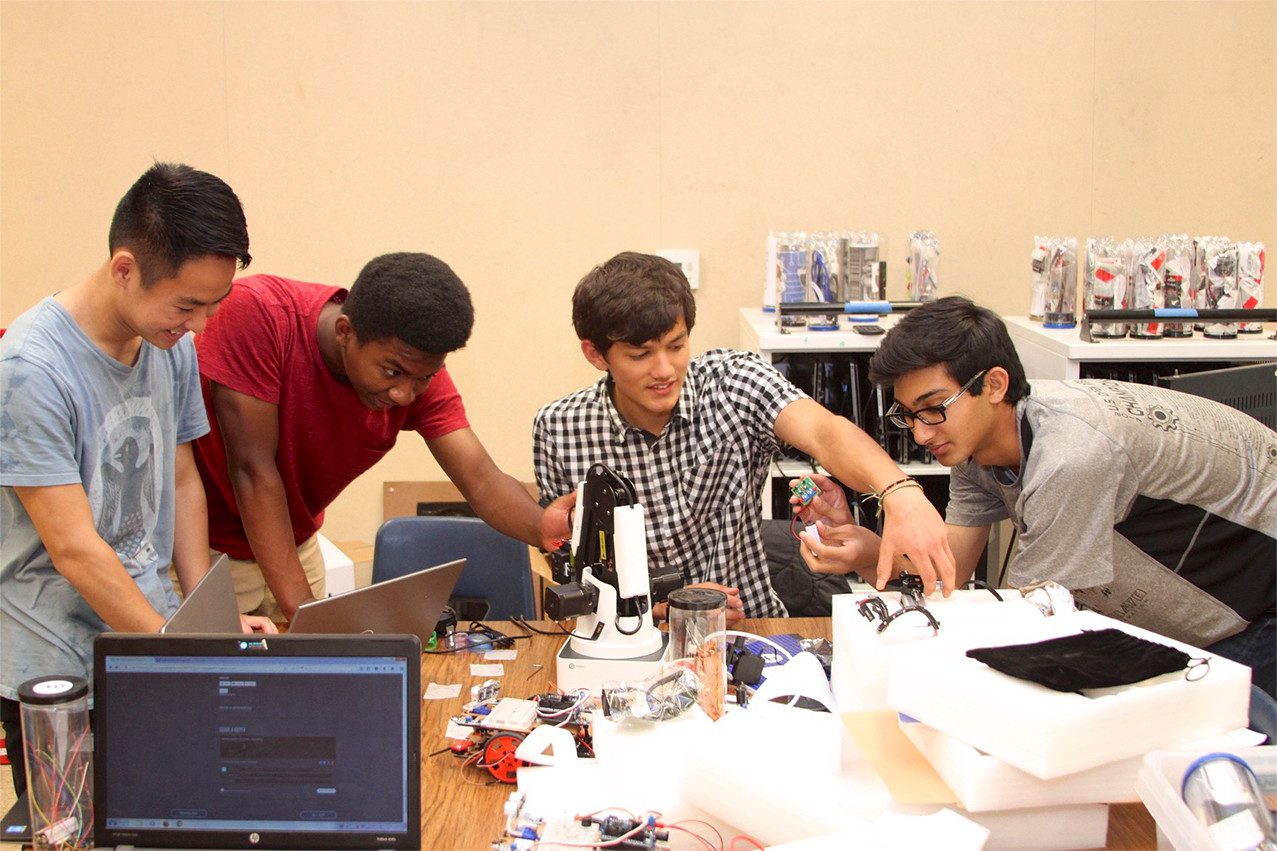 Compared to other robotic training systems, the DOBOT Magician is both affordable and easy to operate. Students and makers can control the robotic arm via programming, APP, Bluetooth, and WiFi. Aside from the easy control methods, the manufacturer has also made it possible for more advanced makers to utilize the serial port SDK and motion control interface.
There are two different models that are currently available from the manufacturer: the Basic Model ($1,399) and Educational Model ($1,699). As you might assume, the educationally-minded robotic system contains a few extra features that the cheaper model doesn't offer.
While both versions include end-tools for 3D printing, writing and drawing, gripping, and vacuum pumping, the Educational Model also provides a laser engraving kit, Bluetooth and WiFI modules, joystick controls, and more.
The DOBOT Magician is made up of industrial-grade components, including a stepper motor with a high accuracy gear reducer and high-strength aluminum alloy surface that is processed with an anodic oxidation treatment.
To further the capabilities of the DOBOT Magician, there are also a variety of add-ons that can be equipped to the system, including a linear rail kit, conveyor belt kit, visual kit, and crawler robot. The linear rail kit effectively expands the working area of the robotic arm, allowing it to travel a distance of 1000 mm. By utilizing the array of toolheads and graphical programming environment, users can complete tasks like writing a long letter or organizing objects together.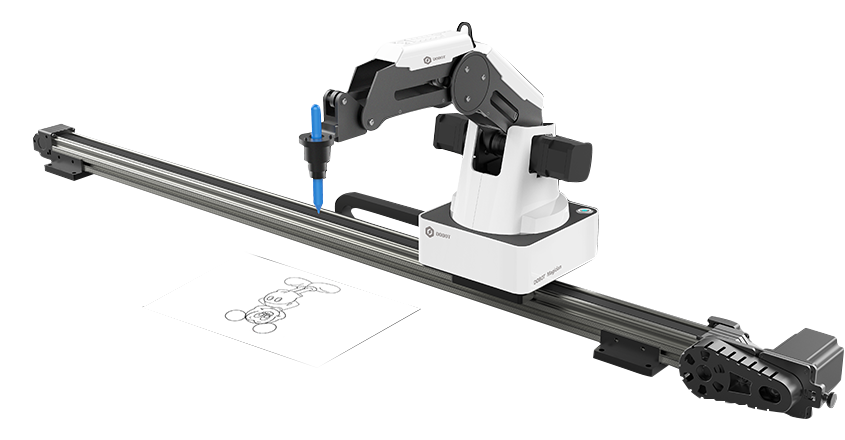 The conveyor belt can also be added to the DOBOT Magician in order to simulate a complete production workflow. Various settings like the speed, distance, and color sensor can be adjusted to create a highly effective system that resembles a manufacturing factory.
In addition to these accessories, DOBOT has also developed multiple applications and an educational curriculum to optimize the learning experience offered through this robotic system. Moreover, for users that have more than one DOBOT Magician on hand, they will be able to control several robotic arms from one device, enabling what the manufacturer calls "Multi-Robot Collaboration."