To test out the capabilities and push the limits of CreateLitho, we decided to print a picture of a landscape with lots of detail to see how well it came through. First off though, we had to get the settings right.
The first few times we tried to print lithophanes from CreateLitho, we struggled to get a clear image to shine through. After fiddling with the settings, it turned out the material played a big part in the clarity of the image. The initial filament we used was Innofil3D's Natural White, which is slightly iridescent on its own and took away from the dispensation of light that the lithophane creates. It slightly negated the lithophane effect, which allowed more light through than the slicing of the lithophane formulated for. When we switched to ColorFila's Arctic White filament, the light was much more balanced and the image more clear, as can be seen in the figure below.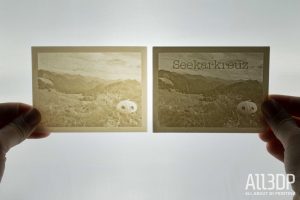 Once this was settled, it was just a matter of determining the optimal print settings, as with any print.
For printer settings, we found that keeping the print speed low, as well as the print layer thickness, yielded the best results. Just remember to print with 100% infill! Otherwise, the light dissipation becomes rather moot.
Additionally, counter-intuitive to what you might expect, having a broader range of thickness does not always mean more detail and a better print. It's actually better to keep the overall thickness down – too much detail can take away and mar the image.
Once the print is complete, due to the nature of lithophanes and disjointed layers, there will inevitably be strings of unattached filament strewn across the lithophane, even with the lowest possible printing speed. This was especially true for this image as the grass proved to have lots of crevices for the filament to be strung between. To tackle this, we found it's handy to have a pair of wire cutters on hand. They allow you to perfectly get in and pull out these strands from all the crevices with precision and clip them at the base.
This took a little time with the more detailed prints, like this one. Remember to take this into consideration when making your own 3D printed lithophane.
Once all of this was settled, CreateLitho proved it was capable of handling the details of this intricate photo, which really demonstrated its capacity. In knowing that it can handle these intricacies, it'll no doubt print a portrait of your loved ones crisp and clear.