How often have we wished for a GoPro knob tightener... here it is! Plus: 9 other great GoPro Accessories to DIY or buy.
When it comes to GoPro accessories or GoPro accessory kits, one mostly thinks of all the different ways to mount your favorite action cam. We have a dedicated article for that right here – don't miss it: 25 DIY GoPro Mounts (You Can Make with a 3D Printer)
But there are GoPro accessories that go beyond mounting – from storage to spare parts and practical lens storage. These are covered in this article.
And what if you don't own a 3D printer? Then you can order most of these items through a 3D printing service. To get the best price use All3DP's Best Price 3D Printing Service.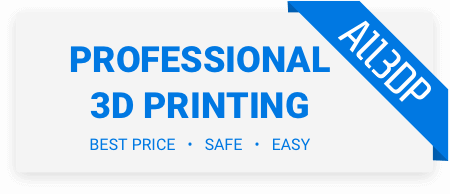 10 Best GoPro Accessories to Buy or 3D Print
GoPro Accessories to 3D Print
Best GoPro Accessories to 3D Print or Buy #1:
Hero Frame
What's this? GoPros come with a case that's virtually indestructible. It's cool, but it's also a bit bulky and can blocks the sound quite significantly. A lightweight 3D printed GoPro frame makes it easy to take out the cam – also, it doesn't cover the GoPro's microphone.
This design fits the GoPro Hero 3, GoPro Hero 3+, and GoPro Hero 4.
Download: Thingiverse
Get it printed:
Best GoPro Accessories to 3D Print or Buy #2:
Knob Tightener
What's this? A handle for GoPro knobs. When you're working with GoPros, you'll have experienced the problem before. The knobs are a pain for any human hand and make your fingers hurt. They're just not ergonomically designed. This handle for the GoPro knobs makes that problem a thing of the past.
Download: Thingiverse
Best GoPro Accessories to 3D Print or Buy #3:
Spare Parts
What's this? When your original GoPro accessories get lost or break, simply 3D print them for a cheap and rapid replacement. Unlike the relatively high priced brand items, these spare GoPro 3D prints can be made fast. They work with a few off-the-shelf nuts and screws.
Download: Thingiverse
Best GoPro Accessories to 3D Print or Buy #4:
Macro Lens Mount
What's this? A mount to add a 52mm close-up lens to your GoPro. Thread on one of those cheapo close-up lenses on one end, push the other end onto the action cam, and your GoPro is ready to shoot small objects up close, like flowers or insects. You can put your GoPro on an ant hill or even into a beehive (actually, don't do the latter. Bees need their privacy and it's dark in there anyway.)
The close-up lenses only cost a few bucks: 
Download: Thingiverse
Get it printed:
Best GoPro Accessories to 3D Print or Buy #5:
Lens Cap
What's this? In to roughin' and toughin' it? Going off the beaten path is a sure fire way to get some epic footage. But sometimes you might want to pack it away, for instance when you need to squeeze through a tight dark space in a cave where you wouldn't get any good footage anyways.  This cap will protect your lens when you're in such a rocky situation and want that extra protection.
It's good for normal people, too.
Download: MyMiniFactory
GoPro Accessories to BUY
What's this? New to the GoPro world? The number of accessories, on and offline, can get overwhelming. Get ahead of the curve with setting yourself up with a GoPro accessories starter kit. This is Amazon's best selling kit and is sure to help you fit in with your new club status.
Buy: 
Best GoPro Accessories to 3D Print or Buy #7:
Smart Remote
What's this? Maybe you already perused our Pick a GoPro Mount: 25 Best GoPro Mounts to 3D Print. Many of these mounts put the camera a bit far out of your reach, that's where this little guy comes in. You can control all functions from up to 600 ft (180m) away.
Buy: 
What's this? There is something breathtaking about the clear deep blue waters of our seas along with their repertoire of colorful creatures. Being able to capture your dives and water adventures is one of the many many perks of having a GoPro. However, this exciting potential will be shattered if your camera falls to the nether regions of the ocean/lake/really dirty pool you probably shouldn't be in. This simple wrist strap will ease those worries to ensure your adventures aren't lost.
Buy: 
Best GoPro Accessories to 3D Print or Buy #9:
Screen Protector
What's this? The world of technology has been overtaken by screens: computers,  TVs, smartphones, and cameras. All with precious glass that can get scratched and beaten-up. One of the first must-dos when you get a new gadget to ensure continuous visibility is to protect this precious screen. Here's the best selling protector on Amazon.
Buy: 
Best GoPro Accessories to 3D Print or Buy #10:
Carrying Case
What's this? So you got the GoPro, you got the Starter Kit, now what? Now you gotta put it all somewhere. This carrying case is perfect for every GoPro owner. There are three sizes: x-small, small and large, depending on how many attachments you want to carry with you. The small is pictured here.
Buy: 
Disclaimer:
All3DP GmbH makes 3D printing available to everyone.
If you choose to buy an item through one of All3DP's articles, we do not charge any fee or additional price on top of our partners' fulfillment price. We are paid on a commission, which means that we receive a small percentage from our partners.
Also, we are not selling the models. By comparing the prices of our 3D printing services, we simply are pointing you to the lowest 3D printing price available. If you would like to know more, please visit our Terms of Service.
Also, the editorial team of All3DP only conveys models that are under Creative Commons 4.0 Licence. All3DP will never convey STL files which are marked with the non-commercial use license (CC NC). Also, according to CC BY, we give attribution where needed. If you are the designer of a model and want to be removed from All3DP's price comparison service, please send a mail to contact@all3dp.com.