The Artec Space Spider looks very much like a sci-fi interpretation of an arachnid, with a variety of lenses and lights on the business end, and a sleek, professional-looking molded plastic exterior. With a unit cost in the range of $20,000 this scanner is certainly not for hobbyists, but instead lends itself to professional users.
High Accuracy
With its many lenses, the Space Spider has an advertised pinpoint accuracy of 0.05 mm and 3D resolution of 0.1 mm. Artec even boasts that the Space Spider is accurate enough to produce a detailed render of your fingerprint — ridges and all. With the minimum object size of just 5 mm, the Space Spider is advertised as perfect for small scans of intricate parts, or capturing minute details of larger objects. This makes the Space Spider the most precise handheld scanner available from Artec, outperforming both the Artec Eva and the Artec Leo scanners.
Designed for the ISS
Artec states that the Space Spider was originally developed for use on the International Space Station (ISS), hence the name. What this means for the everyday user is that the Space Spider has top-of-the-line electronics and temperature regulation inside, allowing it to perform reliably in a huge variety of environments and situations. Another impact of such features is that the Space Spider should offer excellent repeatability and accuracy without having to worry about environmental changes.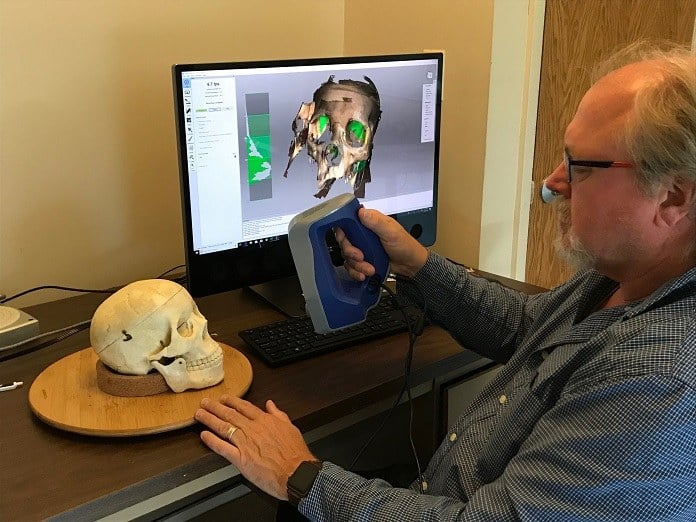 No Calibration Needed
Using what Artec calls "hybrid geometry and color based" tracking, the Space Spider, paired with Artec Studio software, does not need calibration or targets in order to function properly. Artec advertises that scanning with the Space Spider is as simple as point-shoot, without any hassle whatsoever. This simplifies the scanning process tremendously, shaving down the time needed to achieve reliable scans. What this also means is that scans can theoretically be achieved without disturbing the object(s) being scanned, which could be useful for many scientific or medical applications.
Fast Scanning, Multiple Scanners
While not as fast as the Eva or Leo scanners, the Space Spider offers a scanning speed of 7.5 frames per second (fps) and the capture of 1 million data points per second, which allows the Space Spider to be simply passed over an object to achieve an accurate, detailed scan. Multiple passes would likely increase scan resolution, and Artec even advertises a feature in their Studio software allowing multiple scanners to be synced. This allows you to use multiple Space Spiders at once or even combine scans from a Space Spider and the Eva or Ray, achieving bigger, better, or faster scans.
Good for Small & Intricate Objects
With the extreme accuracy and a relatively small working distance and field of view, the Space Spider seems to be optimized for scanning smaller, more complex parts in high detail, in contrast with the Eva and Leo which are better suited to larger objects and areas. Also mentioned by Artec is the ability to capture texture in resolutions up to 1.3 megapixels (MP), and colors up to 24 bits per pixel (bpp). This would allow users to easily scan and render things such as complex mechanical assemblies for a variety of uses, such as reverse engineering or creating detailed design schematics.
Software
The Artec Space Spider is advertised as working seamlessly with Artec's Studio software as well as 3D System's Geomagic programs. Artec has also developed a scanning app for Mac, appropriately named ScanApp, as well as Scanning SDK which allows developers to create their own scanning workflows, aiding processes such as automated scanning. Through the Studio and ScanApp programs, scans can be fully prepared and exported to a wide range of professional CAD programs for further editing. The Geomagic programs allow advanced editing in-app, which should even further streamline the scanning process.
Computer Requirements
With some hefty specs, the Artec Space Spider and Studio software require some hard-hitting computational power to reliably process scans in real-time. Artec recommends a PC with at least an Intel Core i5 or Core i7 processor and 18 gigabytes of RAM, a configuration that will likely cost somewhere in the range of at least $1000-1500 on the current market. Also recommended is an Nvidia Quadro graphics card, which should greatly enhance output speed and quality. An interesting note is that AMD CPUs and Intel's Xeon processors are not recommended, even though these multi-core beasts are more typical of professional workstation PCs that would fulfill the other recommended specs.
Although the Space Spider is an older scanner, it is well-seasoned and has proved its worth in a huge variety of fields, from paleontology and forensics to highly technical fields such as automotive design and medicine. While there are cheaper scanners available with similar specifications, the Artec Space Spider seems to remain a steadfast choice for professionals who need a stable and reliable platform for 3D scanning.