Redesigned with a teal and black colored frame, the Anycubic 4Max Pro looks like an entirely new product rather than the next iteration of the Formax. Not only does it have a different color scheme, but the frame itself is also reformatted to provide a safer and more intuitive 3D printing experience.
Previously located on the bottom of the printer, the Anycubic 4Max Pro now has a touchscreen interface at the top-right corner (the previous version used a dial to navigate through settings). Compared to the first 4Max (210 x 210 x 300mm), the build volume of the Pro (270 x 205 x 205mm) is actually smaller on both the Y-axis and Z-axis, but it does expand upon the X-axis by around 60mm.
Strangely enough, although the word "Pro" has been attached to the product name, Anycubic appears to be marketing its latest iteration of the 4Max toward the educational market. So far, the primary marketing material showcases families and young students enjoying their time with the fully enclosed desktop machine (as pictured below).
According to the manufacturer, this newly implemented full enclosure makes the Anycubic 4Max Pro ideal "for children's homeschooling." While we're not very confident that this niche market is large enough to warrant its own 3D printer, this machine can durely be adopted in nearly any educational setting.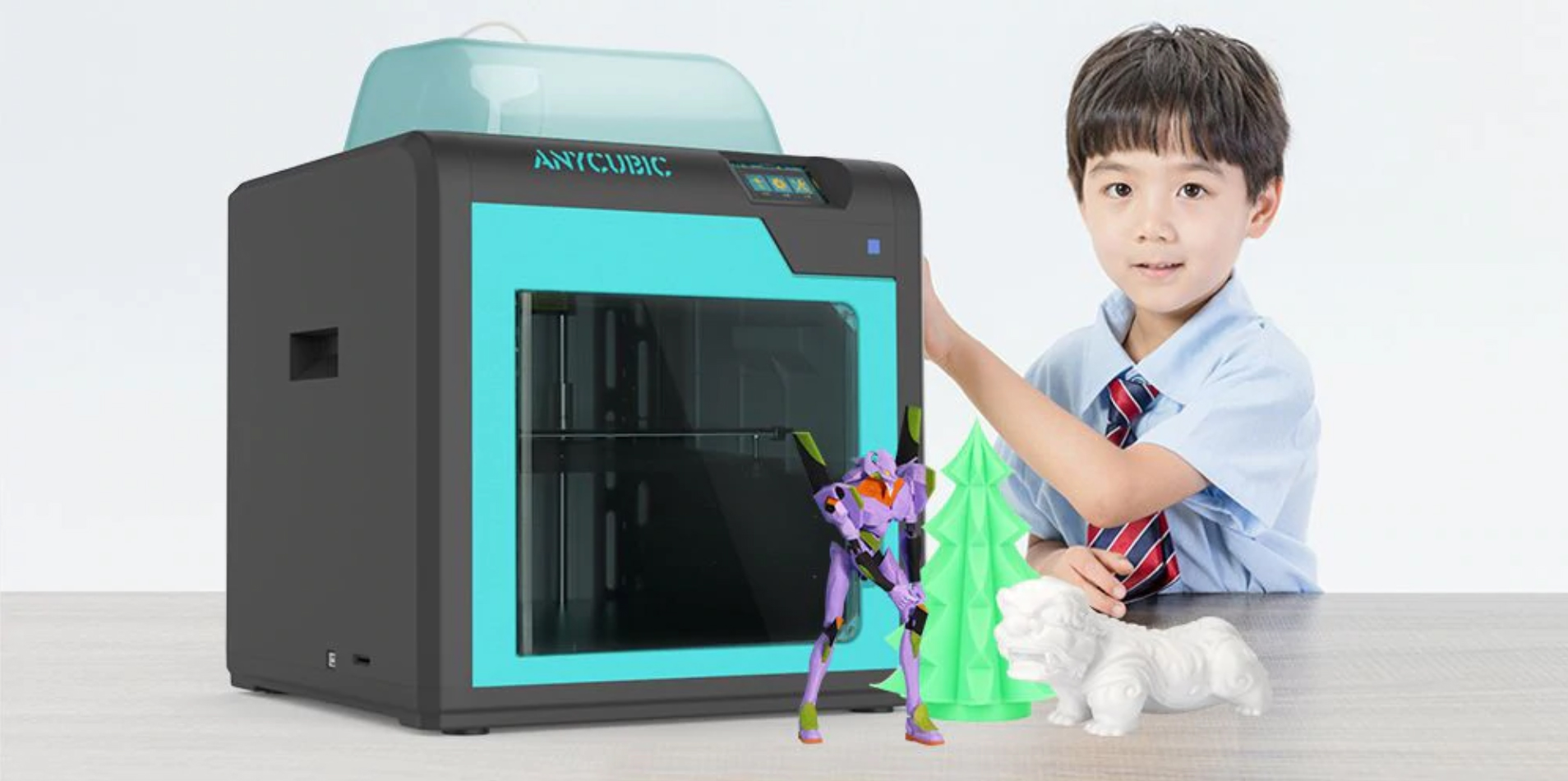 Aside from increased safety, the full enclosure also assists in maintaining a stable heated environment. The manufacturer also claims that Anycubic 4Max Pro is incredibly quiet during operation.
Like many other desktop machines produced by the Chinese manufacturer, the Pro is equipped with the popular Anycubic Ultrabase heated bed, which utilizes micro-holes in the coating layer to improve adhesion and make part removal easier.
Apparently, the distance between the filament spool holder and extruder has been reduced to strengthen torque and enhance the extrusion process, improving compatibility with flexible filaments. Don't be deterred by the family-focused market material, this 3D printer is still able to print with ABS, PETG, TPU, HIPS, and other exotic filaments.
Other features include auto power off, which saves power by automatically turning off the printer once a job is complete, as well as a filament sensor and power recovery. Sounds like an interesting machine, but how does it differ from the first Anycubic 4Max?
Well, it's difficult to compare the two, as the Anycubic 4Max Pro is essentially an entirely new addition to the manufacturer's ever-growing product line. It does share certain features, such as the filament sensor and power recovery, but the overall design, build volume, and even the targeted market are completely different.
All in all, the Anycubic 4Max Pro seems to be designed for entry-level users and the educational market. It's a relatively new 3D printer, so we haven't seen much user feedback just yet, but stay tuned for a hands-on review from All3DP in the near future.