Once you have printed out the STL files and ordered all the clockwork parts it is time to – carefully – stick them together.
Finishing 3D Printed Parts
Before you start with the assembly though, you should sand and polish off the printed parts.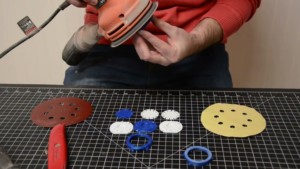 Start by removing support material if you used any. Then sand the printed parts by using 150-400 grit sandpaper until all the parts are smooth. Don't worry, if you don't have a sanding machine, you can do it by hand just as well. Our tip, use Bono Putty Repair in case of any surface defects from printing. If used, just let it dry and sand over it again until it is nice and smooth.
If you are not planning on coating your watch, go ahead and skip this step.
If you are planning to, apply 1-2 coats of primer and afterward lightly sand down dry primed parts with a 600+ grit sandpaper. You can also use a lightly damp cloth to wipe down sanded parts and remove any leftover dust.
Afterward, apply 2-3 coats of paint. You can use standard spray paint or airbrush. Let the paint dry and then seal it up with a clear coating.
Assemble the Watch
Heat up the soldering iron and place the heatset inserts into the back of the outer case holes. Using the soldering iron, press down lightly on the inserts until the sink into the hole and end up flush with the surface.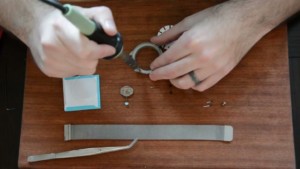 Next, trim off the end of the watch movement with a clipper as we will be adding an extension and finally the crown.
Using a microfiber cloth, pick up the watch glass and place into the outer case being careful not to touch the face with your hands. Push it into the slot until it sits flat. Then, carefully place the watch movement into the watch base.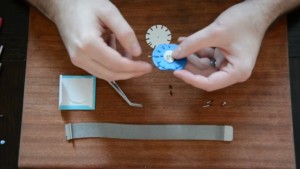 Add the watch face onto the watch base and make sure the movement piece is poking through the face so you can apply the watch hands.
Install the hour hand and then the minute hand onto the movement through the watch face.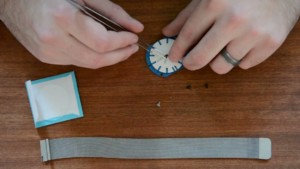 Place the outer case over the watch base, but make sure to feed the extension for the crown through the hole before you secure the two pieces together. Carefully put the protective glass into the outer case and once the watch base and outer case are in place, screw the 2 pieces together by using the M2 screws.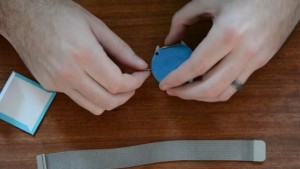 Lastly, attach the wristband, add the crown to the extension, set the time and strap up.