The M200 Plus is the latest professional FDM 3D printer with Wi-Fi coming from Zortrax, a well-known Polish manufacturer. Based on the award-winning Zortrax M200, the M200 Plus boasts wireless connectivity and a brand new touchscreen. The design draws in spades from its predecessor, but a quick glance under the hood shows it is much more than just a slightly modernized M200.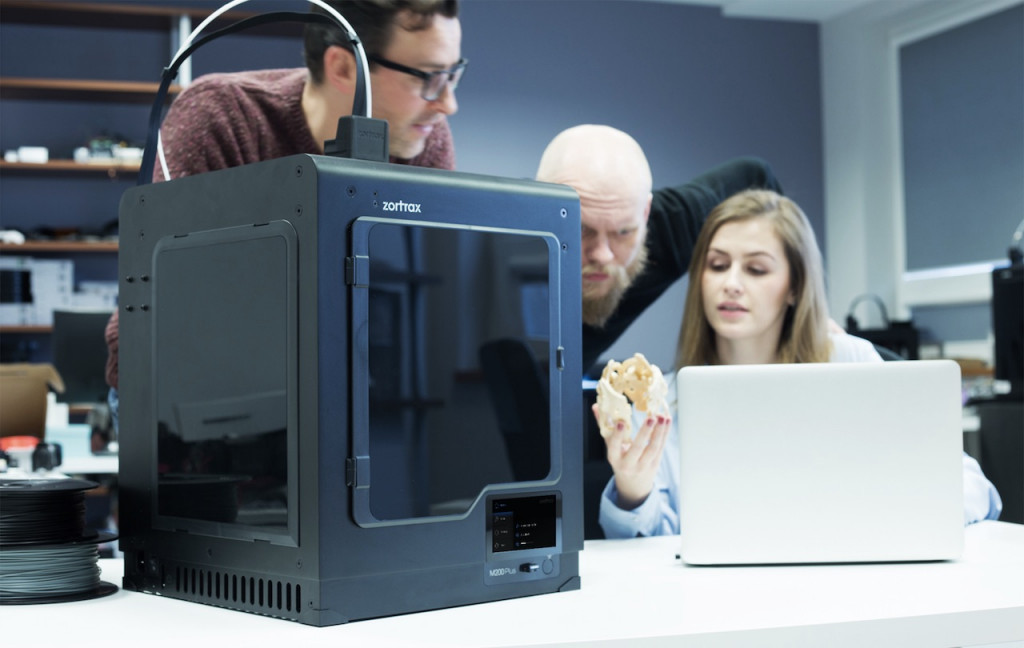 Made for 3D Printing Farms
Introduced in 2015, Zortrax M200 desktop 3D printers found their way to Bosh, NASA, and Ferrari among others. But after over 3 years on the market, it was high time for something new. The M200 Plus has arrived as a bet Zortrax has placed on 3D printing farms. Such farms open up the world of business opportunities.
They offer low-volume production capabilities at a reasonable price point. Products can be rapidly prototyped and tailored to individual customers' needs. Rather than ordering separate molds at large factories for each design, entrepreneurs can now rewire their manufacturing lines with a push of a button without additional costs, no matter if the order amounts to 3, 300, or 3000 units. 3D printing farms offer unparalleled production flexibility to tap into the growing demand for customized goods.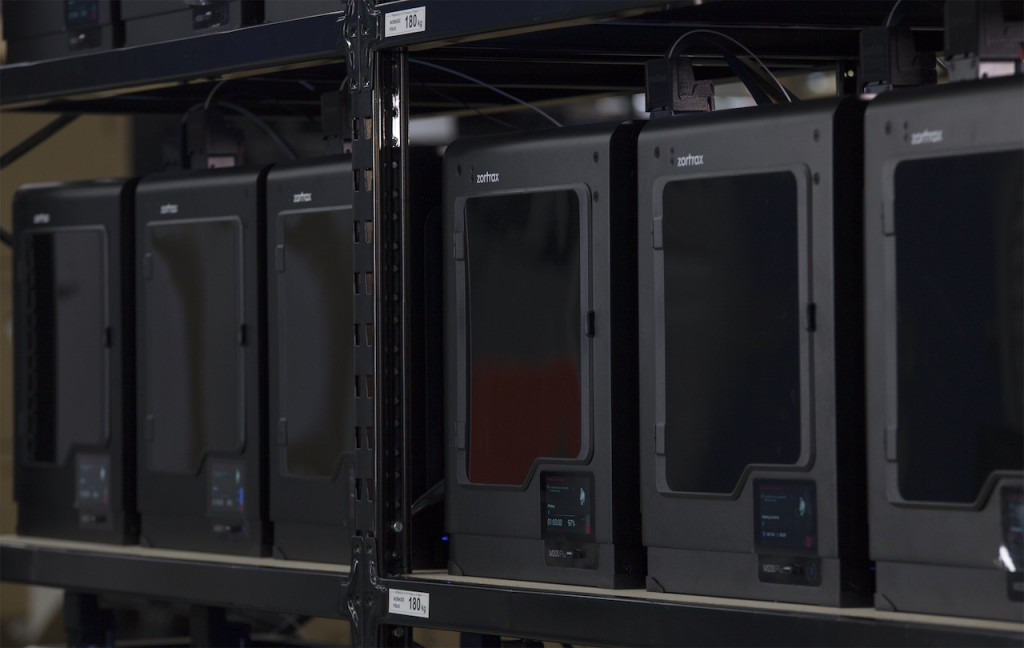 That's why the Zortrax M200 Plus is built to work in large wirelessly connected, remotely operated networks of 3D printers. That's the rationale behind most of hardware and software improvements in the M200 Plus. The maintenance has been reduced to absolute minimum. Zortrax dedicated Z-SUITE software has evolved from a clever slicer into a powerful management tool controlling tens or hundreds of machines. Hardware and software have been optimized to make Zortrax M200 Plus a high-performance 3D printer. Here's what has changed exactly.
Reliable Extrusion of Flexible Filaments
The extruder has undergone a major overhaul. The Zortrax M200 Plus Wi-Fi 3D printer is fitted with a new, additional centrifugal fan to better dissipate heat generated in the XY block where the upper part of hotend is attached. Zortrax has redesigned the geometry of the filament drive mechanism to prevent the 3D printing materials from reeling onto the extruder's cogwheel and getting stuck in there. There is also an additional cooling fan pointed at the model being 3D printed. The M200 Plus has two such fans to improve 3D printing of complex geometries and thin walls.
Hotend V3 is yet another improvement in the extruder's design. A Teflon filament pipe is now firmly connected to the hotend which prevents it from slipping out. A modified thermal intermediate zone is there to ensure better temperature management. The hotend in the M200 Plus heats up a little faster than in the M200 because its aluminum block has gotten smaller. This has also led to better heat dissipation. An upgraded nozzle guarantees more precise extrusion. Just like a bottom part of the hotend, it now has a cap preventing burnt pieces of filament from getting onto the model. That's why the M200 Plus is now ready to work with more demanding 3D printing filaments like Z-SEMIFLEX previously available only for Zortrax Inventure.
3D Printing Farm Management Tools
To manage multiple Zortrax M200 Plus Wi-Fi 3D printers working in a 3D printing farm, Z-SUITE now has a separate control board for each of the connected printer showing details like the type of 3D printing filament loaded or the progress of currently 3D printed projects. Prints can be remotely paused, started, and monitored through a camera installed in the M200 Plus printing chamber. One ZCODEX file can be easily uploaded to multiple 3D printers from one computer.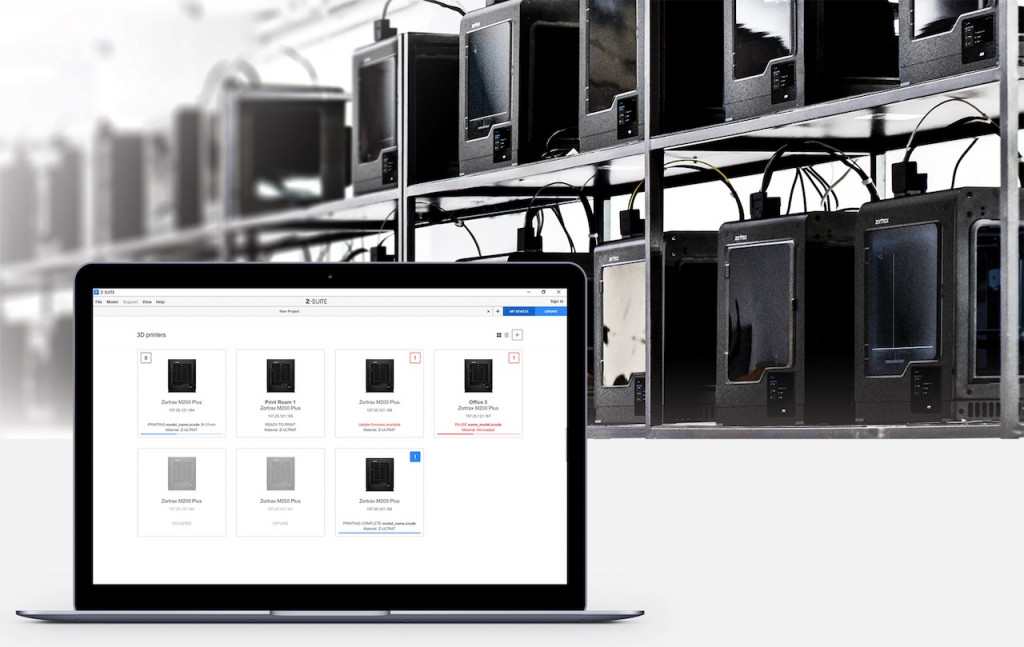 Just in case, it's also possible to load the model directly from a USB storage device. The printer has a filament endstop, so the software notifies the user whenever a new spool of filament has to be loaded. The M200 Plus supports both Zortrax and third-party 3D printing materials. But software improvements go even further than Z-SUITE.
A built-in IPS touchscreen isn't there just for looks. Having a more intuitive interface is a good thing, but there's more to it than just that. Firmware can be automatically updated over Wi-Fi to add new functionalities and fine-tune the 3D printer for even better performance.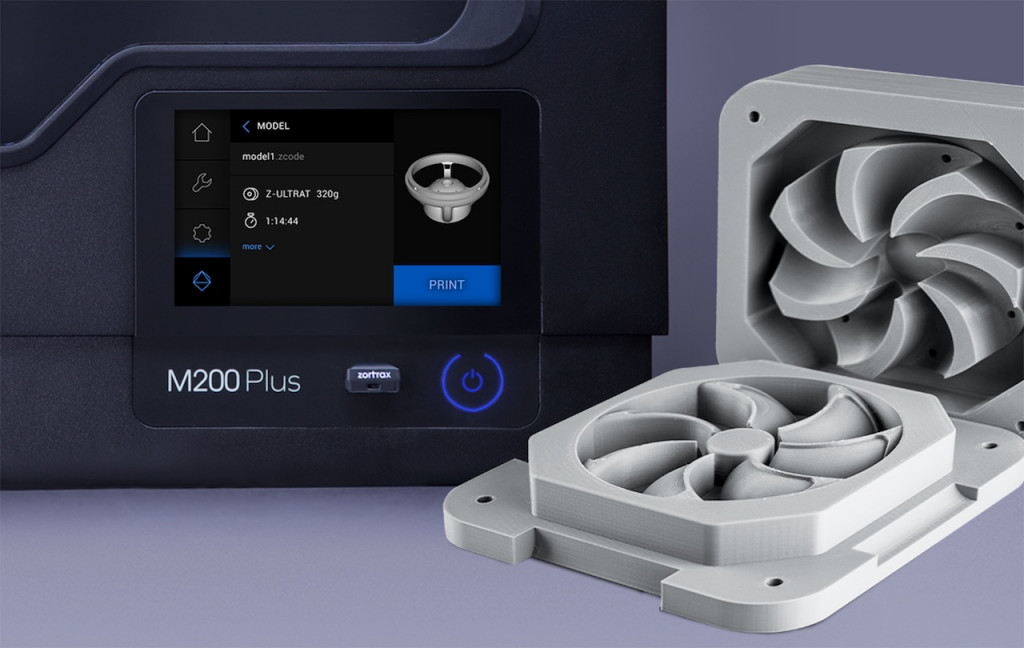 Whenever a new update becomes available, it's possible to have all the 3D printers working in a farm run the latest firmware with a push of a button. The touchscreen can also be used to choose the kind of filament loaded. This way the type of material currently in use will show on the 3D printer's control board in Z-SUITE.
What's in the Box
The box contains the 3D printer with protective cushioning, a power cable, a set of necessary tools like knives, pliers, a spatula or Allen keys, and a spool of 3D printing filament. Side covers come as a standard and are already installed on the machine. It's fairly easy to take the Zortrax M200 Plus out of the box and set it up properly following simple steps Zortrax has explained in brochures and an unboxing video.
Once it's done, you'll have a worthy successor to the M200 with the same quality and even better reliability. But the Zortrax M200 Plus reaches its full potential when it works as a basic production unit in a 3D printing farm. That's where all new hardware and software features really kick in. That's what makes the M200 Plus a professional, future-proof 3D printer.
Subscribe to updates from All3DP
You are subscribed to updates from All3DP
Subscribe
You can't subscribe to updates from All3DP. Learn more…