To coincide with the launch of its new Karoq SUV, Czech car maker Škoda commissioned designer Liam Hopkins from Lazerian creative studio to create a fun filled cardboard version of the car for children.
Is there anything more fun for kids than a large cardboard box? Czech car manufacturer Škoda understands this. So, to coincide with the launch of Karoq, the company's newest SUV, it decided to channel some of its excitement into something chilren could enjoy too.
Made from cardboard and inspired by suggestion from over a thousand children, this fun-filled shell of the car may be the Karoq, but the inside couldn't be more different.
Liam Hopkins, from the creative studio Lazerian, was the designer chosen to create the Kid Karoq. The design began with a survey from ŠKODA which asked some 1,000 children what they'd pack into their perfect car.
The top answers were "the ability to play music of their choice (42.5%), a tablet to play and stream programs on (67.6%), and an integrated movie projector (35.4%)." However, Hopkins also added a ball pit with over 1,500 balls and a slide too.
In a direct model to model comparison with the normal Karoq, the Kid Karoq with its bean bag chair and disco ball wins out every time. Check out the video below for the making of the cardboard car.
Features of the Cardboard Karoq
To create the cardboard car, Hopkins had just the real car to work from. He began from scratch by measuring the exterior of the real Karoq.
He then laser cut and glued everything together to create a sturdy cardboard exterior. To achieve a high level of accuracy, the pieces were built over a full-scale model.
The work took over 600 hours and 10 weeks to complete. Finally, the interior was fitted with a toy box, a hood with spyholes and a panoramic roof, along with the music playing tablet and movie projector.
If you were hoping to take the Kid Karoq for a spin, you'll be severely disappointed. It's clearly a marketing gimmick, but a fun one at that. It certainly brightened up our Wednesday morning.
Want to find out more? Head over to Lazerian to find out more about the design process..
Source: Solid Smack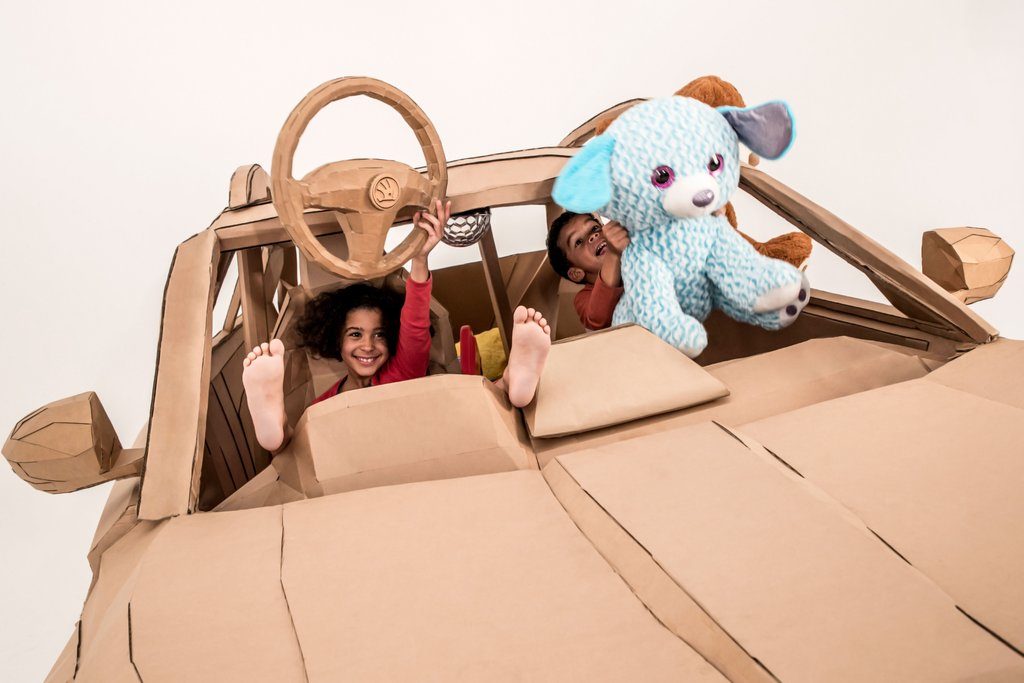 Subscribe to updates from All3DP
You are subscribed to updates from All3DP
Subscribe
You can't subscribe to updates from All3DP. Learn more…