Who should read this article: Anyone who wants to invest in 3D printing stocks.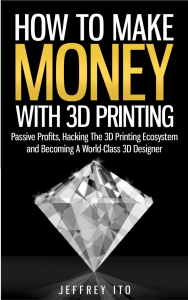 This article is an excerpt from the "Share Your 3D Printer" Chapter in How To Make Money With 3D Printing: Passive Profits, Hacking The 3D Printing Ecosystem And Becoming A World-Class 3D Designer by Jeffrey Ito.
As the 3D printing industry grows, the major 3D printing stocks will certainly grow too. Remember, investing in stocks is a passive process, which, depending on how you view investing, can be a good or bad thing. Although the 3D printing industry is expected to achieve $10 billion in sales by 2020, stocks are often viewed as a volatile investment especially after the recession, so use your best judgment before beginning stock trading.
The great mystery of the 3D printing technology is how its vast potential will develop and revolutionize the economy. There are already many ways to make money with 3D printing, but what new possibilities will open up in the future? The potential of the 3D printing industry is substantial so it is important to highlight key stocks. Like any other serious venture, it would behoove an investor to learn the fundamentals of the stock market before trading.
Putting Money Where My Mouth Is
I have personally owned both Stratasys and 3D Systems stocks. I purchased both near the beginning of 2013 and sold them in the summer of 2014. I sold both of these key stocks to fund other investments (such is the life of an entrepreneur where time is a crucial currency). I did make a decent return ($) over the 15 or so months.
I do not proclaim to be a fortuneteller. As a 3D printing enthusiast and entrepreneur, I do my best to be well prepared for trends in the stock market. Just know I couldn't honestly recommend anything without first believing in it myself.
3D Printing Stocks That Are Disrupting The Industry
Stratasys (SSYS)
In my opinion Stratasys is the best-positioned 3D printing stock due to its dominance in both industrial and consumer 3D printing. In 2013, Stratasys acquired Makerbot making it a brand leader in consumer 3D printers. Stratasys' multifaceted line of Objet printers, more than $500 million in revenue in 2013 and widespread analyst approval makes them a leader for the future of 3D printing technology.
3D Systems (DDD)
Maybe the more popular name right now, 3D Systems Corporation also boasts a strong line of industrial and consumer 3D printers. The company offers 3D printing solutions, services, parts, scanners and education resources. The stock did take a hit this year; so depending on entry point DDD could be a strategically positioned stock. If you are looking to capitalize on the 3D printing industry as a whole, take a long hard look at 3D Systems.
Always be wary of stocks with a small market capitalization and high risk. Perform in-depth research on new technologies because these will be the biggest catalysts for growth. The following 3D printing stocks are all growing players in the 3D printing industry ranging from 3D printed metals to 3D printed tissues:
VoxelJet AG (VJET)
ExOne Co (XONE)
Materialise NV (MTLS)
Arcam (AMAVF)
Organovo (ONVO)
Stocks benefitting from the 3D printing revolution are not limited to just 3D printer makers and service providers. Existing companies that provide software solutions or 3D printing parts are also well positioned to gain from this industry. Many of these businesses will actually utilize 3D printing to gain a competitive advantage. The industrial uses of the technology, not just the consumer benefits, need to be kept in mind to predict how the technology will generate a boon in their stock value.
Quality Stocks Related To 3D Printing:
Hewlett-Packard Company (HPQ)
General Electric Company (GE)
AutoDesk, Inc (ADSK)
Adobe Systems Incorporated (ADBE)
3M Co (MMM)
Microsoft Corporation (MSFT)
In the relatively short term (1-3 years) all of these stocks are somewhat overvalued, but when viewing them long term (3+ years) the potential increase is almost limitless, especially as new scientific, medical and industrial discoveries are uncovered one by one. Positive advancements usually lead to stock price jumps. Since 3D printing stocks are still quite volatile, the best strategy would be to invest when there is a large dip in stock price.
Looking at the technology, it is obvious that it will have a large impact on our world, to what extent we are unsure but therein lies of the beauty of 3D printing as an emerging technology. I am very bullish on 3D printing.
---
We continue this series – please feel free to give some feedback. If you want to stay informed, please consider adding our newsfeed. 
Subscribe to updates from All3DP
You are subscribed to updates from All3DP
Subscribe
You can't subscribe to updates from All3DP. Learn more…