3D printing can make a wedding truly unique. From 3D printed wedding cake toppers to a 3D printed wedding dress, here are some incredible and precious wedding must-haves.
1. 3D Printed Wedding Rings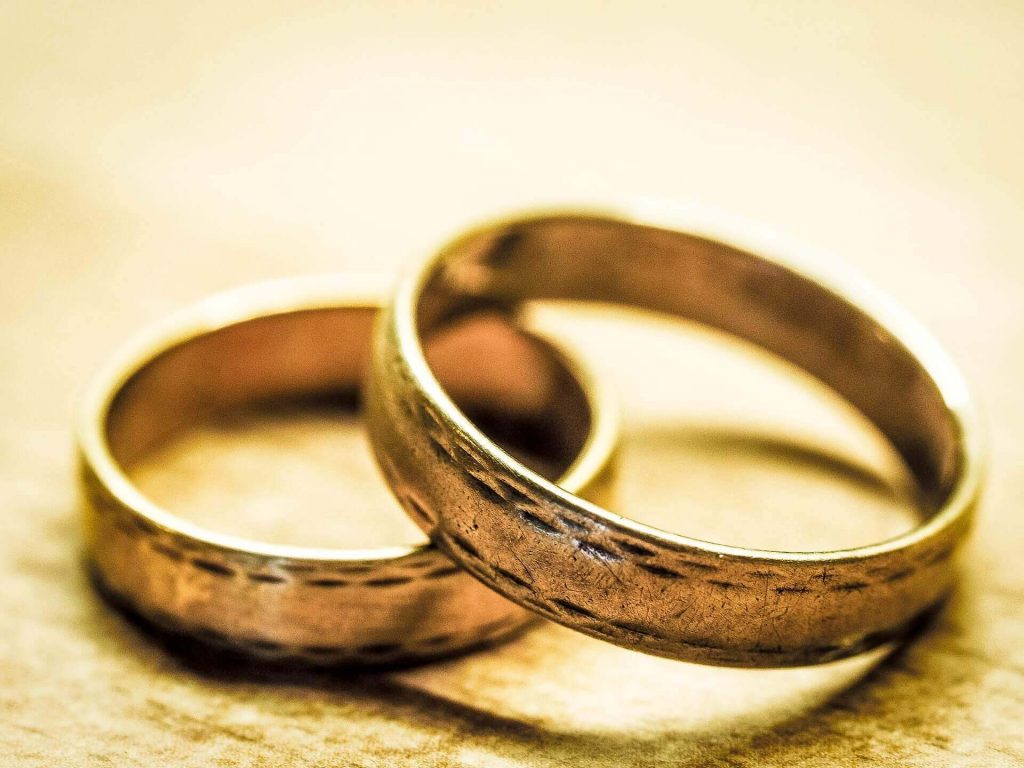 What is it? 3D printed wedding rings have taken off in recent months. Their benefit is the possibility to customize your ring. You don't have to resort to the "one-size-fits-all" approach anymore; as 3D printed wedding rings can be as diverse and special as the couples wearing them. 3D printing wedding rings can save a LOT of time, heartache and, of course, money. How can you not say "I Do" to these?
Where can I get them? Read more about 3D printed wedding rings here. Or head over directly to Shapeways to start browsing.
2. 3D Printed Wedding Cake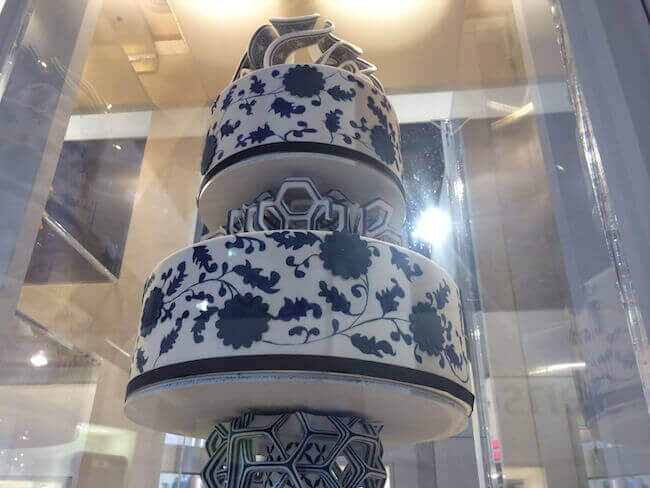 Why a 3D printed wedding cake? This beautiful, towering cake is… printed. Whatever kind of cake you had in mind, food printers can make them into a delicious reality. For a 3D printed wedding cake, the patisserie need a Chefjet printer and a lot of time… but the results are absolutely stunning. Best of all, they can do it with absolute precision.
Where do I get them? 3D printed cake toppers are pretty common, 3D printed cakes unfortunately aren't. Find out some adresses at 3D Systems' Sugarlab.
3. 3D Printed Wedding Dress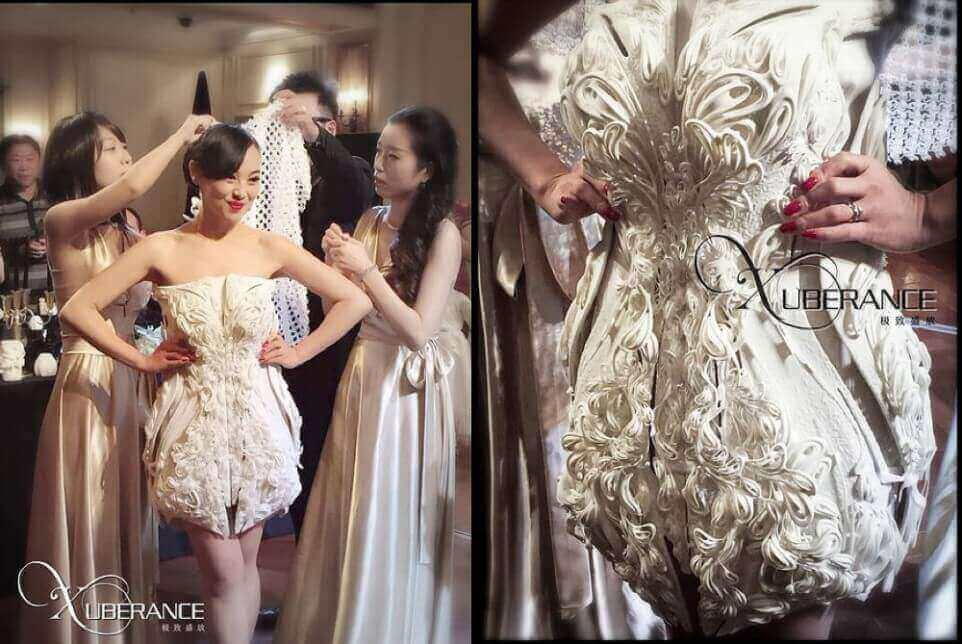 What's that? A 3D printed wedding dress is probably the ultimate form of customisation…
Xuberance is a company based in Shanghai. They presented their 3D printed wedding dress in 2015 at a trade show in Asia. It's an extremely elegant piece of art; and features an intricately textured shorter style of contemporary wedding dress plus a long and detailed veil.
Where do I get it? Best chance of getting a 3D printed wedding dress is to contact Xuberance. Please be advised that printing itself takes at least several weeks; also we really don't want to think about the price of this beautiful 3D printed extravaganza.
4. 3D Printed Wedding: Princess-Perfect Floral Crown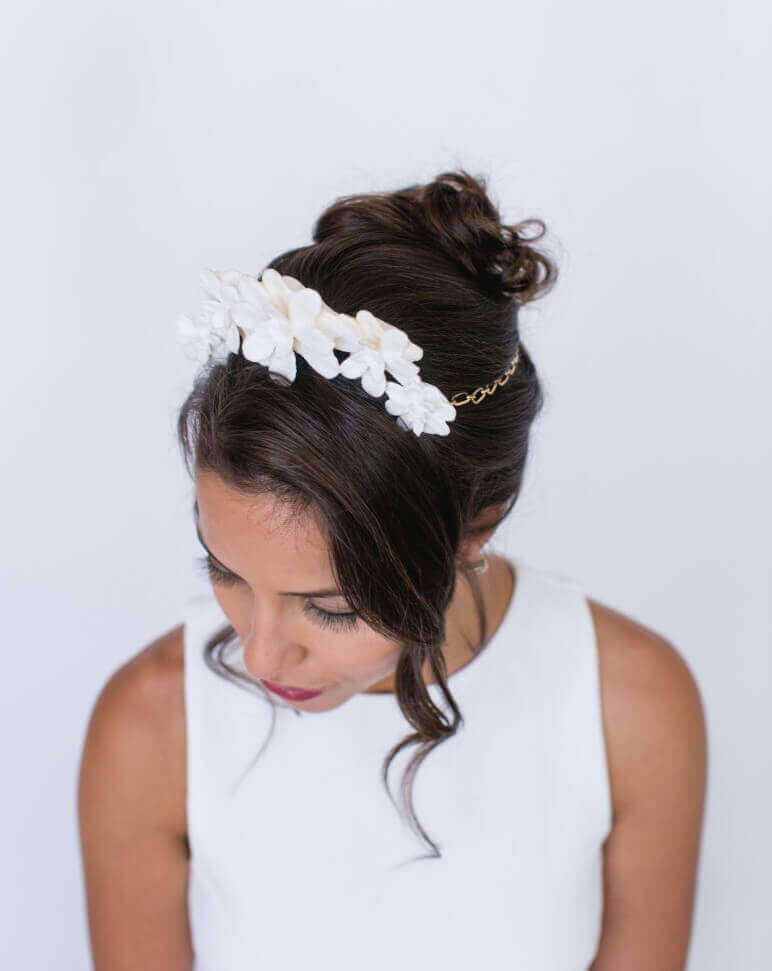 What is it? Every bride wants to feel like a princess (or queen) to some extent. This crown looks expensive because it was designed by wedding aficionados. They also literally scanned a succulent, hence why it looks so realistic. If you scroll further down the source page, you can also find other uses for the dainty little prints.You can 3D print it in any color or material you want.
Where can I get it? Find your princess-appropriate crown here.
5. 3D Printed Wedding Invitations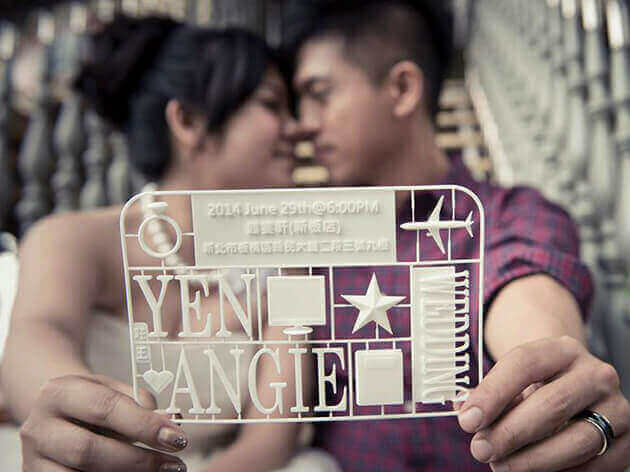 What's that? That a 3D printed wedding invitation. Forget slips of paper. Forget boring old cards. 3D Printing means you can design and print some of the most creative invitations known to man. The medium offers new materials, styles and themes. The card above was so cute that the couple accidentally become internet famous!
Where can you get it? You need a professional CAD designer to make it for you. Read more about their marketplaces here.
6. 3D Printed Wedding Cake Toppers
What is it? 3D printed wedding cake toppers are becoming more common these days. Here's how it works.
Your special day should include a special keepsake that is cherished forever. Instead of using generic wedding cake toppings, why not print yourself in 3D with customized wedding cake toppers? There are many services that can help. Pretty much every 3D selfie studio in the world can accomplish the task. Some of the 3D selfie studios even have specialized themselves on weddings.
Where do I get a 3D printed wedding cake topper? You find a comprehensive list right here.
7. 3D Printed Wedding Trendy and Unique Roses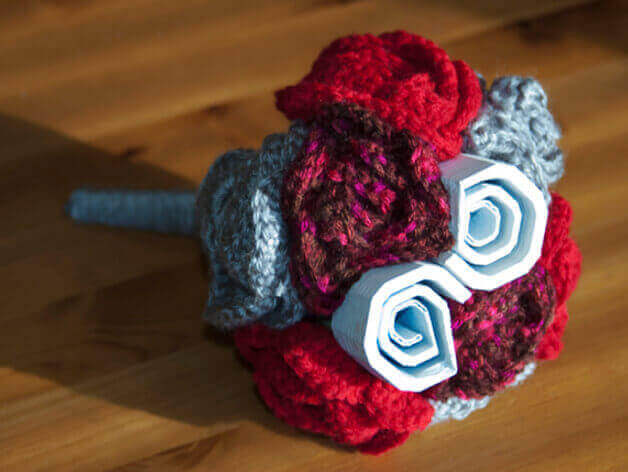 What's that? Flowers made from anything other than flowers are becoming the new trend: wood, paper, plastic, yarn, anything goes. They add a little something extra to the typical bouquet AND they won't make you sad by withering up and dying! As 3D prints are scalable, they can be used as decoration or even as a bride's bouquet.
Where can I get them? The files are free for anyone. Find them here. If you want to get the best price for a professional print, you can use All3DP's free price comparison service.
8. 3D Printed Wedding Funky Floral Table Decoration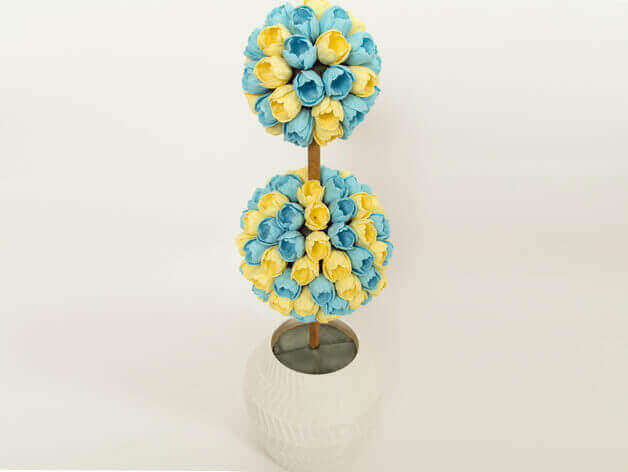 What's that? Cut out all of the "honey, you need to call the florist" with this one. Don't be a cliché, and don't run around trying to get those last dozen super rare flowers. This centerpiece is ADORABLE. All it needs is the right colors and you're on your way to a techie DIY wedding.
Where can I get it? You can also check out this candle table decoration and this crazy one that lights up. Find your fancy floral centerpiece here.
9. 3D Printed Wedding Bubble Wands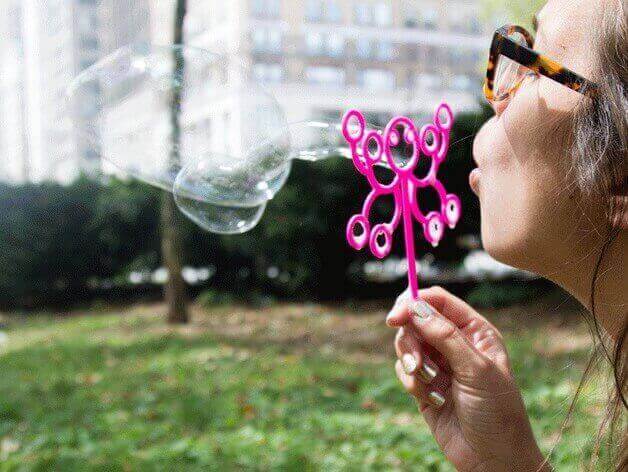 What's that? For the wedding with that dash of "whimsical." Finally, something you can actually play with. If you want to entertain your guests, big and small, try adding a little something fun for them to do. It will also get you a much-needed break from the crowds.
Where can I get that? Get your wand here.
10. 3D Printed Wedding "Just Married" Banner
What's this? You've done the deed, now all you need is a proclamation. Whether it's on your car, hung on a tree or a restaurant, you can't really go wrong with a "Just Married" banner. It's also a great opportunity to do a little something "different" to surprise your guests.
Where can I get it? Find it here.
11. 3D Printed Wedding Bad Jokes: Ball & Chain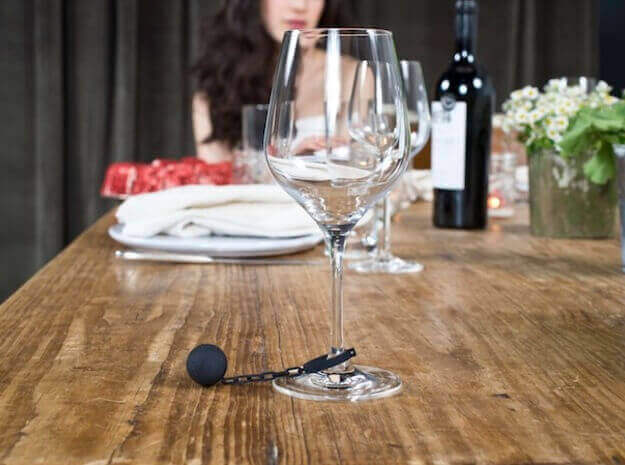 What's it: Be that person. What's a wedding without a little sarcasm? It makes guests laugh, and it will make sure you don't lose your wine glass. You may need it.
Where can I get it? Find it here!
---
License: The text of "3D Printed Wedding: All You Need to Know" by All3DP is licensed under a Creative Commons Attribution 4.0 International License.
Subscribe to updates from All3DP
You are subscribed to updates from All3DP
Subscribe
You can't subscribe to updates from All3DP. Learn more…