These 3D prints aren't exactly what "3D printed key" initially brings to mind. However, far from boring, these prints show the extent to which 3D printing has affected the old lock and key mechanism.
Car Key
Smithallen_studio from Instructables gives us a story that led him to create his (almost) successful 3D printed car key. He found himself in a predicament one morning with a broken key, and instead of going through the typical methods of key recovery, he turned to his trusty Connex500 resin printer.
Following some measuring, picture taking, modeling, and printing, he had his key. Unfortunately, the polypropylene-like material didn't seem to hold up. The key broke while turning the lock, leaving the teeth inside the mechanism. Thankfully, using a screwdriver to turn the (now unlocked) mechanism is all it took to start the ignition.
TSA Master Keys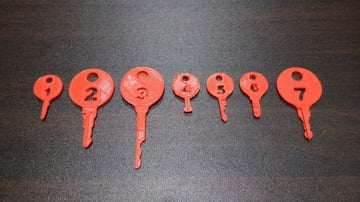 The next one is a bit of old news. TSA locks, the ones used for airline luggage, have been hacked for some time now. Sadly, it seems that little has been done to fix or warn people of this.
The entire matter began when Washington Post accidentally used a detailed picture of the keys, and the internet took care of the rest. The key models were and still are available on GitHub, including the previously secure Safe Skies master key. Although prints of these keys can be successful, it isn't a trivial task. The small and precise shapes are tricky to print.
Despite this security breach, it seems that TSA locks are still widely in use, though some may argue that they were never secure to begin with.
Lock Picks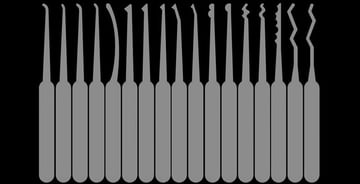 What could be the next best thing to 3D printing keys? 3D printing lock picks, of course. Why figure out a new way to break in when there are already proven methods to do so?
This project comes from Brian Benchoff, who showed off his creation on Hackaday. The inspiration came from a friend who jury-rigged a lock pick from a zip tie. From there, the idea of a plastic, 3D printed lockpick was born.
The initial idea was to print them on his Dimension FDM 3D printer, but it wasn't enough. In order to print such small and precision-dependent objects, he turned to a higher-end printer: an Objet 30 Pro with .001-mm layer thickness. In the end, the picks worked but with a few hiccups in durability.
(Lead image source: Urban Alps AG via YouTube)