Character modeling in Blender 2.8 concentrates more on building a static shape. Animating characters is another process altogether.
For this, you'll have to think about how your character model is joined together, how it rests on joints, and how it'll use them to move. Aspects like these affect their stance and demeanor, even if you don't end up animating them.
This sounds more complicated than it is to execute:
Step 1
To begin, create a skeleton of your model by adding bones through the armature tool and extruding them in edit mode. You'll have to connect the skeleton piece-by-piece, but don't worry, you don't have to replicate the actual bone structure of your model. Just do enough to prop up its body. Plus, you can mirror limbs for both symmetry and better sync, just like with the body outline itself.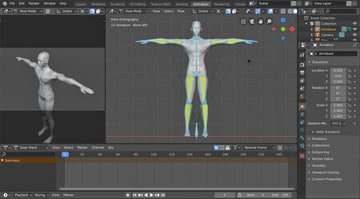 Step 2
Next, bring together your mesh and rigging in object mode. Select your model, then your skeleton, and press control + P, choosing automatic weights. This command lets Blender automatically calculate how your 3D model sits on the rigging you've built for it.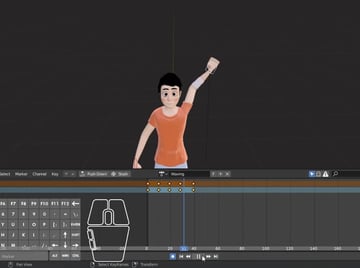 Step 3
If you want to animate your 3D model, a simple way to do so is in "pose" mode. For each frame of animation, move parts of your model to create the appropriate pose and keyframe it. Do this as many times as it takes to create the full movement you want.
These details make all the difference when you're aiming for realism in your character models, whether they're photo-realistic replications of your friends or a completely original squid monster from your own sci-fi universe.
For more information on this part, take a look at our article on character rigging in Blender.