This 3D printed lamp consists of seven printed parts and the electrical interior. Here is a detailed listing of the parts and tools needed for this project.
Prints
The 3D printable STL files are available for free on Instructables.
The size of the lamp is a 127mm x 127mm cube, so any FDM desktop printer with a bed at least that size will work just fine. You can resize the parts obviously, but then the electrical parts will not fit their casing.
The print itself is pretty straight forward. However, it turns out the placement of the lens, on the printing platform, has a huge effect on the lightning effect of the translucent object. In the left picture, the face of the lens was placed flat on the printing bed, reducing the amount of support needed, but also resulting in ridges around the top of the lens and the clearly visible checkerboard pattern.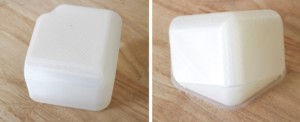 When placing the three corners of the lens on the printing bed – as shown in the right picture – a whole lot of support is needed But, the results are more concentric layers around the lens' corners, therefore hiding the variations within the lens and creating a more uniform look.
Apart from that, you are good to go. In the pictures provided, the maker used clear PLA for the lens and wood PLA for the housing. But feel free to go to town regarding color selection.
Parts
For the lamp's interior, you will need the following: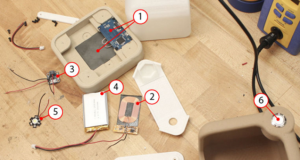 1. Universal Qi Wireless Charging Transmitter – plugs into a USB power source and emits 3.7V power through a copper coil. The other end goes inside the charging base.
2. Universal Qi Wireless Receiver Module – receives transmitted power through a copper coil. It goes inside the lamp.
3. Micro Lipo w/MicroUSB Jack – USB LiIon/LiPoly charger – stabilizes the power coming through the wireless receiver, ensuring constant 3.7V.
4. Lithium Ion Battery – 3.7v 2000mAh – a standard rechargeable battery, powered through the Micro Lipo charger.
5. 1 Watt Cool White LED – Heatsink Mounted – a heatsink mounted, bright, LED powered by 3.7V. It plugs into the battery.
6. DC3-250V SPST Panel Mount Self-Locking Metal Push Button Switch 16mm – a standard latching switch that turns the LED on and off.
Tools
All you need for this project is a soldering iron and a small screwdriver.