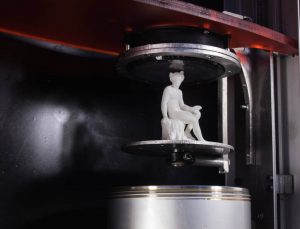 High precision though the 3D printer does not use the typical DLP bottom-up technology (source: WASP).[/caption]
Italian manufacturer WASP announced its new WASP Top DLP 3D printer that solves two problems typical DLP 3D printers suffer from: Most DLP (Digital Light Processing) printers utilize bottom-up projection for high-precision prints. This way, however, the printed objects can get stuck on the printbed. Which not only results in an unacceptably high rate of print failures but also raises clean-up issues for the user.
WASP had been working for three years on its DLP 3D printer running into the problems described. A few months ago, WASP's designers found the solution: They moved the projector from the bottom to the top. In the WASP Top DLP 3D printer, the printbed is located below the resin vat. A high-precision projector projects the image from the top onto a film that is immersed in a photosensitive liquid. First, the print plate is laid onto the film and then moves away from it. Moreover, the WASP printer uses oxygen instead of silicone to separate the printed object from the printbed – other DLP printers are equipped with silicone-coated vats which have to be regularly be replaced by the user as part of the silicone may stick to the printed model.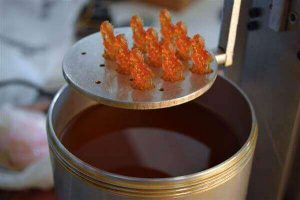 WASP also added a system to filter out the fumes from the photopolymerization process.
The downside of WASP's new technology: The size of the objects is limited by the depth of the tank.
WASP will showcase its new DLD 3D printer at the Rome Maker Faire, October 16-18. It plans to release it to the public domain for non-commercial use.
More on WASP
WASP (World's Advanced Saving Project) is no newcomer in the field of 3D printing: Its mother company CSP was founded in 2003, WASP was created in 2012. The company is known for its fast DeltaWASP 3D printer family and the PowerWASP "personal fabs" combining 3D printing and CNC milling.
License: The text of "WASP Top DLP 3D printer: clever solution to DLP problems" by All3DP is licensed under a Creative Commons Attribution 4.0 International License.
Subscribe to updates from All3DP
You are subscribed to updates from All3DP
Subscribe
You can't subscribe to updates from All3DP. Learn more…