On display at the In(3D)ustry trade show in Barcelona, the VIT SLS is a new benchtop SLS printer coming to Kickstarter at the end of October.
Don't Miss: Temporary Museum of Reality in Barcelona with In(3D)ustry
You know what's really hot right now? Selective laser sintering, that's what. The industrial patents for this additive manufacturing technology have lapsed. Now, several players are seeking to establish the market for a useful and practical benchtop SLS printer.
The VIT SLS is a new SLS printer launching on Kickstarter on 24 October.
An SLS printer uses powdered material in a build chamber, where a laser is used to selectively sinter a layer of granules and bind the material together to create a solid structure. When the object is fully formed, it's left to cool in the machine before being removed.
Already on the market is the Sinterit Lisa. Looming on the horizon is the Fuse 1 from Formlabs. And coming to Kickstarter on 24 October is the VIT SLS from Natural Robotics.
We had an opportunity to learn more about the VIT SLS printer at the In(3D)ustry show in Barcelona this week. It's a big, imposing machine of 800 x 600 x 950 mm in size. Inside, it has a generous build volume of 250 x 250 x 250 mm.
The VIT SLS printer has a speed of 20mm/h (0.8 inches/h) in the Z-axis and a resolution of 0.05 mm (0.002 inches/h). It's capable of standalone 3D printing (does not need a PC connected). The control panel is a 7 inch touchscreen interface, with USB, Wifi and Ethernet connectivity.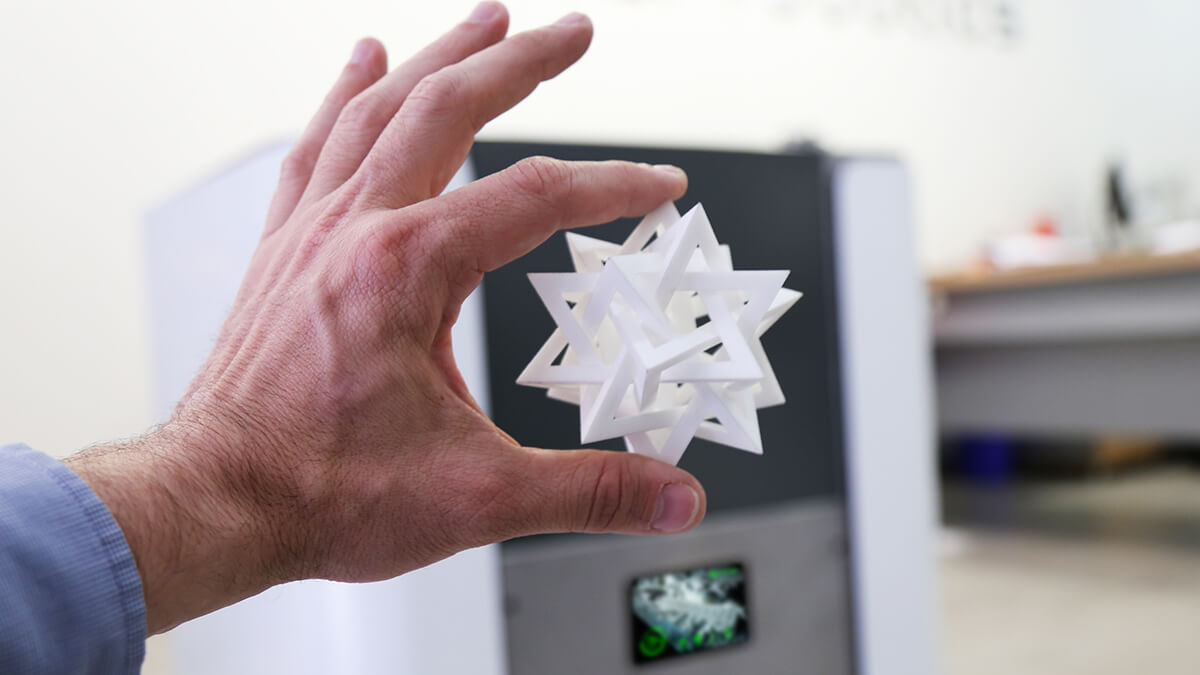 VIT SLS in New Category of Benchtop SLS Printer
The VIT SLS Printer has been in development since 2014 by Hector Esteller, who has a self-avowed passion for electronics, computing and mechanical engineering, together with deep experience in the industrial sector.
His company, Natural Robotics, was founded in 2016 and is made up of a multidisciplinary team of professionals, partners and startup enthusiasts from the fields of electronics, telecommunications engineering, IoT (Internet of Things), computing, product design, and professional makers.
"3D printing still has a long way to go until machines can behave with the same ease of use as other appliances."
"3D printing still has a long way to go until machines can behave with the same ease of use as other appliances," says Esteller. "That is why our goal is to design our own models making them as user-friendly as possible and putting great emphasis on technical support and maintenance."
So how much is it going to cost? Estimates on their website say around $11,100 USD, which puts it somewhere between the Fuse 1 and the Lisa Sinterit. But there will doubtless be Early Bird Specials once the Kickstarter campaign is live.
Truly, we live in exciting times for the SLS printer. This key additive manufacturing technology is plummeting in cost. 3D printing objects with complex geometry in nylon material could become the easiest it has ever been.
The Kickstarter campaign will launch on 24 October. Visit either the Natural Robotics or VIT SLS printer site and sign up to be notified when it goes live.

License: The text of "New VIT SLS Printer Launching Soon on Kickstarter" by All3DP is licensed under a Creative Commons Attribution 4.0 International License.
Subscribe to updates from All3DP
You are subscribed to updates from All3DP
Subscribe
You can't subscribe to updates from All3DP. Learn more…