The festive season provides one creative couple an opportunity to flex their Maker muscles; Santa's Shop is an animatronic box of delights.
Christmas is here! And what better way to spread the good cheer than building an animated storytelling art installation?
Santa's Shop is an extraordinary festive display with animated figurines, trains, a rotating tree, and several other holiday-themed gadgets. There's even a climbing bear and an upside down choo-choo train.
The display is made from hundreds of 3D printed parts and dozens of handmade characters, controlled by 46 servo motors and 12 Arduino boards.
Bringing the installation to life was no small task; creators Mike and Annelle Rigsby put in over 2,000 hours of labor on their display.
More details on the project are available here. You can also see it in action in the video below, or on display live in the window of the Brightway Insurance Agency in Gainesville, Florida this month.
If you're in the area and want to pay a visit, the full address is 9127 SW 52nd Ave, Gainesville, FL 32608, and the store is open from 9am to 5:30pm each day.
Santa's Shop Elfis Ain't Nuthin' But a Automated Hound Dawg
Three major elves and Santa each have 8 degrees of freedom and they operate to tell a story.
In a nutshell, it's about Elfis slacking off from his duties in Santa's workshop to stage an impromtu rock concert, until the great bearded one intervenes and tells him and his cohorts to get back to work.
A neat touch is how the workshop tables flip over to reveal the musical instruments underneath. The King of Rock and Roll would be impressed.
Overall, dozens of pieces have been formed in clay, scanned, 3d printed and decorated. Annelle first sketched the elf characters before creating clay models of their heads.
Next, using a 3D scanner and 3D printer, Mike was able to make new versions of her models at a much lighter weight, which he could then wire up and program as automatons.
Thereafter, the models are then handed back to Annelle, whose task is to costume, paint and decorate each figurine.
The finished result is a heartwarming — albeit noisy — animatronic display for kids of all ages.
"We really wanted to share the joy of Christmas and the magical excitement of the season," the couple said.
Source: Our Town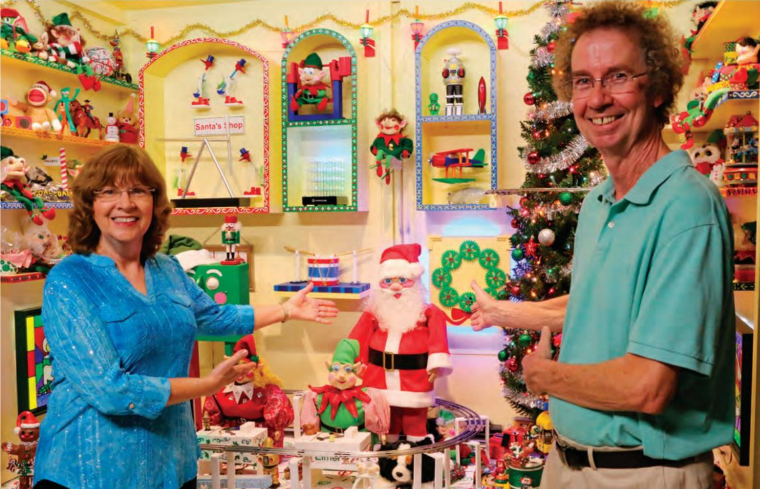 License: The text of "Santa's Shop is a 3D Printed Storytelling Installation" by All3DP is licensed under a Creative Commons Attribution 4.0 International License.
Subscribe to updates from All3DP
You are subscribed to updates from All3DP
Subscribe
You can't subscribe to updates from All3DP. Learn more…